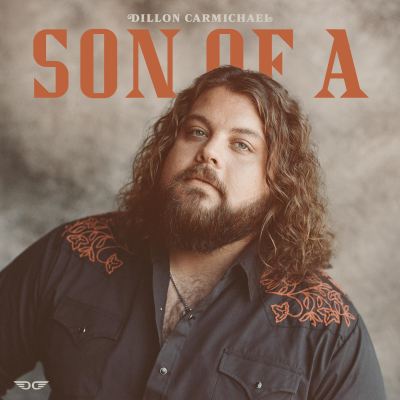 Dillon Carmichael/ 'Son of A'
Country music's "most convincing young star since Stapleton" (Rolling Stone) Dillon Carmichael will release his sophomore album 'Son of A' on October 22. It's the follow-up to his breakout debut, 'Hell On An Angel' (2018), and it features 14 tracks, half of which were co-written by the Kentucky native, with seven produced by Jon Pardi and Ryan Gore.
'Son of A' continues Carmichael's lauded neo-traditional approach to country music, "matching the textures of yesteryear to the melodies of today" (The New York Times) in a seamless and unique fashion. "Hot Beer," Carmichael's "12-ounce can of sarcastic, commercial potential" (Billboard), and the hilarious "Big Truck," co-written alongside David Lee Murphy and Jessi Alexander, showcase a more playful side to the Kentucky native, while "Paychecks and Longnecks," one of four Dann Huff-produced tracks, perfectly pairs his burly, charismatic twang with a blue-collar-inspired hook.