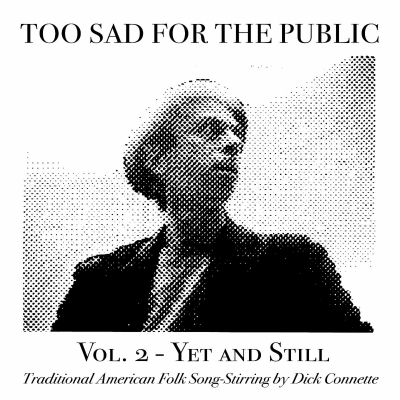 Too Sad For The Public/ 'Vol. 2 - Yet and Still'/ StorySound Records
Too Sad For The Public — the project helmed by StorySound Records founder Dick Connette, whose independent outfit has put out a GRAMMY-winning record by Loudon Wainwright III as well as acclaimed releases by Gabriel Kahane, Margaret Glasby, Dan Tepfer, yMusic, and so many more — announce Vol. 2 - Yet and Still, out July 28 on StorySound Records.
Featuring a wide range of collaborators — including yMusic's Rob Moose (Paul Simon, Phoebe Bridgers), Chaim Tannenbaum (Loudon Wainwright III, Kate & Anna McGarrigle), Steve Elson (Gov't Mule, David Bowie), Steven Bernstein (Levon Helm, Rufus Wainwright), Billy Martin (Medeski Martin & Wood) and heralded StorySound folk artist Ana Egge — Yet and Still finds Too Sad For The Public boldly recontextualizing an array of traditional American musics, drawing out unexpected elements and radically uprooting songs to isolate unique portions of their DNA. Moments of sublime serendipity abound.