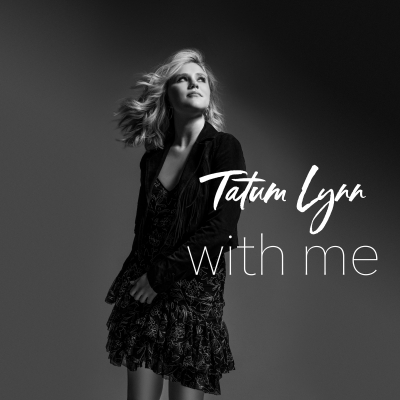 19-Year-Old Newcomer Taps Celine Dion, Jonas Brothers Collaborators For Debut
'With Me' (Out Sept. 27) Delves Into Suicide, Heartbreak & More On 10-Track LP
VIDEO FOR DEBUT SINGLE "LATER BABY, XO" OUT NOW: hyperurl.co/TatumLynn_LaterBaby
Tempe, AZ-newcomer Tatum Lynn has a kind of radiant presence that lights up any room. A fusion of Demi Lovato's powerhouse range and Selena Gomez's wistful, bone-chilling honesty, the 19-year-old delivers brightly textured pop music, equally built on bubbly melodies, deeply heartfelt lyrics and exploring heavy emotional terrain.
Her full-length debut 'With Me' (out. Sept. 27) pays tribute to those whom are struggling. "The title track 'With Me' and my whole album are dedicated to the people I've lost, and to those who are suffering now—whether it's from depression, mental illness or anything else," says Tatum.
Tapping a top-shelf list of collaborators — including Jon Levine (Dua Lipa, Alessia Cara, Andy Grammer), Lauren Christy (Rihanna, Bebe Rexha), John Fields (Demi Lovato, Jonas Brothers, P!nk), Andrew Wells (5 Seconds of Summer, Meghan Trainor), Stephan Moccio (Miley Cyrus, The Weeknd, Avril Lavigne, Celine Dion) and Michael Bland (Prince) — Tatum shares everything from feel-good dance tracks to life-affirming anthems to soul-stirring ballads, revealing the rare balance of thoughtful sensitivity and carefree spirit at the heart of her music.
Elsewhere on the album Tatum transforms heartache into something irresistibly uplifting "Later Baby, XO" -- the album's Demi Lovato-tinged lead-single -- while also poignantly channeling complexities of young love on the R&B-esque "If It's Love" and capturing the mind-tizzing frenzy of infatuation on the beat-heavy and hypnotic "Never."
At just 19, Tatum already has a long history of philanthropic endeavors, having founded the first of her non-profits at just 15 years old, Music As Therapy — a nonprofit dedicated to providing music therapy and musical instruments to kids in special-education classrooms throughout Arizona — and also Aztec Strong — a 300+ member suicide prevention club in her hometown. Tatum teamed up with a group called Teen Lifeline, and spearheaded an effort to have its suicide-hotline number printed on the back of every student ID in her district.
Follow Tatum Lynn here:
Official website: tatumlynn.com
Facebook: facebook.com/TatumLynnMusic
Twitter: twitter.com/tatumlynn
Instagram: instagram.com/tatumlynnmusic