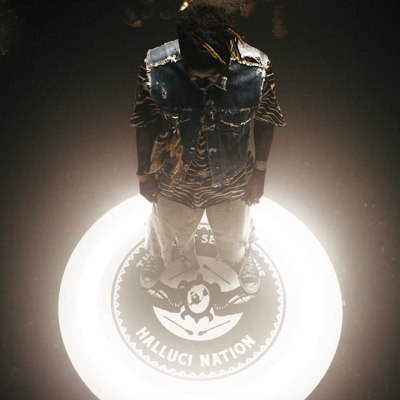 A Tribe Called Red support Standing Rock in fearless new vid, CBC's #1 album of 2016
A TRIBE CALLED RED UNVEIL FEARLESS NEW VIDEO FOR "THE VIRUS" FEATURING SAUL WILLIAMS, CHIPPEWA TRAVELLERS: https://www.youtube.com/watch?v=4_5VAKdHMek
NEW ALBUM 'WE ARE THE HALLUCI NATION' IS "CRITICAL LISTENING FOR EVERYONE" (PITCHFORK), CBC'S #1 CANADIAN ALBUM OF THE YEAR
A Tribe Called Red has unveiled an impassioned and defiant new visual to accompany their Saul Williams-assisted single "The Virus." The visuals stars Williams, the First Nation DJ trio and a small group of the Halluci Nation. The collaborative efforts share a positive message, displaying symbolism of the ALie Nation invading the Halluci Nation's safe area. A mere representation which is reinforced by footage of the Dakota Access Pipeline protests.
The science fiction video is set in 2047 on "Turtle Island," a traditional Iroquois earth creation story; where the sky woman fell to a water submerged earth. Animals attempted to rebuild land but the muskrat was the most successful of all; moving dirt from the seabed onto the back of a turtle, re-creating our land.
"The Virus" features indigenous Canadian drum group The Chippewa Travellers and a disembodied voice reciting the poetry of Native American activist John Trudell. The video was directed by Tunkasila, produced by DAIS & Mad Ruk, and written by Sol Guy, Ezra Miller and A Tribe Called Red member Bear Witness.
Watch "The Virus" via Huffington Post and read an exclusive statement from Saul Williams on the importance of the video: http://www.huffingtonpost.com/entry/a-tribe-called-red-the-virus_us_583ed218e4b0ae0e7cdae61a
"The Virus" has also received two official remixes, one from the Afro-Western production duo The Very Best and a second from Mexico's Tribal Guarachero pioneer Alan Rosales. Listen here: https://open.spotify.com/artist/2jlWF9ltd8UtoaqW0PxY4z
Since 2008, this Anglo-Malawi collective, has been spreading infectious afro-pop throughout the world. The Very Best have found great success through collaborating with M.I.A, touring with Mumford & Sons and more.
The second remix, by Latin-American tribal producer Alan Rosales is the Mexican counterpart to ATCR, with his electronic revision of traditional Aztec music.
"The Virus" comes from A Tribe Called Red's latest album 'We Are The Halluci Nation.' Released in September, the record has been hailed as "critical listening for everyone" by Pitchfork, who describe it as "a landmark soundtrack for a world in which we all are connected." Canada's CBC has also just named 'We Are The Halluci Nation' their #1 Canadian album of the year. The album includes appearances from Yasiin Bey (formerly known as Mos Def), Polaris Prize-winning throat singer Tanya Tagaq, Williams, John Trudell and more.
Tour Dates:
Dec 03 - Winnipeg, MB - The Garrick Centre
Dec 06 - Minneapolis, MN - Skyway Theatre
Dec 07 - Chicago, IL - Lincoln Hall
Dec 08 - London, ON - London Music Hall
Dec 09 -Toronto, ON - REBEL
Dec 14 - Kingston, ON - Stages Night Club
Dec 15 - Montreal, QC - Corona
Dec 16 - Peterborough, ON - The Red Dog

http://atribecalledred.com/
http://facebook.com/atribecalledred
http://twitter.com/atribecalledred
http://instagram.com/atribecalledred