Prolific Artist/Producer AG Announces U2 Reimagined EP Featuring Diverse All-Women Collaborators, Out February 24
First single, "One," featuring MILCK, out October 1
Proceeds From "One" To Benefit MILCK's Somebody's Beloved Fund
LISTEN HERE
LOS ANGELES, Calif. (October 1, 2021) — Prolific songwriter, producer, and engineer AG (Adrienne Gonzalez) celebrates the upcoming 30th anniversary of U2's "One" with her signature solidaristic stylings: the GRAMMY-nominee will release U2 Reimagined, a 7-song EP performed by all-women, and almost entirely women of color. The EP is slated for release on Feb. 24, 2022, with its debut track "One" — featuring musician, writer, producer, and advocate MILCK — releasing Friday, October 1. Stream "One" here, and watch the special performance video here.
"My dream is for listeners to experience the feeling I get from the original versions of the songs through these re-imaginings," AG says. "The production is meant to feel as spiritual and transcendent as I feel the originals are, but more minimal to bring focus to the lyrics as presented through the voices of the women of color performing them."
"I love that AG is leading a bunch of women into reimagining these classics. The concept is very fitting because I remember Bono saying at a 2017 concert that the world is in need of change, and 'women are going to light the way'," shares MILCK. "When we were virtually recording this cover during quarantine, I found myself choking up in tears, as the song's lyrics allowed me to channel my yearning for more compassion, patience, and listening amongst each other. There is so much fear and mistrust in the world, and we have to come back to each other, no matter how uncomfortable conversations can get. I hope that my vocal and piano arrangement can be felt as my urgent plea for compassion."
"MILCK and I love creating music together from healing and struggle and this song is an extension of that," AG adds. "We reimagined it and made it our own."
Proceeds from AG and MILCK's "One" will benefit MILCK's Somebody's Beloved Fund which generates resources through song proceeds from her singles including "Somebody's Beloved," "I Belong" and now adding to it, the new single "One."
Through brand partnerships, merchandise proceeds, and public donations, the fund supports 10 beloved beneficiaries including Asian Women's Shelter, BEAM: Black Emotional & Mental Health Collective, Freedom Inc, and helps build community around racial healing, justice, and solidarity. The work is done through an intersectional lens of Feminism, Black-Asian Solidarity, AAPI Support, LGBTQ Rights, Criminal Justice Reform, and Mental Health. Since the Fund was created in October 2020, MILCK has donated over $86,000 directly to the beneficiaries and helped to facilitate the donation of nearly $100,000 of essential product and pantry items and PPE. For more information, please visit SomebodysBeloved.com.
U2 Reimagined Track Listing:
"One" - AG Ft. MILCK
"With or Without You" - AG Ft. Lissie
"Beautiful Day" - AG Ft. Ruby Amanfu
"Love Is Blindness" - AG Ft. Joanna Jones
"Still Haven't Found What I'm Looking For" - AG Ft. India Carney
"Where The Streets Have No Name" - AG
"With or Without You" (bonus instrumental reimagining)
ABOUT AG:
LA-based producer / GRAMMY-nominated songwriter / mix engineer AG is a multi-talented powerhouse. With 550+ song placements to date, she has become one of the most prolific producers in the world of film and TV. AG's work has been featured in countless trailers, promos, films, and TV shows. She works closely with music supervisors, trailer houses, ad agencies, and film studios including Universal, Lionsgate, Paramount, Warner Bros along with networks and streaming platforms such as HBO, STARZ, ABC, Netflix, Hulu, and Amazon. AG's music has also been featured on National and Global Ad campaigns for Verizon, Samsung, Ford, Cadillac, Starbucks, P&G, Brawny, and more. Her catalogue has generated over 340 million streams and 390 million views on YouTube to date. AG has made it her mission to bring diversity to the sync world in any way she can. Not satisfied with the status quo in this historically male- dominated industry, AG collaborates with and mentors the next generation of women producers, writers, and engineers as they take a solid step — and hold their ground.
ABOUT MILCK:
MILCK is a singer, songwriter, producer, and advocate who is known for cowriting and performing "Quiet," the viral sensation that became known as the unofficial anthem of the Women's March, Billboard's No.1 Protest Song, and a featured selection on NPR's American Anthem Series. In addition, her 2020 single, "If I Ruled the World," was named song of the week by Time Magazine. As MILCK plans for her album release, she is also finding tremendous joy in writing and producing songs for other artists, like John Legend and Phillipa Soo (Hamilton). The Planned Parenthood Changemaker Award Recipient has funneled her advocacy work into the Somebody's Beloved Fund, which she established with her team in 2020 to use her songs to generate resources for ten grassroots beneficiaries that build power around racial justice and healing through the lens of feminism.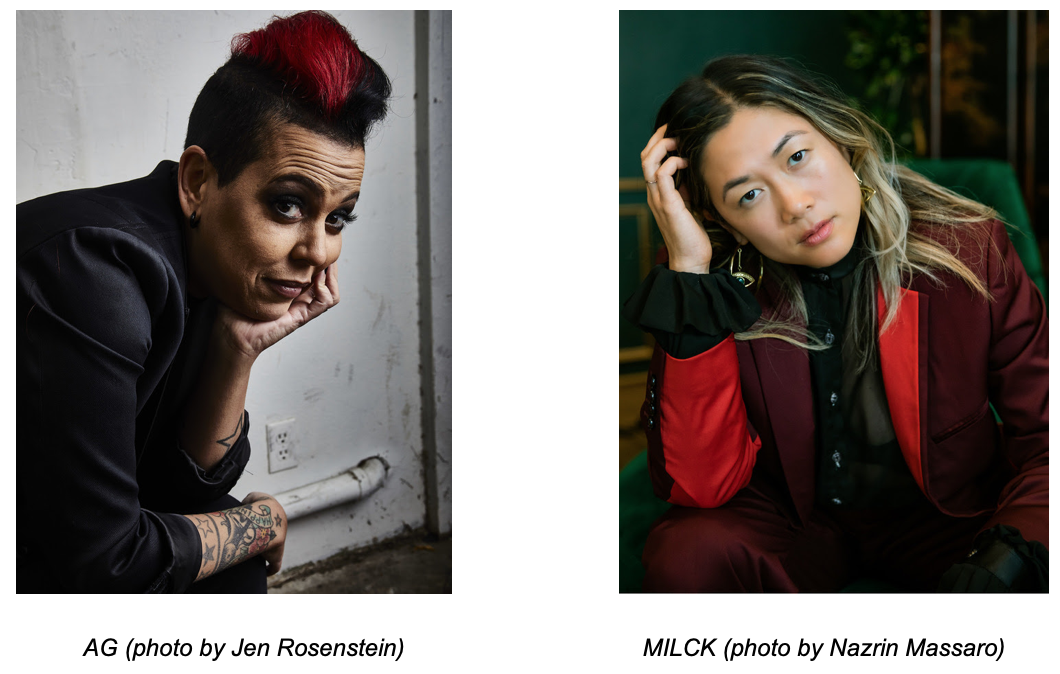 ###
For more information on MILCK please contact:
Shore Fire Media
Allison Elbl, aelbl@shorefire.com
Cory Councill, ccouncill@shorefire.com
Kacey Porter, kporter@shorefire.com