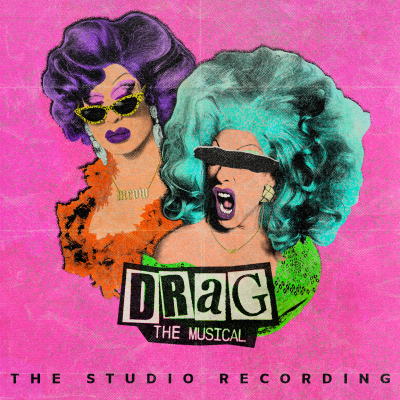 Alaska Thunderfuck's 'DRAG: The Musical (The Studio Recording)' OUT NOW
ANNOUNCES LIVE WORKSHOPS IN LA, JUNE 10th & 11th at The Bourbon Room Hollywood
Today, drag legend Alaska Thunderfuck drops 'DRAG: The Musical (The Studio Recording),' the first taste of what will surely become a modern day queer cult classic. Co-written and conceived with Alaska's longtime musical collaborators, certified platinum songwriter/producer Tomas Costanza and celebrity song stylist Ashley Gordon, as well as directed by the Emmy-nominated Spencer Liff, 'DRAG: The Musical (The Studio Recording)' tells the story of two rival drag bars that go head-to-head for survival amidst financial troubles (additional synopsis details HERE).
PEG Records and Killingsworth Recording Company have partnered with Craft Recordings/Concord Theatricals to release 'DRAG: The Musical (The Studio Recording).' LISTEN HERE!
With a cast of characters that combine hilarity, heart and fabulosity, 'DRAG: The Musical (The Studio Recording)' is an inspiring and entertaining listen from beginning to end. A touch of "Kinky Boots" with a dash of "La Cage aux Folles" and a sprinkle of "The Rocky Horror Picture Show," the original album 'DRAG: The Musical (The Studio Recording)' is brought to life by an all-star cast of drag, theater and LGBTQ+ icons including Alaska, Nick Adams, Michelle Visage, Max von Essen, Bob The Drag Queen, Peppermint, Monét X Change, Jujubee, Fortune Feimster, Margaret Cho, Ginger Minj, Divina De Campo, Lagoona Bloo, Jamie Torcellini and Jack Rodman.
In addition to today's album drop, several forthcoming live event workshops of "DRAG: The Musical" have been announced for June 10th (8PM) and 11th (6PM & 9PM) at The Bourbon Room in Los Angeles. The events will include several live renditions of tracks and scenes from "DRAG: The Musical" brought to life by the likes of Alaska Thunderfuck, Lagoona Bloo, Monet X Change, and Nick Adams. "DRAG: The Musical" will also have a booth at this weekend's Drag Con is Los Angeles.
"At its core, the musical is inspired by the family bond that drag queens have together. And just like family, we may not always get along, but we find a way to support one another and love one another," said Alaska. "I want to bring people into the world of Drag. It's a world that might not always be glamorous and sparkly. In fact, at times it can be slimy and disgusting. But I love it and I wouldn't trade it for anything in the world."
Track Listing for 'DRAG: The Musical (The Studio Recording)'
Welcome to the Fishtank
She's All That
Cathouse Fever
Queen Kitty
The Accounting Song
Drag is Expensive
Wigs
Gay As Hell
Gloria Shmidt
Out of Your League
Miriam Mintz
She's Such a Bitch
It's So Pretty
I'm Just Brendan
We Need Money
I Don't Like You But I Like You
Girls Like Us
Jerry's Dead
Two Bitches Are Better Than One
Real Queens
Welcome to the Catfish
Brendan Is His Name
Get It Together
Cast for ''DRAG: The Musical (The Studio Recording)''
Alaska Thunderfuck - Kitty Galloway
Bob The Drag Queen - The Master of Ceremonies
Divina De Campo - Popcorn Reilly
Fortune Feimster - Gloria Schmidt
Ginger Minj - Puss Puss Dubois
Jack Rodman - Brendan Hutchinson
Jamie Torcellini - Drunk Jerry
Jujubee - The Tigress
Lagoona Bloo - Tuna Turner
Margaret Cho - Miriam Mintz
Max Von Essen - Tom Hutchinson
Michelle Visage - Dixie Coxworth
Monét X Change - Goldie Vandersnatch
Nick Adams - Alexis Gillmore
Peppermint - Savannah St. James
ABOUT ALASKA THUNDERFUCK
A bizarre cosmic collision propelled Alaska to Earth...and onto the fifth season of "RuPaul's Drag Race," where she finished in the final 3 before returning and taking the crown as winner of season two of "RuPaul's Drag Race All Stars." She has released three chart-topping studio albums, "Anus," "Poundcake" and "Vagina" (available on iTunes), been a cast member of VH1's hit reality series "Scared Famous," released a young adult novel titled "Alaska Thunderfun and the Inner Space Odyssey" (part of the "Sickening Adventures" fiction series, available everywhere books are sold online), stars as Hattie in the short horror film "The Quiet Room" directed by Sam Wineman and toured the globe spreading her otherworldly message of love, kindness and gender nonconformity. Alaska also co-hosts the wildly popular Race Chaser podcast with Willam and her Youtube videos boast over 60 million views with 15 million views alone (and counting) for 2017's "The T." She has over 1.7 million insta followers and over 1.1 million twitter & FB followers. Her message to humankind? "If you're not wearing nails, you are not doing drag."
ABOUT TOMAS COSTANZA
Tomas Costanza is a certified-platinum record producer/songwriter and owner of the Killingsworth Recording Company. Costanza has co-written and produced twelve Billboard #1 albums, composed music for multiple TV shows and licensed over 1000 song placements. Synch credits include brands such as Apple, Galaxy, Ford, Google, Amazon, Target, TJ Maxx, Zillow and Tropicana as well as promos for NBC, ABC, CBS, HBO, Showtime, Netflix, AGT, Marvel, WWE and Call of Duty. Scoring credits include networks such as CBS, Comedy Central, Disney, Viceland, and Discovery as well as TV shows such as Ocean Mysteries with Jeff Corwin, Huang's World, Hood Adjacent with James Davis, The Henry Ford Innovation Nation, Lucky Dog and Hidden Heroes.
ABOUT ASHLEY GORDON
Ashley Gordon is a Los Angeles-based songwriter, vocal producer, and ramen connoisseur. She was raised by her loving grandparents in Long Island, New York. The sounds of Ray Charles, Elvis, and Billy Joel filled the halls of her childhood home. Ashley has been published by PULSE Recordings since 2016, focusing her creative energy towards sync artist development. Notable song placements include Burt's Bee's, Doritos, Revlon, Clorox, Freeform, ABC, NBC, CBS, Starz, Hulu, Netflix, and many more. Beyond sync, Ashley has landed over twelve #1 albums on the iTunes charts with RuPaul's Drag Race royalty Alaska Thunderfxck, Trixie Mattel, and KATYA to name a few. She also co-wrote a song entitled "Holy Ground", produced by Justin Tranter for The Voice contestant DeSz. It served as her finale song and debut single (Republic). Ashley was invited to speak as an expert in vocal production and songwriting on CBS' all-female leadership in STEM showcase, Mission Unstoppable. Produced by Geena Davis in partnership with Litton Entertainment, the show encourages young women ages 7-14 to explore STEM-centric careers.
ABOUT CONCORD
Concord is the independent, worldwide leader in the development, management and acquisition of sound recordings, music publishing, theatrical performance rights and narrative content. Headquartered in Nashville with additional offices in Los Angeles, New York, London, Berlin and Miami, Concord also has staff in Toronto, Tokyo and Melbourne. The Company's catalog consists of nearly 900,000 songs, composed works, plays, musicals and active recordings which are licensed in virtually every country and territory worldwide.
ABOUT CONCORD THEATRICALS
Concord Theatricals is the world's most significant theatrical company, comprising the catalogs of R&H Theatricals, Samuel French, Tams-Witmark and The Andrew Lloyd Webber Collection, plus dozens of new signings each year. Our unparalleled roster includes the work of Irving Berlin, Agatha Christie, George & Ira Gershwin, Marvin Hamlisch, Lorraine Hansberry, Kander & Ebb, Kitt & Yorkey, Ken Ludwig, Lin-Manuel Miranda, Dominique Morisseau, Cole Porter, Rodgers & Hammerstein, Thornton Wilder and August Wilson. We are the only firmproviding truly comprehensive services to the creators and producers of plays and musicals, including theatrical licensing, music publishing, script publishing, cast recording and first-class producing. www.concordtheatricals.com
Craft Recordings is home to one of the largest and most storied collections of master recordings and compositions in the world. Our repertoire includes iconic artists such as Joan Baez, Ray Charles, John Coltrane, Creedence Clearwater Revival, Miles Davis, Bill Evans, Vince Guaraldi, John Lee Hooker, Little Richard, Nine Inch Nails, Thelonious Monk, Otis Redding, R.E.M. and Traveling Wilburys, to name just a few. Being caretakers for the heritage of countless landmark recordings is a responsibility we don't take lightly. Renowned imprints with catalogs issued under the Craft banner include Concord Theatricals, Concord, Fantasy, Milestone, Nitro, Prestige, Riverside, Rounder, Specialty, Stax, Sugar Hill, Vanguard and Vee-Jay Records, among many others.
ABOUT PEG
Producer Entertainment Group (PEG) is a full-service artist management firm, record label and production company proudly representing many of the world's top drag queens and LGBTQ+ talent. They oversee all aspects of their clients' careers including development, recording, filming, retail and global touring. PEG is also a major stakeholder in OUTtvUSA, a premium streaming service. PEG artists frequently appear in all areas of mainstream entertainment including television, film, commercial, music, publishing and more. PEG Records is a member label of Warner Music Group's Alternative Distribution Alliance.
ABOUT THE BOURBON ROOM
Located in the Vinyl Disctrict on the iconic Hollywood Walk of Fame, The Bourbon Room brings the best in live music, nightlife, comedy, theater, and dining to Hollywood with the same edgy, rock and roll attitude that built The Sunset Strip. If Joe's Pub and The Troubadour had a baby, it would be The Bourbon Room. The menu is curated by Chef Frankie Guerrero and features American comfort food, craft cocktails, and fine wine. The Bourbon Room is also the gateway to a 200-seat custom-built theater, featuring cutting-edge production capabilities and a full-service bar, perfect for any event. Kicked off by the global sensation Rock of Ages, The Bourbon Room hosts live performances of all genres in the main theater and offers an intimate, speakeasy cocktail lounge and restaurant for cocktails or a bite before or after a show. The Bourbon Room Hollywood is located at 6356 Hollywood Blvd, Hollywood, CA 90028. www.bourbonroomhollywood.com
For more information on "DRAG: The Musical,"
please reach out to Josh Page at Shore Fire Media.
For more information on Alaska,
please reach out to Ken Phillips Publicity Group, Inc. @ Kppublicitygroup@gmail.com