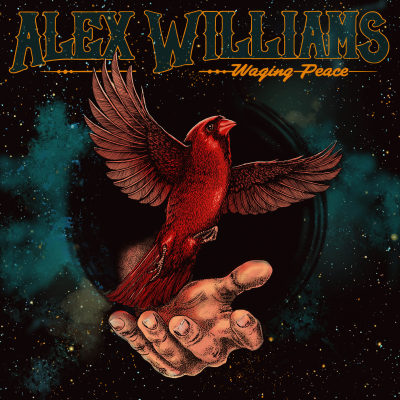 Alex Williams Shares Highs And Lows Of A Traveling Troubadour On 'Waging Peace' Album - Out Now (10.21)
Today (10.21), Alex Williams, who Rolling Stone calls a "rising outlaw star," releases his sophomore full-length album 'Waging Peace' via Lightning Rod Records. Produced by GRAMMY-winner Ben Fowler, the deeply personal, moving and introspective 12-track record details Williams' journey through the highs of success as an artist poised to inherit the "outlaw country throne" held by pioneers like Willie Nelson, Merle Haggard and Waylon Jennings before him, the temptations of the road that drug him down to rock bottom, and his harrowing path to changing his ways and finding internal peace.
Listen to 'Waging Peace,' here: lrr.lnk.to/wagingpeace
"A few of these tunes were born during the recent halt to our normal lives we have all experienced," says Williams. "I was really on edge for a while about the frustrations of not being able to come out with another album in so long, but I'm very glad that I have waited five years to make another record because it's given me the time to really focus on finding my voice as a songwriter, experiencing life on the road and all the pain and joy that has come my way in more ways than one. The pandemic gave me more than enough time to sit and really think about what I wanted to say."
'Waging Peace' kicks off with a "no frills" (Billboard) first single "No Reservations," the first chapter in Williams' story and one that sets the gritty scene for life of a traveling musician and the uphill battle to come throughout the rest of the record. On "Old Before My Time," a "must-have piece of musical migration" (NPR's KUTX), Williams battles how the highs of youth can quickly deteriorate you. "Rock Bottom" is one of the most personal songs on the record and finds Williams grappling with the self-destructive decisions he has made as he leans on the love of his life to help him escape the darkness. "Higher Road" marks his path to recovery and peace, while the album's title track serves as a declaration of war against his struggles and a call for waging peace in his life.
The album closes with the two of the most personal tracks — "The Struggle" and "The Vice" — where Williams explores the growth he has experienced, accepts that the darkest times in our lives can lead to the brightest, and takes one final look back at the road he's traveled throughout the album.
Williams recently performed songs from the album for an NPR Live Session. Watch here:
livesessions.npr.org/videos/alex-williams-finally-friday-from-home-with-alex-williams
Williams is currently on tour through the end of the year, playing shows across the Southeast and Midwest. He is set to perform at The Basement East in Nashville on Friday, November 25th. For more information, visit alexwilliamsofficial.com.
'Waging Peace' Tracklist:
*Produced by Ben Fowler
1. "No Reservations" (Alex Williams / Mando Saenz)
2. "Old Before My Time" (Alex Williams / Neal Coty)
3. "Rock Bottom" (Alex Williams / Mando Saenz)
4. "Fire" (Alex Williams / Tennessee Jet)
5. "Higher Road" (Alex Williams / Mando Saenz)
6. "Waging Peace" (Alex Williams)
7. "Conspiracy" (Alex Williams / Tennessee Jet)
8. "The Best Thing" (Alex Williams / Mickey Raphael)
9. "Double Nickel" (Alex Williams / Ben Jarrell)
10. "Confession" (Alex Williams / Marshall Altman)
11. "The Struggle" (Alex Williams)
12. "The Vice" (Alex Williams)
'Waging Peace' Credits:
Vocals, electric and acoustic guitars: Alex Williams
Lead Guitar: Noah Thomasson
Bass guitar: Ryan Fox
Drums: Coty Leffingwell
Additional musicians:
Danny Dugmore - Pedal Steel
Gordon Mote - Piano and Keyboards
Rob McNelly - Acoustic & electric guitars
Mickey Raphael - Harmonica
Chad Cromwell - percussion
Perry Colman, Vicki Hampton, and Kim Keyes - Harmony vocals
Recorded and mixed:
by Ben Fowler at Ocean Way Studios and Hillywood Studios in Nashville, TN
Additional engineers : Ryan Yount and Jordan Pratt
Mastered by Pete Lyman at Infrasonic Sound in Nashville, TN
Alex Williams on Tour:
Fri., Oct. 21 | Riverbend Pub and Grill | Vanceburg, KY
Sat., Oct. 22 | Luna Music | Indianapolis, IN*
Fri., Nov. 4 | The Vogue | Indianapolis, IN
Sat., Nov. 5 | La Calle Bar and Music Venue | Dekalb, IL
Fri., Nov. 11 | Carl's Country | Prattville, AL
Sat., Nov. 12 | Grant's Lounge | Macon, GA
Thurs., Nov. 17 | Barrel House Ballroom | Chattanooga, TN
Fri., Nov. 18 | The Radio Room | Greenville, SC
Fri., Nov. 25 | The Basement East | Nashville, TN
Sat., Nov. 26 | Crusens | West Peoria, IL
Fri., Dec. 2 | Beachland Ballroom & Tavern | Cleveland, OH
Sat., Dec. 3 | Route 33 Rhythm & Brews | Wapakoneta, OH
Thurs., Dec. 8 | Old Rock House | St. Louis, MO
Fri., Dec. 9 | Wildwood Smokehouse & Saloon | Iowa City, IA
Sat., Dec. 10 | Buck's Bar and Grill | Waterloo, NE
Fri., Dec. 16 | The Intersection | Grand Rapids, MI^
Sat., Dec. 17 | The Fillmore | Detroit, MI^
Sat., Jan. 14 | Neon Moon Restaurant and Social Club | Yantis, TX
*in-store performance
^With Whitey Morgan
###
For more information, please contact:
Jaclyn D. Carter | Shore Fire Media | jcarter@shorefire.com
Olivia Del Valle | Shore Fire Media | odelvalle@shorefire.com
Nick Jurich| Shore Fire Media | njurich@shorefire.com