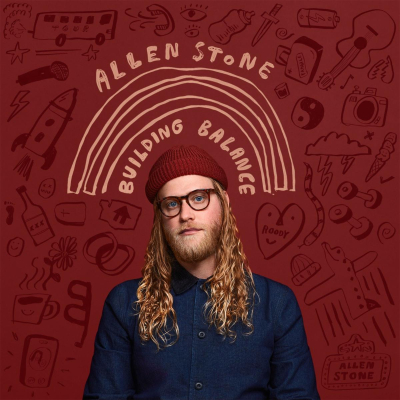 Soulful Vanguard Allen Stone Announces New Album Building Balance (Out November 8th Via ATO Records)
Kicks Off Immersive 15-Date North American Karaoke Live Show October 23, Includes NYC's Cutting Room And LA's Roxy Theatre
LEAD SINGLE "BROWN EYED LOVER" HITS 10M STREAMS, ACCOMPANYING VIDEO AT 3M VIEWS
NEW SONG "SUNNY DAYS" OUT TODAY — LISTEN ON DSPs & WATCH THE NEW MUSIC VIDEO HERE
Soulful vanguard Allen Stone's forthcoming record Building Balance will be released November 8th (ATO Records), taking his soul-stirring R&B and funk to the next artistic level. Allen continues to draw inspiration from '70s funk and soul with current flexes, sitting amid D'Angelo in its sultrier moments, and Stevie Wonder at its most melodic. Also partially inspired by becoming a husband and father, the album features the most personal, lushly produced and gorgeously performed songs of Allen's career.
Building Balance was largely written in a cabin in the woods of Washington state and partially recorded at Sound Emporium Studios in Nashville with three producers: the acclaimed British artist/producer Jamie Lidell, Grammy-winning producer Nasri, and Jeremy Most (Emily King). The album is a textured amalgam of R&B and soul, a result of several personal co-writing sessions, collaborations with Emily King, Mike Posner & Theo Katzman / Joey Dosik of Vulfpeck, and lyrics by Allen. Equal parts sentimental ("Brown Eyed Lover", "Consider Me") and replete with nostalgic funk ("Back to the Swing", "Sweaters"), Allen's third album shows an artist who has grown into his own and learned to balance and appreciate all parts of his life: the vices of the past and the gifts of the present, career and family, the brilliant highs and discouraging lows.
"The balance through the turmoil of strife and struggle is the best balance you can build because you're growing, you're strengthening, you're utilizing muscles," he says of the album. "If it was a cake walk then you're not gonna fortify those tendons or that willpower."
Today, he releases new single "Sunny Days". The song is an R&B ode to euphoric love that features slick rap verses alongside Allen's smooth delivery in his stunningly transformative upper range. Of "Sunny Days", Allen says the track "is a feel good, throwback song about being confident in the love you have for another. Like a refreshing breeze on a hot summer day the melody cools and comforts. There is no feeling more beautiful than trusting in love."
Having just wrapped a summer tour with Train, Allen Stone will hit the road on October 23rd for a live 15-date karaoke tour of intimate rooms. He will perform songs from his catalog and classic karaoke staples with his fans, upfront and literally face-to-face. Watch this hilarious and heartwarming trailer for the tour HERE.
ABOUT ALLEN STONE
Allen Stone grew up in Chewelah, WA, the son of the pastor of the local church which immersed him in gospel music as a young child. Billboard has praised him saying "Stone's disarmingly soulful vocals complement the very authenticity that he hopes to make synonymous with his music," and WXPN says "His energetic shows, plus his warm and evocative albums, explain why Stone has such a solid fan base." Allen Stone has performed on Jimmy Kimmel Live!, as well as the Special Olympics opening ceremony and has been a guest mentor on American Idol.
PRE-ORDER BUILDING BALANCE HERE
TRACK LIST FOR BUILDING BALANCE
Brown Eyed Lover
Sunny Days
Consider Me
Hold It Down
Sweaters
Miscommunicate
Lay It Down
Back To The Swing
I'm Alright
Taste Of You (feat. Jamie Lidell)
Give You Blue
Look Outside
Chippin' Away
Warriors
ALLEN STONE NORTH AMERICAN KARAOKE TOUR FALL 2019
10.23 - Saint Paul, MN - Turf Club
10.24 - Evanston, IL - SPACE
10.25 - Indianapolis, IN - Hi-Fi Indy
10.27 - Washington, DC - City Winery
10.29 - New York, NY - The Cutting Room
10.30 - New York, NY - Manderlay Bar at The McKittrick Hotel
10.31 - Philadelphia, PA - City Winery
11.01 - Boston, MA - City Winery
11.03 - Toronto, ON - Adelaide Hall
11.09 - Nashville, TN - Analog
11.11 - Denver, CO - The Soiled Dove Underground
11.12 - Dallas, TX - House of Blues (Cambridge Room)
11.13 - Los Angeles, CA - The Roxy Theatre
11.15 - Seattle, WA - Triple Door
11.16 - Portland, OR - The Jack London Revue
Follow Allen Stone
Official Website | Facebook | Twitter | Instagram