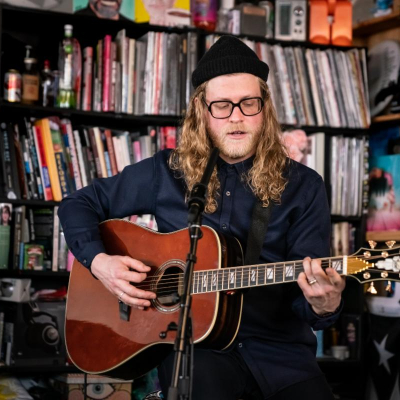 Allen Stone Takes NPR Tiny Desk To Inspired Heights
Soulful Four-Song Session Out Now
Today, Allen Stone has fulfilled a long-standing wish of his fans with the release of a Tiny Desk performance that is sure-to-be one of the most soulfully moving NPR sessions in recent years.
Allen brought to the legendary DC HQ of NPR the meticulously constructed stripped-down reimaginings of "Consider Me" (which GQ recently called one of the "best love songs of 2020"), "Give You Blue" (a touching ode to devotion he wrote with Mike Posner for his wife shortly after proposing), his rousing unanimous fan-favorite "Brown Eyed Lover," and "American Privilege", a song that feels especially poignant in the midst of the current public health situation and political climate.
Whether in the studio recording his acclaimed latest album 'Building Balance' (out on ATO Records), performing live for thousands of people nightly on the record's corresponding tour (35k tickets sold throughout his entire US run), or singing face-to-face with fans as part of his unprecedented 2019 "Karaoke Extravaganza" tour, Allen brings to life his expertly-written slice-of-life soul with heartfelt integrity, vocals that seem to defy gravity, and an effortlessly irresistible charisma.
Today's Tiny Desk is no exception, with Allen's charm & spirit-shaking vocals on perfect & full display, accompanied by the likes of pianist Michael Elson and vocally backed the powerhouse trio of Jessica Childress, Moorea Masa, & Raquel Rodriguez. NPR Music producer Bobby Carter echoed this sentiment saying, "I've been an Allen Stone fan for quite some time and I knew it was only a matter of time before he played the Tiny Desk. He approached his set like he's done it ten times over and delivered a perfect career snapshot. Instantly one of my favorite shows to produce."
"It's always been a dream of mine to be on, or I guess behind the Tiny Desk," said Allen. "It's really special to perform in a stripped-down environment like that where everyone has to listen to each other, no glitz, no glamour, just pure raw music. It's incredible what NPR and Bob Boilen have done in creating Tiny Desk, building a community that can share and embrace good music of all genres in a way we normally wouldn't hear it. I'm honored to be one of those artist that got to sit behind that iconic desk."
The remainder of Allen's stateside tour (including three sold-out shows in his beloved home city of Seattle) have been postponed and will be rescheduled soon. In this moment of global unrest, Allen is also working to give back, recently performing as part of Billboard's "Live At-Home" series and raising money for an organization of his choosing (LA's Downtown Women's Center).
Allen Stone Online
Official Website | Facebook | Twitter | Instagram