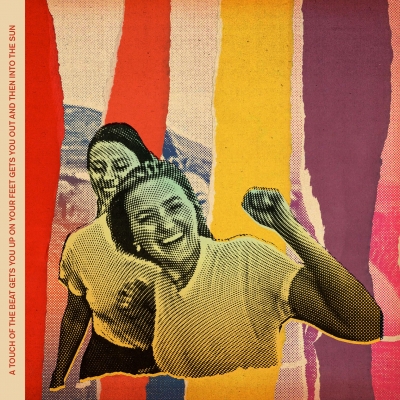 Aly & AJ Drops First Album In 14 Years, Ushers In Sonic Rebirth Soaked In SoCal Sun
'a touch of the beat gets you up on your feet gets you out and then into the sun' Out Now
Announces 2022 "A Touch of The Beat" US & EU Tour, Public OnSale starts Friday, May 14th
"Aly & AJ just keep winning." - The Fader
"...looks forward to sunshine and summer days and recalls the jangling guitars and warm soundscapes of Fleetwood Mac…" - Wall Street Journal
"9/10 - Aly & AJ have planted their flag with an exceptional record that rounds off what's been a triumphant return, and is sure to be the beginning of a brilliant new chapter." - Line of Best Fit
"Aly and AJ's newest proves that they're still just as badass." - V Magazine
"It's great people still stan "Potential Breakup Song," but don't sleep on Aly & AJ's new music. As they've gotten older, they've started producing more expansive soundscapes." - Entertainment Weekly
"Bodes promising for the sisters' new era — dancing your heart out is very much on the horizon." - Nylon
It's been 14 years since the powerhouse sister duo Aly & AJ released their last full-length record, and today they return with 'a touch of the beat gets you up on your feet gets you out and then into the sun', a collection that's more than just an album -- it's a sonic rebirth.
Also announced today is the duo's 2022 "A Touch of The Beat" US & EU tour, which will travel to Los Angeles, New York City, London, Paris, Berlin, Chicago, San Francisco, and more. Fan Club Presale starts Monday, May 10th, at 10am local time while Public OnSale starts Friday, May 14th at 10am local time. Full tour dates below.
Produced by Yves Rothman and recorded with live instrumentation at the legendary Sunset Sound, the new album finds its title taken from a lyric on the record that captures the essence of the 12-track collection -- it's a blend of an unbreakable bond between two sisters, their west coast energy, and their innate sensibility to tell a timeless story. It finds two singer/songwriters balancing effortless melodies, lush instrumentation and heartachingly relatable lyrics. And somehow they still hold onto the charismatic charms that made them stand out as pop powerhouses in the mid-00s.
"Being able to create this album over the last year has been the most fulfilling piece of art we've made to date," said Aly & AJ. "This truly feels like the album we were born to make."
This might be the truest representation of who Aly & AJ are as creative forces. 'a touch of the beat…' is steeped in heart-on-their-sleeve honesty, whether it's on the triumphant Nancy Wilson-accompanied "Listen!!!", their anthem to the open road "Pretty Places" or their closing track "Hold Out", a stunning ballad featuring guitar work from Melissa Etheridge. The five pre-released singles "Slow Dancing", "Don't Need Nothing", "Symptom Of Your Touch" and the aforementioned "Listen!!!" & "Pretty Places" have respectively earned respect from critics across the board, including NPR, New York Times, Billboard, Paper Magazine, The Fader, Rolling Stone, Wall Street Journal, Nylon, V Magazine and more as well as a performance on Full Frontal With Samantha Bee.
Aly & AJ also celebrate today's album release with a special one-night only virtual concert filmed at The Theatre at the Ace Hotel in Los Angeles (presented by uni-ball) where they will play the new record front to back, followed by a global virtual town hall the afternoon of Saturday, May 8th. Tickets HERE.
Also, on May 7th, Aly and AJ will be the next guests on TikTok's Headstream, the app's new interactive LIVE series that invites fans to enter the minds of their favorite artists. For 30 minutes, on Fridays at 4PM PT/7PM ET, Headstream invites artists to introduce their new music, interact with fans in the live chat, and get into some real talk with their toughest interviewer yet—themselves.
Tracklisting for 'a touch of the beat gets you up on your feet
gets you out and then into the sun'
Pretty Places
Lost Cause
Break Yourself
Slow Dancing
Paradise
Symptom of Your Touch
Lucky to Get Him
Listen!!!
Don't Need Nothing
Stomach
Personal Cathedrals
Hold Out
"A Touch of The Beat" 2022 Tour Dates
EUROPE
February 22 - Dublin, Ireland - Academy
February 24 - Birmingham, UK - Academy2
February 25 - Newcastle, UK - Student Union
February 26 - Glasgow, UK - Queen Margaret Union
February 27 - Manchester, UK - Ritz
March 1 - London, UK - Shepherd's Bush
March 4 - Cologne, Germany - Essigfabrik
March 5 - Amsterdam, Netherlands - Melkweg Oude Zaal
March 6 - Antwerp, Belgium - Trix
March 8 - Paris, France - FVTVR
March 9 - Zurich, Switzerland - Dynamo
March 10 - Milan, Italy - Magazzini Generali
March 12 - Vienna, Austria - Grelle Forelle
March 13 - Warsaw, Poland - Praga Centrum
March 14 - Berlin, Germany - Hole44
March 15 - Hamburg, Germany - Gruenspan
March 17 - Copenhagen, Denmark - DR Studie 2
March 18 - Oslo, Norway - Parkteateret
March 19 - Malmo, Sweden - Kulturbolaget
March 20 - Stockholm, Sweden - Klubben
NORTH AMERICA
April 2 - Sacramento, CA - Crest Theatre
April 4 - San Francisco, CA - Fillmore
April 7 - Seattle, WA - Showbox (SoDo)
April 8 - Portland, OR - Roseland Ballroom
April 11 - Salt Lake City, UT - The Depot
April 12 - Denver, CO - Summit
April 14 - Kansas City, MO - The Truman
April 15 - Minneapolis, MN - The Fillmore
April 16 - Madison, WI - Majestic Theatre
April 19 - Chicago, IL - HOB
April 21 - Indianapolis, IN - The Vogue
April 22 - Louisville, KY - Mercury Ballroom
April 23 - Cincinnati, OH - Bogarts
April 26 - Columbus, OH - Newport Music Hall
April 28 - Cleveland, OH - HOB
April 29 - Detroit, MI - Majestic Theatre
April 30 - Toronto, ONT - Danforth
May 2 - Montreal, QBC - L'Astral
May 4 - Boston, MA - HOB
May 6 - Philadelphia, PA - TLA
May 7 - Pittsburgh, PA - Stage AE
May 8 - Silver Spring, MD - Fillmore
May 10 - New York, NY - Webster Hall
May 12 - Norfolk, VA - The NorVa
May 13 - Raleigh, NC - Lincoln Theatre
May 14 - Nashville, TN - Marathon
May 16 - Atlanta, GA - Masquerade
May 18 - Orlando, FL - House of Blues
May 20 - Austin, TX - Emos (Inside)
May 21 - Dallas, TX - HOB
May 22 - Houston, TX - HOB
May 24 - Tucson, AZ - Rialto
May 25 - Phoenix, AZ - Marquee
May 26 - San Diego, CA - The Observatory
May 28 - Los Angeles, CA - Wiltern