ALY & AJ Make Lollapalooza Debut, Drop The National Cover
Listen To Cover Of The National's "I Need My Girl" - LISTEN HERE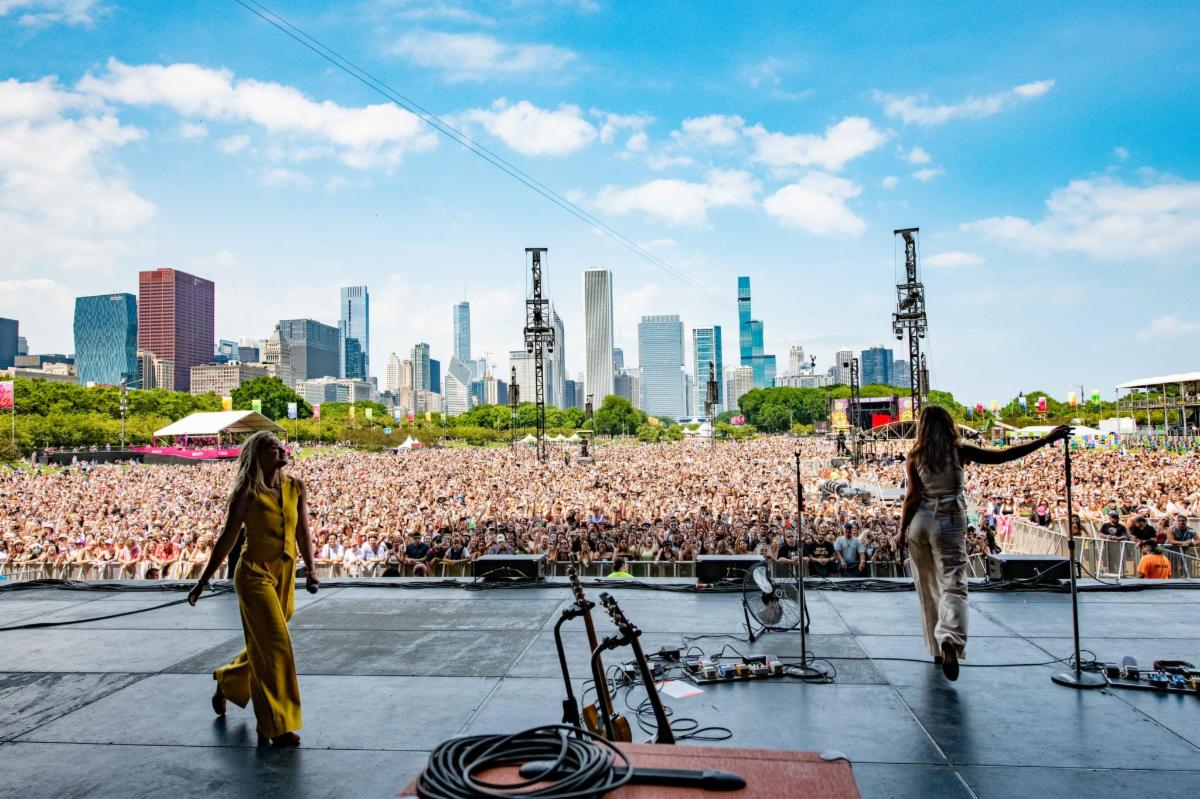 Yesterday, Aly & AJ etched another checkmark in their monumental 2021 when they hit the T-Mobile Stage at Lollapalooza. Their debut performance at the festival, a magnificent display of their artistry, took a packed field of Lollapalooza guests on a journey through their SoCal-inspired latest LP ('a touch of the beat gets you up on your feet gets you out and then into the sun') with lush, breezy live arrangements of album highlights like "Pretty Places" and "Break Yourself", while also partially reimagining their smash hit "Potential Breakup Song" as a jazz standard.
Dressed by Giuliva Heritage, the two California girls wore handmade Italian garments, and delivered a perfect set to jumpstart the legendary festival's main stage after its near two-year in-person hiatus.
"Being on stage at Lollapalooza completely encapsulated everything Aly and I love about live music," said AJ. "An incredible band behind us, great visuals and a killer crowd. It was more than we could've ever imagined. We'll never forget it."
Also, today, the celebrated sister duo releases a moody take on The National's "I Need My Girl" that feels almost otherworldly in its dreaminess.
"We've always looked up to the songwriting behind The National," said Aly. "The lyrics to this song are just so gut wrenching & AJ's added harmonies bring a haunting quality to the track."
The road to Lollapalooza has been an exciting one for Aly & AJ. Last November, they saw "Potential Breakup Song" reignite online thanks to a viral explosion on TikTok. They responded by releasing an explicit, revamped version of the track, followed by the lead-up to their acclaimed new album (first in 14 years) that was called the "feel good album of the summer" by Vogue and received additional praise from NY Times, Rolling Stone, Wall Street Journal, Billboard, Paper, NPR, MTV and many more. Over the past few months, they also have performed on Full Frontal with Samantha Bee and WNYC. As The Fader so perfectly and simply put it: "Aly & AJ just keeping winning."
Aly & AJ recently announced their 2022 "A Touch of The Beat" US & EU tour, which will travel to Los Angeles, New York City, London, Paris, Berlin, Chicago, San Francisco, and more. Full dates below.
Produced by Yves Rothman and recorded with live instrumentation at the legendary Sunset Sound, the new album finds its title taken from a lyric on the record that captures the essence of the 12-track collection -- it's a blend of an unbreakable bond between two sisters, their west coast energy, and their innate sensibility to tell a timeless story. It finds two singer/songwriters balancing effortless melodies, lush instrumentation and heartachingly relatable lyrics. And somehow they still hold onto the charismatic charms that made them stand out as pop powerhouses in the mid-00s.
"Being able to create this album over the last year has been the most fulfilling piece of art we've made to date," said Aly & AJ. "This truly feels like the album we were born to make."
"A Touch of The Beat" 2022 Tour Dates
EUROPE
February 22 - Dublin, Ireland - Academy
February 24 - Birmingham, UK - Academy2
February 25 - Newcastle, UK - Student Union
February 26 - Glasgow, UK - Queen Margaret Union
February 27 - Manchester, UK - Ritz
March 1 - London, UK - Shepherd's Bush
March 4 - Cologne, Germany - Essigfabrik
March 5 - Amsterdam, Netherlands - Melkweg Oude Zaal
March 6 - Antwerp, Belgium - Trix
March 8 - Paris, France - FVTVR
March 9 - Zurich, Switzerland - Dynamo
March 10 - Milan, Italy - Magazzini Generali
March 12 - Vienna, Austria - Grelle Forelle
March 13 - Warsaw, Poland - Praga Centrum
March 14 - Berlin, Germany - Hole44
March 15 - Hamburg, Germany - Gruenspan
March 17 - Copenhagen, Denmark - DR Studie 2
March 18 - Oslo, Norway - Parkteateret
March 19 - Malmo, Sweden - Kulturbolaget
March 20 - Stockholm, Sweden - Klubben
NORTH AMERICA
April 2 - Sacramento, CA - Crest Theatre
April 4 - San Francisco, CA - Fillmore
April 7 - Seattle, WA - Showbox (SoDo)
April 8 - Portland, OR - Roseland Ballroom
April 11 - Salt Lake City, UT - The Depot
April 12 - Denver, CO - Summit
April 14 - Kansas City, MO - The Truman
April 15 - Minneapolis, MN - The Fillmore
April 16 - Madison, WI - Majestic Theatre
April 19 - Chicago, IL - HOB
April 21 - Indianapolis, IN - The Vogue
April 22 - Louisville, KY - Mercury Ballroom
April 23 - Cincinnati, OH - Bogarts
April 26 - Columbus, OH - Newport Music Hall
April 28 - Cleveland, OH - HOB
April 29 - Detroit, MI - Majestic Theatre
April 30 - Toronto, ONT - Danforth
May 2 - Montreal, QBC - L'Astral
May 4 - Boston, MA - HOB
May 6 - Philadelphia, PA - TLA
May 7 - Pittsburgh, PA - Stage AE
May 8 - Silver Spring, MD - Fillmore
May 10 - New York, NY - Webster Hall
May 12 - Norfolk, VA - The NorVa
May 13 - Raleigh, NC - Lincoln Theatre
May 14 - Nashville, TN - Marathon
May 16 - Atlanta, GA - Masquerade
May 18 - Orlando, FL - House of Blues
May 20 - Austin, TX - Emos (Inside)
May 21 - Dallas, TX - HOB
May 22 - Houston, TX - HOB
May 24 - Tucson, AZ - Rialto
May 25 - Phoenix, AZ - Marquee
May 26 - San Diego, CA - The Observatory
May 28 - Los Angeles, CA - Wiltern
ALY & AJ ON SOCIALS
Facebook | Twitter | Instagram | TiKToK
For more information on Aly & AJ, please contact
at Shore Fire Media.