Aly & AJ Set Their Sights On 2023 With Headlining "With Love From Tour"
2023 Live Dates Include Stops at LA's Greek Theatre, NYC's Hammerstein Ballroom & Nashville's Ryman Auditorium
Aly & AJ Will Perform New Single "With Love From" On NBC's TODAY, November 16
After 80+ shows already this year and esteemed performances at Lollapalooza, Governors Ball, Austin City Limits and more, Aly & AJ have today announced they will be going back on the road in 2023. Their "With Love From Tour" kicks off March 30th going through late April, and then will pick up again in September, with stops at historic venues like LA's Greek Theatre, NYC's Hammerstein Ballroom, and Nashville's Ryman Auditorium. Full dates below.
A fan presale will go live tomorrow (Friday, Nov 11 at 10AM local time), and tickets will go on sale next Wednesday (Nov 16) at 10AM local time.
"The live aspect of our show is incredibly important to us and always has been," said Aly & AJ. "We've already started designing this tour visually and sonically and we can't wait to deliver these songs in a live space. Some of these venues are bucket list venues for us so this tour is going to be unforgettable."
In conjunction with the ticket on-sale on Nov. 16, Aly & AJ will perform their new single "With Love From" on NBC's TODAY that morning. Released last week, "With Love From" is the first taste of the sisters' forthcoming album of the same name (out Spring 2023), and was described by Rolling Stone as "a folky postcard about growing pains" and is said to "usher in a new era of artistry for the sisters" according to Variety. Along with next Wednesday's performance on TODAY, Aly & AJ will also drop the new music video for "With Love From".
Listen to "With Love From" HERE.
Next year's musical era and tour follows a monumental year for Aly & AJ, including their massive Austin City Limits debut, 80+ live shows since this past April (including a run of EU/UK dates), performances at Madison Square Garden & Hollywood Bowl, appearances on Jimmy Kimmel Live! & Good Morning America, festival slots at Governors Ball, BottleRock & Sea Hear Now, and the deluxe edition release of their acclaimed last album 'a touch of the beat gets you up on your feet gets you out and then into the sun'.
If their last album was a joyful sunbathed celebration, 'With Love From' is set to be a haunting collection of introspection and personal recollections. Like a lost diary that has been found, the forthcoming record is rife with organic observations on life's nuances and the meaning behind what makes us who we are. Fitting with the project's lyrical content, the record itself has a rawness brought to life by recording sessions at the legendary Sunset Sound studios with a live band and very little post-programming.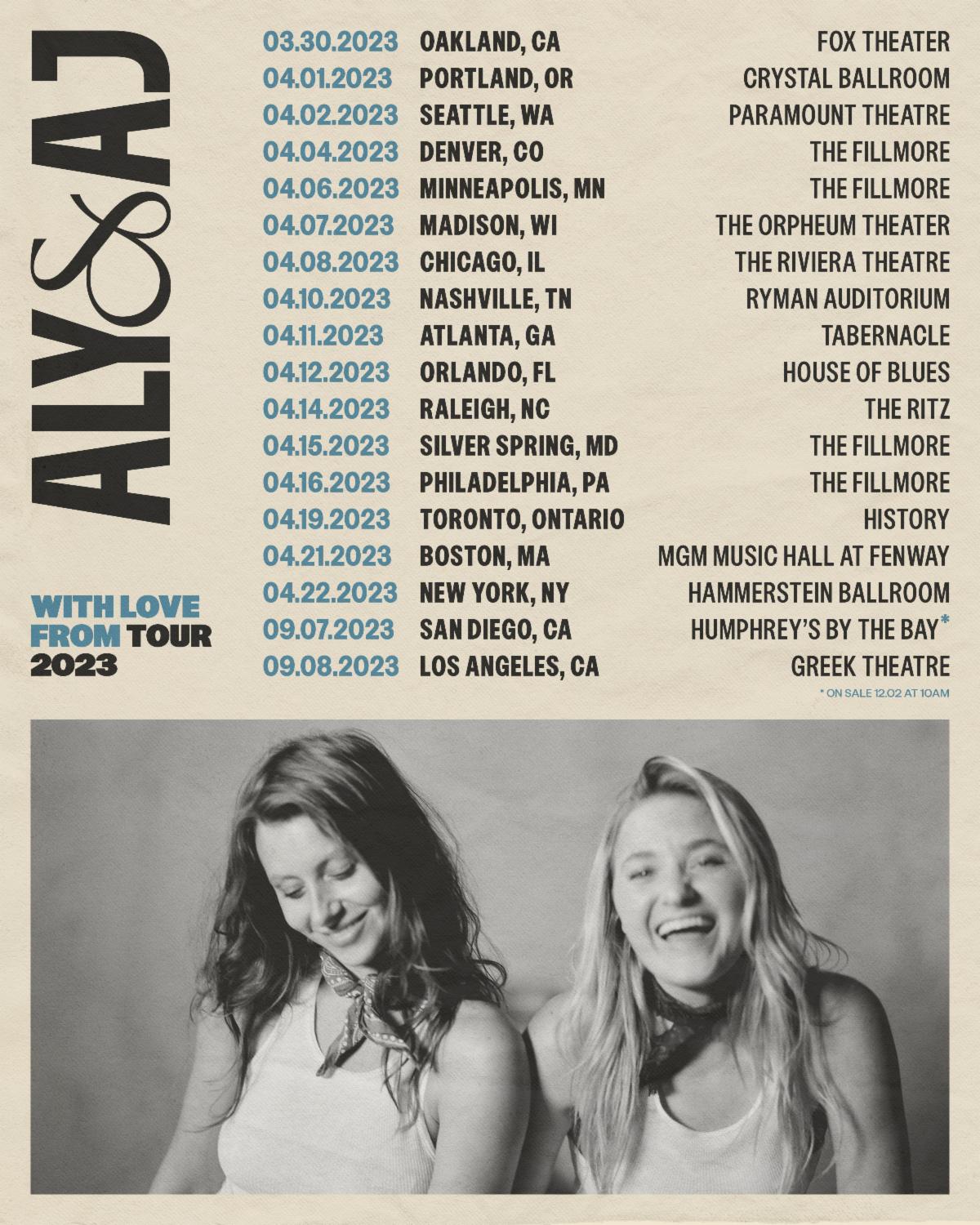 Aly & AJ's "With Love From Tour" Dates
03.30.2023 OAKLAND, CA - FOX THEATER
04.01.2023 PORTLAND, OR - CRYSTAL BALLROOM
04.02.2023 SEATTLE, WA - PARAMOUNT THEATRE
04.04.2023 DENVER, CO - THE FILLMORE
04.06.2023 MINNEAPOLIS, MN - THE FILLMORE
04.07.2023 MADISON, WI - THE ORPHEUM THEATER
04.08.2023 CHICAGO, IL - THE RIVIERA THEATRE
04.10.2023 NASHVILLE, TN - RYMAN AUDITORIUM
04.11.2023 ATLANTA, GA - TABERNACLE
04.12.2023 ORLANDO, FL - HOUSE OF BLUES
04.14.2023 RALEIGH, NC - THE RITZ
04.15.2023 SILVER SPRING, MD - THE FILLMORE
04.16.2023 PHILADELPHIA, PA - THE FILLMORE
04.19.2023 TORONTO, ONTARIO - HISTORY
04.21.2023 BOSTON, MA - MGM MUSIC HALL AT FENWAY
04.22.2023 NEW YORK, NY - HAMMERSTEIN BALLROOM
09.07.2023 SAN DIEGO, CA - HUMPHREY'S BY THE BAY
09.08.2023 LOS ANGELES, CA - GREEK THEATRE
For more information on Aly & AJ, please contact:
Josh Page & Alena Joyiens at Shore Fire Media.