Andrew Bird Releases Official Video For "I felt a Funeral, in my Brain" feat. Phoebe Bridgers, With Footage of Emily Dickinson's Original Handwritten Transcripts & Lifelong Home
Seven Sold-Out Gezelligheid Concerts Return to Chicago This Holiday Season, Live-Stream Announced For Dec 13th
More Inside Problems Tour Dates Added For Spring 2023
Photo by David Black
Today, Andrew Bird shares the official video for his latest single, "I felt a Funeral, in my Brain" feat. Phoebe Bridgers, created in collaboration with the Emily Dickinson Museum. A haunting reimagination of the Emily Dickinson poem, the duet has been called "rich, beautiful and just a little bit spooky" (Literary Hub), led by "raw, vulnerable vocals" (Washington Post) that have now been set against images of the late poet's original handwritten transcripts, and snowy footage of her lifelong Massachusetts home.
Visuals were provided to Andrew Bird by the Emily Dickinson Museum, who were quick to voice their support for his and Bridgers' rendition of the poem that he calls the most vivid description of an inner world he has ever encountered. Read more about the inspiration Dickinson's "I felt a Funeral, in my Brain" had on Bird's new album Inside Problems in a conversation with Vanity Fair, and see those words come to life in the video:
Last week, Andrew Bird and Phoebe Bridgers also teamed up for her cover of The Handsome Family's "So Much Wine," a song that Bird blended with "Greensleeves" on his holiday album Hark!, and will often perform live during the Christmas season. Produced by Phoebe Bridgers along with Tony Berg and Ethan Gruska, "So Much Wine" features Marshall Vore, Harrison Whitford, Sebastian Steinberg and Paul Mescal, in addition to vocals, violin and whistling by Bird. Proceeds from the track will be going to the Los Angeles LGBT Center, which provides services for more LGBT people than any other organization in the world.
Released in June, Inside Problems sees Andrew Bird enter "previously uncharted territory" (Pitchfork), as songs like "Make a Picture" and the Joan Didion-inspired "Atomized" transport listeners to "a lush musical world" (NPR Music). After selling out the Greek Theatre, Red Rocks, NYC's Pier 17 and more on a US tour of 35 dates earlier this year, Andrew Bird has also announced another extensive return to the road for spring 2023. On sale now, a dozen stops across the East Coast, Midwest, Big Ears Festival and beyond will kick off on March 30th, in support of the album.
Before then, Andrew Bird will head home to Chicago for a sold-out, seven-night run of his annual Gezelligheid holiday concerts, one of which will be streaming live from Fourth Presbyterian Church on December 13th, with special guest My Brightest Diamond. Find more information on where and how to watch: HERE
Check out the rest of Andrew Bird's upcoming tour dates at andrewbird.net/#tour, and revisit a number of Inside Problems standouts in recent performances for CBS Saturday Morning, NPR's Tiny Desk Concerts and KCRW's Morning Becomes Eclectic.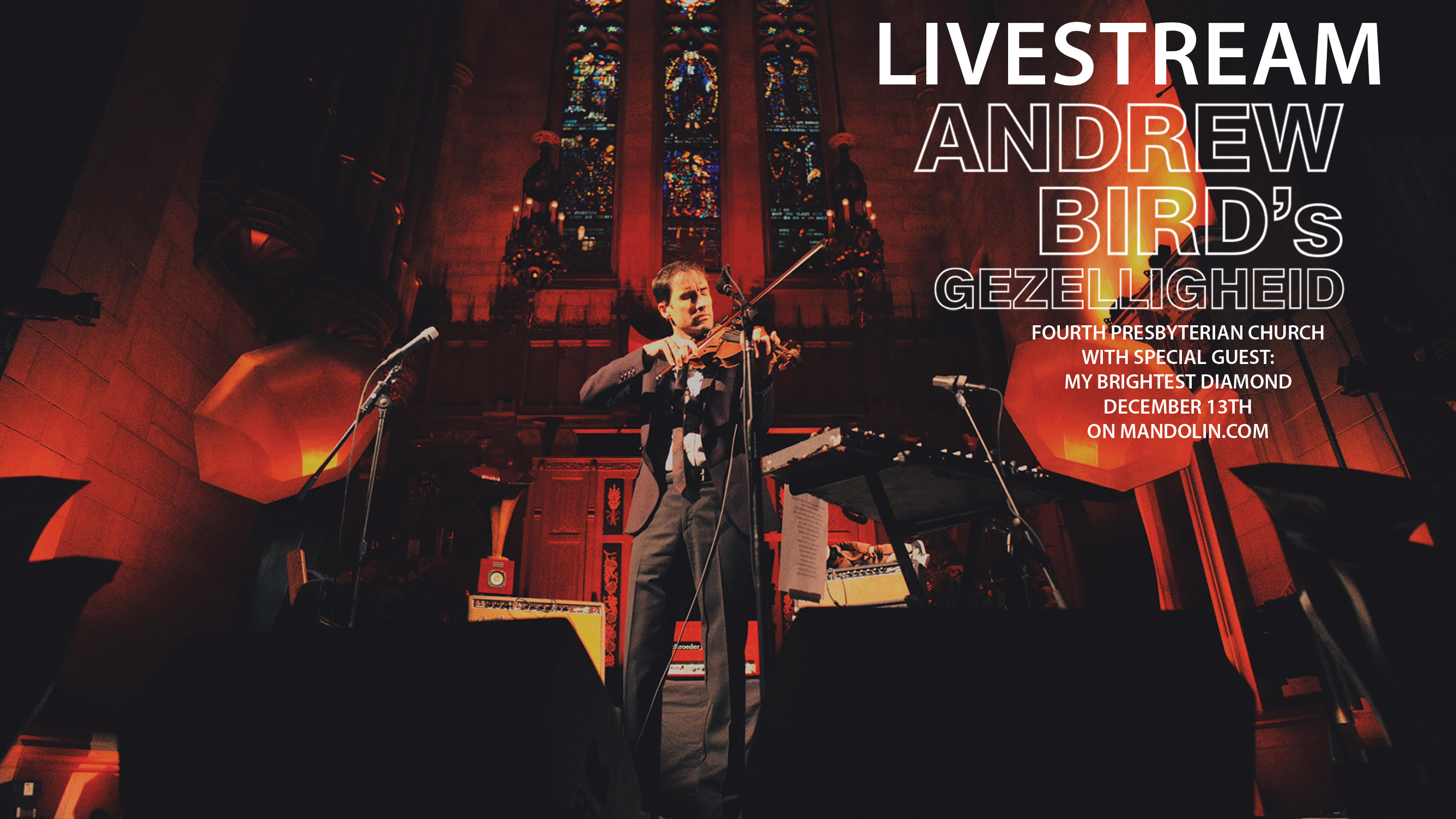 Andrew Bird Tour Dates
12/8 - Chicago, IL - Gezelligheid - SOLD OUT
12/9 - Chicago, IL - Gezelligheid - SOLD OUT
12/12 - Chicago, IL - Gezelligheid - SOLD OUT
12/13 - Chicago, IL - Gezelligheid - SOLD OUT
12/14 - Chicago, IL - Gezelligheid - SOLD OUT
12/15 - Chicago, IL - Gezelligheid - SOLD OUT
12/16 - Chicago, IL - Gezelligheid - SOLD OUT
2/10-17 - Miami, FL - Cayamo
2/19 - London, UK - O2 Shepherd's Bush
3/9 - Melbourne, AU - Forum Theatre
3/10 - Sydney, AU - Enmore Theatre
3/11 - Brisbane, AU - The Tivoli
3/30-4/2 - Knoxville, TN - Big Ears Festival
3/30 - Asheville, NC - The Orange Peel
4/1 - Charleston, SC - Charleston Music Hall
4/3 - Richmond, VA - The National
4/4 - Louisville, KY - Paristown Hall
4/5 - Madison, WI - The Sylvee
4/7 - Ann Arbor, MI - Michigan Theater
4/8 - Cleveland, OH - Agora Theatre
4/9 - Toronto, CA - History
4/11 - Portland, ME - State Theatre
4/12 - Newark, NJ - Prudential Hall
4/13 - Boston, MA - MGM Music Hall
Praise For "I felt a Funeral, in my Brain" feat. Phoebe Bridgers
"The poem is unsettling enough. Adding the raw, vulnerable voices of Bird and Bridgers produces something even more devastating"
Washington Post
"Haunting harmonies"
Vanity Fair
"A tender, albeit occasionally chilling folk arrangement...the interpretation pairs Dickinson's verses with soft guitar, light whistling, and drum patter, as well as strings that can feel rich and grand one moment, then cool and steely the next"
Rolling Stone
"Bird and Bridgers are an ideal duo for turning this poem into a song: as songwriters they are both masterful scene-setters, and inhabit the characters of their songs with almost eerie presence, as if haunting their own material"
Literary Hub
"Phoebe Bridgers and Andrew Bird are a match made in heaven...soft and ethereal, fitting for the changing season"
NYLON
"Dickinson's words illustrate a harrowing descent into madness, and Bridgers and Bird channel that macabre energy in their musical rendition"
Consequence
"Once you hear their harmonies over the soft guitar strumming, you'll feel chills crawl up your spine"
Seventeen
"A shivering interpretation sung in somber and lovely harmony"
Paste
"Warm violin fit for a pastoral rendezvous, chilling observations, not to mention his literal whistling that reaches to the high heavens"
FLOOD
Follow Andrew Bird
For more information, contact Matt Hanks or Greg Jakubik at Shore Fire Media,
(718) 522-7171