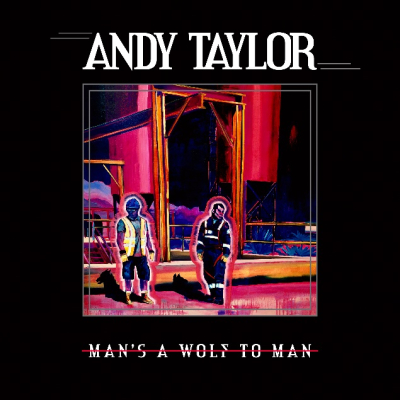 Andy Taylor Releases Latest Album 'Man's A Wolf To Man' 
First Solo Release In Over 30 Years
Listen To

'Man's A Wolf To Man'

HERE
Andy Taylor – songwriter, guitarist, singer, and Rock & Roll Hall Of Fame Inductee whose credits include his work with Duran Duran, The Power Station, Robert Palmer, Rod Stewart, The Almighty, Thunder and The Ting Tings returns with the release of his new album 'Man's A Wolf To Man' via BMG - his first solo release in over 30 years.
"'Man's A Wolf To Man' is about how man is his own worst enemy and will behave like a pack of wolves towards his other human enemy," stated Andy Taylor. "What we saw bubbling when I started writing, it was all about getting even – why do you get so mad trying to get even? Why do people get angry? Why don't they just do better themselves? I was getting back to making records that are human, about something that mattered or matters, that are in the moment."
Listen to a 'Man's A Wolf To Man' HERE
'Man's A Wolf To Man' is anything but po-faced with "Influential Blondes" riding off on a stirring, high-glam chorus; "Try To Get Even," a duet with Tina Arena, is a gorgeous, country-rock ballad, "Reachin' Out To You" is the kind of funky rock that fans of The Power Station will love. "Gettin' It Home" is stirring hard rock, "This Will Be Ours" and "Gotta Give" see Andy slide from skiffle-style grooves into a raunchy, Stones-y stomp. Check out his most recent interview with Rolling Stone where he discussed the album process.
MAN'S A WOLF TO MAN TRACKLISTING
Man's A Wolf To Man
Influential Blondes
Did It For You
Try To Get Even (Featuring Tina Arena)
Reachin' Out To You
Getting It Home
The Last Straw
This Will Be Ours
Gotta Give (Featuring Gary Stringer)
Big Trigger
Man's A Wolf To Man (reprise)
Andy Taylor has the kind of history that real rock stars have, the kind that encompasses huge hit records, mind-boggling excess, and triumph over the odds. After his first time as a member of Duran Duran, Andy went on to produce Rod Stewart and help make Thunder stars in their own right by producing their first album. The Power Station, with Andy, Robert Palmer and Tony Thompson, made good on Duran Duran's promise to combine CHIC and the Sex Pistols, as did working with Steve Jones on Andy's debut solo album Thunder in 1987.
2023 finds Andy Taylor on top of the world, with a solo album that he is justifiably proud of and is currently undergoing targeted therapy which is life changing & lifesaving. The future looks bright, for as long as it can last, whatever length of time that might be.