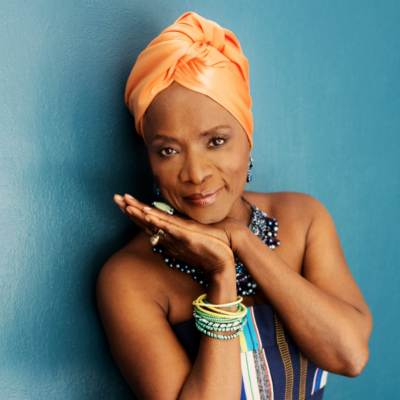 Angélique Kidjo Sings At The Opening Ceremony of the Olympic Games Tokyo 2020
Performs "Imagine" with John Legend, Keith Urban, Alejandro Sanz, the Suginami Children's Choir alongside composer Hans Zimmer
Today Angélique Kidjo - one of the most singular and extraordinary voices in international music – performed with a group of globally renowned artists to deliver a version of John Lennon's "Imagine," originally written with Yoko Ono Lennon, in the Olympic Games Tokyo 2020 Opening Ceremony. With an audience of millions across the globe, the International Olympic Committee (IOC) worked with renowned composer Hans Zimmer to take viewers on a musical journey around the world. Benin-born star Angélique sang alongside John Legend, Keith Urban, Alejandro Sanz, and the Suginami Children's Choir. The Synchron Stage Orchestra and Choir as well as drummers from the TAIKOPROJECT also contributed to this performance.
The Tokyo 2020 Opening Ceremony performance was broadcast live this morning at 7AM ET and will re-air this evening at 7:30PM ET on NBC's primetime broadcast.
Angélique Kidjo is one of the greatest artists in international music today, with Time Magazine calling her "Africa's premier diva." She has recently performed and appeared on various TV shows, music concerts and was profiled by the NY Times.
Kidjo created Batonga in 2006, a charitable foundation dedicated to supporting the education of young girls in Africa. As a UNICEF Ambassador, she helped to secure the investment of $300 million in women business owners in Africa, announced at the 2018 G7 Summit. She is the recipient of the 2015 Crystal Award given by the World Economic Forum in Davos, Switzerland, the 2016 Amnesty International Ambassador of Conscience Award, and the 2018 German Sustainability Award. In 2017 she was one of two musicians chosen to perform for a host of world leaders under the Arc de Triomphe in Paris to honor the 100th anniversary of the end of World War I.
https://angeliquekidjo.lnk.to/mother-nature
FACEBOOK | INSTAGRAM | TWITTER
Contact:
Allison Elbl, Chris Taillie, Erica Goldish, and Kacey Porter