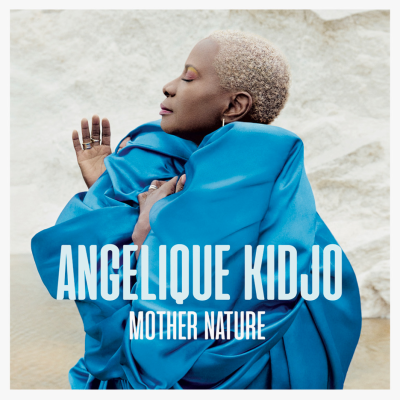 Angélique Kidjo's Mother Nature Out Now (Universal Music Group)
NY Times, New Yorker, Amanpour, Tamron Hall + More Celebrate 4-Time GRAMMY Winner's New Album
"Angelique Kidjo is a towering figure of cross-cultural music" - New Yorker
Angélique Kidjo has released her new album Mother Nature (Universal Music Group), the singer's first album of original music in 7 years. Mother Nature has been widely celebrated in the past few days, met with a New York Times feature, a New Yorker review with a full page photo, interviews on PBS/CNN's Amanpour and the Tamron Hall Show's final episode of the season, coverage from Pitchfork, NPR's New Music Friday and beyond. Angélique was featured on the cover of Apple Music's flagship Africa Now Radio playlist on Friday and will appear on both Ebro's Apple Music program and NPR's All Things Considered tomorrow.
Mother Nature finds the 4-time GRAMMY-winner joining forces with some of the most captivating young creators of West African music, Afrobeats, Afro-pop, hip hop, and R&B, and represents a newly heightened awareness of her own musical legacy and remarkable influence she's had on younger generations.
Listen to the album HERE, and watch the recently released music videos for "Dignity," "Africa, One Of A Kind," and "Mother Nature."
Praise for Mother Nature
"Kidjo serves up a feast of the most sublime sounds found in the Black diaspora" - Pitchfork
"Irresistible beats carry serious messages" - NY Times
"Angelique Kidjo is a towering figure of cross-cultural music" - New Yorker
"Infused with a vigor that only she possesses — the kind that shares a significant message even as the listener is called to just dance or sing along" - Okay Africa
"It's a groovy, catchy, danceable, joyous album in the face of worldwide injustice and turmoil" - Brooklyn Vegan
"Kidjo delivers not only an infectious, danceable transcontinental showcase for the African continent's musical influence on global traditions, but emphatically proclaims it a primary engine in pop's future" - AllMusic 4 out of 5 stars
"The common thread from start to finish is her energy...she continues to be nothing short of magnificent as a performer, and her generosity in bringing newer artists with her into the spotlight is wholly gratifying" - PopMatters
"Empowerment, unity and joy combine to catchy effect, with the exceptional Kidjo now leader of a new generation" - The Observer
"The veteran Benin singer emerges as leader of a new generation of African musicians in this joyful blend of new and old sounds" - The Guardian
"Sparkling" - Financial Times
"The music…is infectious…the rhythms are a combination of modern and traditional fused with state-of-the-art production values. Kidjo's impassioned voice evokes memories of the great Miriam Makeba" - Sunday Times
Mother Nature features Yemi Alade, Mr Eazi, Salif Keita, Burna Boy, Shungudzo, Zeynab, Lionel Loueke, Sampa The Great, Blue Lab Beats, Ghetto Boy, EARTHGANG, and -M-. Producers that worked on the album include Kel P (Burna Boy), James Poyser of The Roots, Vtek, Rexxie, Synematik, Blue Lab Beats, -M-, Brad Thomas Ackley, David Donatien and Dany Synthé. She began writing it in 2019 and it was created over the past year in quarantine.
Angélique Kidjo is one of the greatest artists in international music today, with Time Magazine calling her "Africa's premier diva." She has recently performed and appeared on Jimmy Kimmel Live!, The Late Show with Stephen Colbert, Amanpour, was profiled by the NY Times, opened for Vampire Weekend at Madison Square Garden, and hosted NPR's Tiny Desk series celebrating GlobalFest this past January.
Mother Nature Tracklist:
1. Choose Love
2. Dignity (with Yemi Alade)
3. Africa, One Of A Kind (with Mr Eazi & Salif Keita)
4. Mother Nature
5. Do Yourself (with Burna Boy)
6. Meant For Me (feat. Shungudzo)
7. Omon Oba (with Zeynab & Lionel Loueke)
8. Free & Equal (with Sampa The Great)
9. Fired Up (feat. Blue Lab Beats & Ghetto Boy)
10. Take It Or Leave It (with EARTHGANG)
11. Mycelium (with -M-)
12. One Africa (Indépendance Cha-Cha)
13. Flying High

https://angeliquekidjo.lnk.to/mother-nature
FACEBOOK | INSTAGRAM | TWITTER