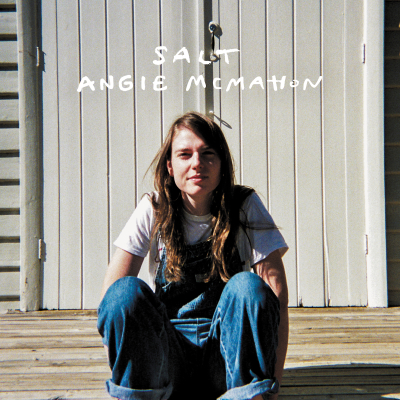 Angie McMahon Announces New Album Salt, Out July 26 On Dualtone
Listen to "And I Am A Woman" Now: https://angiemcmahon.lnk.to/AndIAmAWoman
SXSW's Best Developing International Act playing Newport Folk Festival next month + supporting Hozier on Fall U.S. Tour, including 5 nights at NYC's Hammerstein Ballroom
Rising Australian songwriter Angie McMahon will release her debut LP Salt on July 26th via Dualtone Records, an Entertainment One company. After making a name for herself at home over the past few years, Angie garnered millions of streams on her A Couple of Songs EP in March, which was hailed as "a perfect showcase of her gifts as a songwriter and vocalist" by The FADER and led NPR Music to compare her to "a one-woman reincarnation of Fleetwood Mac." Her highly touted SXSW shows resulted in Angie winning the festival's Grulke Prize for Best Developing International Act, an honor previously given to Courtney Barnett, CHVRCHES, and Jade Bird. She'll bring that infectious live energy back to the US next month for the Newport Folk Festival, and again in November for Hozier's massive fall tour - set to include five nights at New York's 3,000-capacity Hammerstein Ballroom.
Salt proves that she's just getting started.
Today, Angie has shared her new song "And I Am A Woman" from Salt via Brooklyn Vegan. The song is a powerful and intimate plea for change. In Angie's own words, "There are all these things that our society teaches us about bodies, spaces, choices, feelings, safety, that we have to question and unlearn and do better with." Brooklyn Vegan says "it's a very powerful song, and as is often the case with Angie McMahon, her highly emotive voice sells it on first listen."
Listen to "And I Am A Woman" here: http://www.brooklynvegan.com/angie-mcmahon-announces-debut-album-touring-stream-and-i-am-a-woman/
Preorder Salt here: https://angiemcmahon.lnk.to/Salt
The anthemic songs that make up Salt are filled to the brink with quiet emotions and loud riffs, an assured confidence that you can hear right away in album openers "Play The Game" ("I don't know how to play the game you say that we're not playing") and "Soon" ("I can't let you sweep me off my feet just yet"). "Push" and "Standout," like much of the album, are slow burns constantly on the brink of exploding in distortion; these are striking yet relatable yearnings channeled through Angie's DIY ethos and stripped-down electric guitar. And "Mood Song" and "If You Call" are lullabies that bookend the album like a setting sun.
There are also the kiss-off jams of early triple j-approved singles "Missing Me," "Keeping Time," and "Slow Mover," which each have millions of Spotify and Apple Music streams. And then there's "Pasta," which might be the most wistful song ever written about takeout.
More praise for Angie McMahon:
"Serious riffage and grit" – NPR Music
"Clearly, big things are happening for the young talent, and you can hear why" – Consequence of Sound
"She's making the States aware of what Australia already knew: Angie McMahon is music's next big thing." – W Magazine
Salt Tracklist (all songs written by Angie McMahon):
Play The Game
Soon
Keeping Time
Slow Mover
Missing Me
Push
Pasta
Standout
Mood Song
And I Am A Woman
If You Call
Angie McMahon Tour Dates
July 15 - Hotel Cafe - Los Angeles, CA+
July 26 - Newport Folk Festival - Newport, RI+
July 31 - Rockwood Music Hall - New York, NY+
August 3 - All Together Now - Waterford, Ireland
August 5 - Workmans Club - Dublin, Ireland
August 7 - Sziget Festival - Budapest, Hungary
October 2 – Recital Centre – Melbourne, Australia
October 3 – Canberra Theatre – Canberra, Australia
October 4 – City Recital Hall – Sydney, Australia
October 5 – Yours & Owls Festival – Wollongong, Australia
October 10 – Miami Marketta – Gold Coast, Australia
October 11 – Sol Bar – Maroochydore, Australia
October 12 – The Tivoli – Brisbane, Australia
October 16 – The Gov – Adelaide, Australia
October 18 – Astor Theatre – Perth, Australia
October 19 – The Waratah Hotel – Hobart, Australia
November 3 - Chicago Theatre - Chicago, IL*
November 6 - Palace Theatre - Columbus, OH*
November 7 - Akron Civic Center - Akron, OH*
November 9 - Turning Stone Event Center - Verona, NY*
November 10 - Auditorium Theatre - Rochester, NY*
November 12 - Boch Center - Boston, MA*
November 15 - Foxwoods Resort - Mashantucket, CT*
November 16 - Sands Bethlehem Events Center - Bethlehem, PA*
November 18 - The Anthem - Washington, DC*
November 21 - Hammerstein Ballroom - New York, NY*
November 22 - Hammerstein Ballroom - New York, NY*
November 23 - Hammerstein Ballroom - New York, NY*
November 25 - Hammerstein Ballroom - New York, NY*
November 26 - Hammerstein Ballroom - New York, NY*
+ solo, acoustic
* with Hozier
For more information, please contact: Max Lefkowitz, 718.522.7171