Appalachian Road Show Announces 2021 Fall Tour With 10+ Festival Stops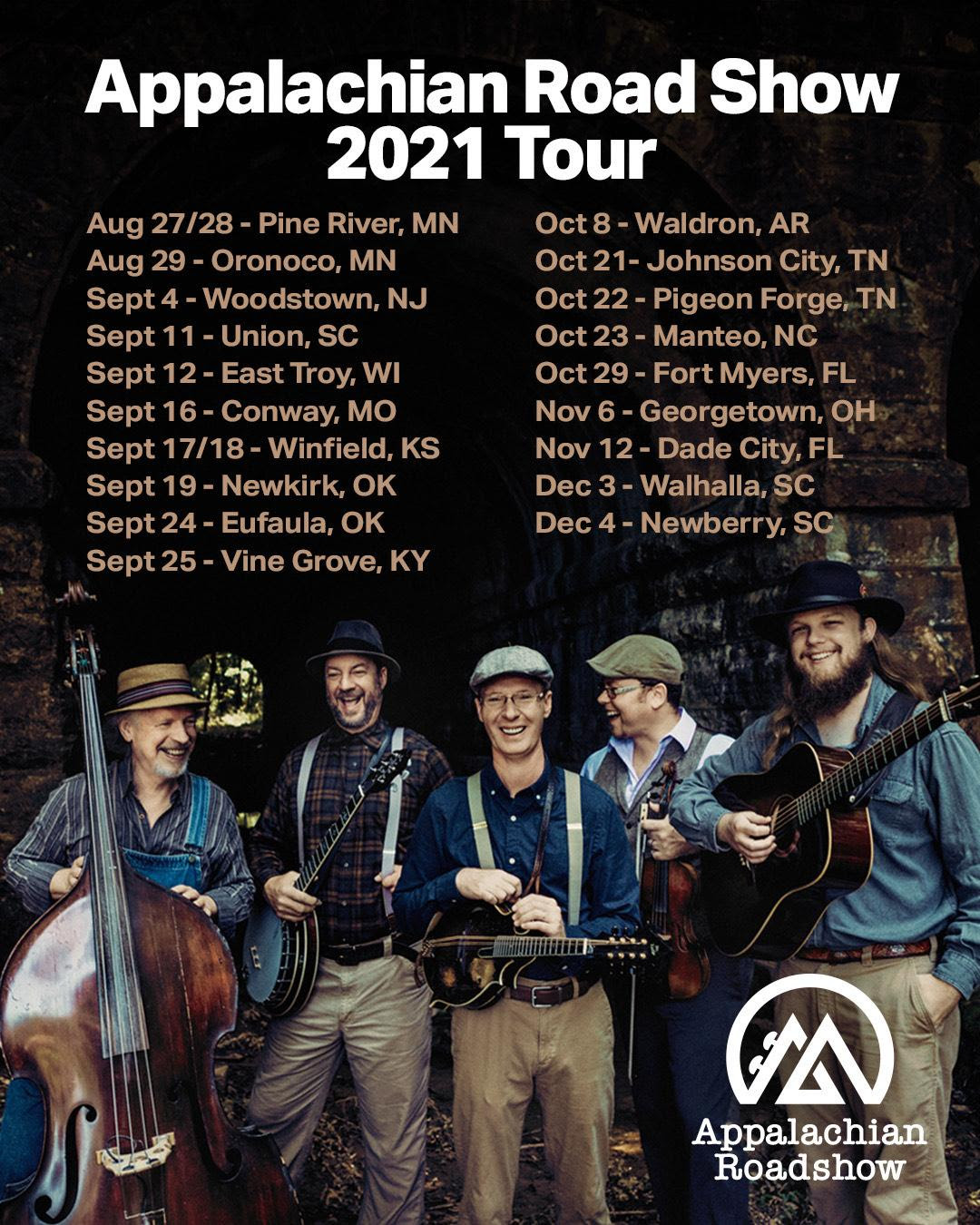 Appalachian Road Show, a "fierce and versatile" (American Songwriter) 5-piece instrumental band deemed a "roots supergroup" by NPR, announces its 20+ date 2021 Fall tour.The group will deliver performances that offer improvised instrumental jams, theatrical storytelling and an overall interactive experience for all ages. Fans will hear songs from the band's "masterpiece" (WPLN) of an album 'Tribulation' that immerses listeners in the culture of old-time mountain traditions in a new and compelling way.
In 2020, Appalachian Road Show was recognized by everyone from the TODAY Show to NPR All Things Considered; NowThis to Folk Alley; American Songwriter, No Depression and more. The group led the IBMAs as the second-most nominated group with nominations in five categories including Album of the Year and New Artist of the Year, and they are poised for nominations at the 2021 IBMA Awards.
Watch Appalachian Road Show's invigorating live performance, here: youtu.be/6xJmeI6EKAU?t=1521
"We're so encouraged and excited about the over-the-top response we've been seeing at our live shows," says Appalachian Road Show fiddler Jim VanCleve. "It feels like we're tapping into something much larger, something both ancient and current, primal and present with the music and these shows."
Appalachian Road Show is currently working on its third studio album, which will be announced early 2022. Follow the group on socials @appalachianroadshow to see behind-the-scenes photos of the recording process with GRAMMY-winning engineer Shani Gandhi (Sarah Jarosz, Sierra Hull, Mandolin Orange).
Please check each venue's website for designated COVID protocols. For tickets and more information, visit theappalachianroadshow.com/ourtour.
Appalachian Road Show on Tour:
Fri., Aug. 27 | Lakes Bluegrass Festival | Pine River, MN
Sat., Aug. 28 | Lakes Bluegrass Festival | Pine River, MN
Sun., Aug. 29 | Loy's Show Barn | Oronoco, MN
Sat., Sept. 4 | Delaware Valley Bluegrass Festival | Woodstown, NJ
Sat., Sept. 11 | Union, SC | Union, SC
Sat., Sept. 12 | East Troy Bluegrass Festival | East Troy, WI
Thurs., Sept. 16 | Starvy Creek Bluegrass Festival | Conway, MO
Fri., Sept. 17 | Walnut Valley Festival | Winfield, KS
Sat., Sept. 18 | Walnut Valley Festival | Winfield, KS
Sun., Sept. 19 | The Events Center | Newkirk, OK
Fri., Sept. 24 | Xtreme Bluegrass | Eufaula, OK
Sat., Sept. 25 | Vine Grove BGF | Vine Grove, KY
Fri., Oct. 8 | Turkey Track Bluegrass Festival | Waldron, AR
Thurs., Oct. 21 | The Down Home | Johnson City, TN
Fri., Oct. 22 | Dollywood Theme Park | Pigeon Forge, TN
Sat., Oct. 23 | Outer Banks Bluegrass Festival | Manteo, NC
Fri., Oct. 29 | Edison & Ford Winter Estates | Fort Myers, FL
Sat., Nov. 6 | Gaslight Theatre | Georgetown, OH
Fri., Nov. 12 | Riverhawk Music Festival | Dade City, FL
Fri., Dec. 3 | Walhalla Performing Arts Center | Walhalla, SC
Sat., Dec. 4 | Newberry Opera House | Newberry, SC
###