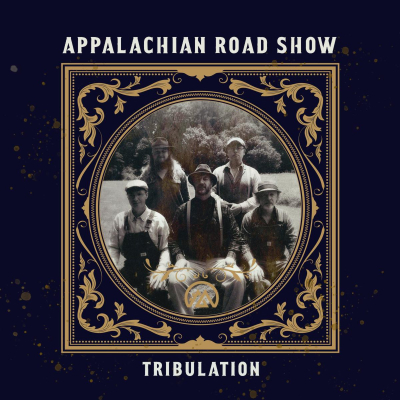 Appalachian Road Show Narrates Resilient Spirit And Journey Of America's Appalachian People
On 16-Track 'Tribulation' Due March 27
Album available for pre-order on Fri., Mar. 6.
First single "Goin' To Bring Her Back" exemplifies Appalachian tradition of rollicking Scruggs-style banjo. Listen here: https://youtu.be/zRlDfODzC3E
Roots-driven quintet Appalachian Road Show announces its 16-track 'Tribulation' album due Mar. 27 via Billy Blue Records. Through new-generation interpretations of traditional roots music, the group boldly chronicles the shared struggles, perseverance, and traditions of America's Appalachian region. It is one centered around community and its connection to heritage, encouraging cross-cultural empathy and emotional support to not lose hope in times of trouble.
The 2019 IBMA "New Artist of The Year" nominees' 'Tribulation' features a dynamic, artful flux of slow-churning ballads with fiery, foot-stomping acoustic jams and powerful spoken word excerpts woven together by a common thread of an ever-present mission to preserve Appalachian culture.
Introduced by a spoken-word track, "The Spirit of Appalachia," the "down-home supergroup" (NPR's WMOT) illustrates Appalachia's ever-evolving cultural blend of traditions from Spain, England, Africa, and beyond that bring community together. Highlighting the upbeat, African-native clawhammer banjo style, "Don't Want to Die in The Storm" echoes the importance of having faith and strength to overcome hardship.
"Each and every composition performed on this project speaks of the trials, heartache, and tribulations that the Appalachian Mountain people faced while settling into this incredible region of America," says Barry Abernathy. "With a spirit of reverence, we preserve the dignity and authenticity of these songs. We are proud of our Appalachian heritage."
The hauntingly gorgeous Celtic-tinged ballad "Wish The Wars Were All Over" pleads for peace, carrying an anti-war sentiment from the Revolutionary War to the 21st Century. It tells the desperate and extraordinary story of a young woman who disguises herself as a man to enlist in war in hopes of finding her true love — a soldier, while "Gospel Train" explores one's burning questions of spirituality and weight of the unknown in the afterlife.
The politically-charged "Goin' Across The Mountain" shares a poignant, emotional tale of a Civil War soldier leaving his love and life behind to fight for the Union Army, while the government tax protest sentiment of "Sales Tax On The Women" provides a humorous glimpse into the depression era.
The rework of "99 Years and One Dark Day," made famous by Robert Earl Keen, embraces the Appalachian tradition of murder ballads, while the album's title track concludes with the comforting message of hope, resilience, and faith in spite of life's tribulations.
The group is comprised of virtuosic bluegrass musicians including 2x GRAMMY-winningbassist Todd Phillips, GRAMMY-nominated musicians Jim Van Cleve (Josh Turner) and Barry Abernathy, mandolin phenom Darrell Webb (Dolly Parton, Rhonda Vincent), and newcomer guitarist Zeb Snyder. Other instrumentalists on the record include guitarist Bryan Sutton (Ricky Skaggs, Taylor Swift, Eric Church), fiddler Stuart Duncan (Garth Brooks, Yo-Yo Ma), vocalist and guitarist Shawn Lane (Johnny Cash, The Highway Men), and more. For more information on Appalachian Road Show's upcoming shows, please visit: theappalachianroadshow.com.
'TRIBULATION' TRACKLIST:
1. The Spirit of Appalachia (Spoken)
2. Don't Want to Die in the Storm (public domain / arrangement by Barry Abernathy, Jim VanCleve, Darrell Webb)
3. Goin' To Bring Her Back (Jim VanCleve)
4. Sales Tax on the Women (Dorsey & Howard Dixon)
5. Wish The Wars Were All Over (Tim Ericksen)
6. Wars. Torn Asunder (Spoken)
7. Goin' Across the Mountain (Frank Proffit)
8. The Appalachian Road (Jim VanCleve)
9. Gospel Train (Larry Sparks)
10. The Old World & New Sounds (Spoken)
11. Beneath That Willow Tree (Belle Luther Richards/Smithsonian Folkways)
12. 99 Years and One Dark Day (Robert Earl Keen)
13. Hard Times Come Again No More (Stephen Foster)
14. Hardship, Hope, and the Enduring Spirit of Appalachia (Spoken)
15. Rev. Jasper Davis – Old Time Preaching on Tribulations (Rev. Jasper Davis)
16. Tribulations (Estil C Ball)