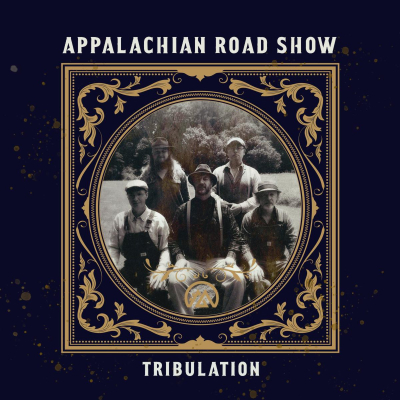 Appalachian Road Show's "Immersive" (Folk Alley) New Album 'Tribulation' Out Tomorrow, Fri., Mar. 27
Stream the album in full, HERE
Roots "supergroup" (NPR's WMOT) Appalachian Road Show's 'Tribulation,' an album that "perfectly speaks to our dark and unsettling times" (Folk Alley) is available everywhere tomorrow, Fri., Mar. 27.
Unified by a mission to preserve and share the rich cultural and musical heritage of America's Appalachian mountain region, Appalachian Road Show narrates stories of human migration, family separation, unrequited love, war protest, faith and the strength of humans to overcome adversity.
"When we started this record, we had no idea the state of affairs this world would be in at the time of its release," says fiddler Jim VanCleve. "''Tribulation' is a journey through the trials and triumphs of Appalachian life but also a narrative that we believe everyone can identify with today and always."
'Tribulation' demonstrates Appalachian Road Show's ability to make roots music new again with "cascading guitar… sprightly fiddles, meandering mandolins, nimble guitars and rolling banjos" (Folk Alley). The five-piece group seamlessly blends influences across genres brought to Appalachia from Scotland, Ireland, England, Africa and beyond.
For more information and tour updates, please visit theappalachianroadshow.com.
'TRIBULATION' TRACKLIST:
1. The Spirit of Appalachia (Spoken)
2. Don't Want to Die in the Storm (public domain / arrangement by Barry Abernathy, Jim VanCleve, Darrell Webb)
3. Goin' To Bring Her Back (Jim VanCleve)
4. Sales Tax on the Women (Dorsey & Howard Dixon)
5. Wish The Wars Were All Over (Tim Ericksen)
6. Wars. Torn Asunder (Spoken)
7. Goin' Across the Mountain (Frank Proffit)
8. The Appalachian Road (Jim VanCleve)
9. Gospel Train (Larry Sparks)
10. The Old World & New Sounds (Spoken)
11. Beneath That Willow Tree (Belle Luther Richards/Smithsonian Folkways)
12. 99 Years and One Dark Day (Robert Earl Keen)
13. Hard Times Come Again No More (Stephen Foster)
14. Hardship, Hope, and the Enduring Spirit of Appalachia (Spoken)
15. Rev. Jasper Davis – Old Time Preaching on Tribulations (Rev. Jasper Davis)
16. Tribulations (Estil C Ball)
ABOUT BILLY BLUE RECORDS
Billy Blue Records is a boutique bluegrass label, home to an award-winning roster of artists including Alan Bibey and Grasstowne, Appalachian Road Show, Carolina Blue, Doyle Lawson & Quicksilver, Donna Ulisse, Jason Barie, Joe Mullins & the Radio Ramblers, and the Grammy-nominated recording "Gonna Sing Gonna Shout." Founded in 2018 by Jerry Salley, Ed Leonard, and Dottie Leonard Miller, Billy Blue is distributed to retail by the Orchard (Sony) and New Day Distribution.