Arrested Youth's 'Nonfiction' Out Today via Lowly / Big Noise
Headline Tour Kicks off in August
15-Song LP, Produced by John Feldmann, is Accompanied by Single
"Find My Own Way" Featuring Mark Hoppus
Listen to 'Nonfiction' & "Find My Own Way (Feat. Mark Hoppus)" here: https://arrestedyouth.ffm.to/nonfiction.opr
Out today (6.25), Ian Johnson, the mind behind Arrested Youth, releases his first studio album 'Nonfiction' via Lowly / Big Noise. Produced by famed producer and Goldfinger frontman John Feldmann (Blink 182, The Used, Fever 333), 'Nonfiction' is an introspective story about growth and discovery. Musically, it pulls from rock, hip-hop, pop, and singer-songwriter genres. Blink-182's Mark Hoppus joins Johnson on the album's focal track, "Find My Own Way". The pensive coming of age single sees Johnson grapple with understanding his true self, ultimately realizing that personal betterment is a lifelong process.
"It's a song about struggling to find my way in my life, as I try to better understand my motives, self-doubts, and weaknesses," Johnson explains. "What's more autobiographical than that?"
'Nonfiction' possesses two sonic chapters. The first half of the album features bright, nostalgic records that stir up youthful memories. Both light-hearted and intimate, "7th Grade" looks back at Johnson's first relationship, while capturing the innocence and naïveté of teenage dating. "Ryan" explores the complicated dynamics of growing up with an older sibling, specifically Johnson's relationship with his brother.
The album's second half shifts towards darker, reflective records that focus on building a stronger sense of self. While the subject matter leans heavy, Johnson's songwriting often reflects positivity. "Family Tree" is an empowering song about not letting the scars on your family's genetic history (disease, mental illness) shape your own identity. On "Unfaithful" Johnson explores the power of willpower and holding on to your core values, even in the face of temptation. Ultimately, it is about understanding yourself what you need (and don't need) to be happy in life.
Johnson is looking forward to playing 'Nonfiction' live for North American audiences this summer. His headline tour kicks off on August 17th in Santa Ana, California and ends September 16th in Phoenix, marking the first Arrested Youth concerts in over a year. See full dates below:
Arrested Youth Nonfiction Tour 2021
August 17th – Constellation Room – Santa Ana, California
August 18th – Music Box – San Diego, California
August 19th – Holy Diver – Sacramento, California
August 25th – Larimer Lounge – Denver, Colorado
August 30th – Schubas – Chicago, Illinois
September 1st – Big Room Bar – Columbus, Ohio
September 4th – Songbyrd – Washington D.C
September 5th – Kung Fu Neck Tie – Philadelphia, Pennsylvania
September 6th – Mercury Lounge – New York, New York
September 8th – The Masquerade – Atlanta, Georgia
September 10th – Encore – Kansas City, Missouri
September 11th – Secret Group – Houston, Texas
September 12th – The Parish – Austin, Texas
September 13th – The Loft – Dallas, Texas
September 16th – Rebel Lounge – Phoenix, Arizona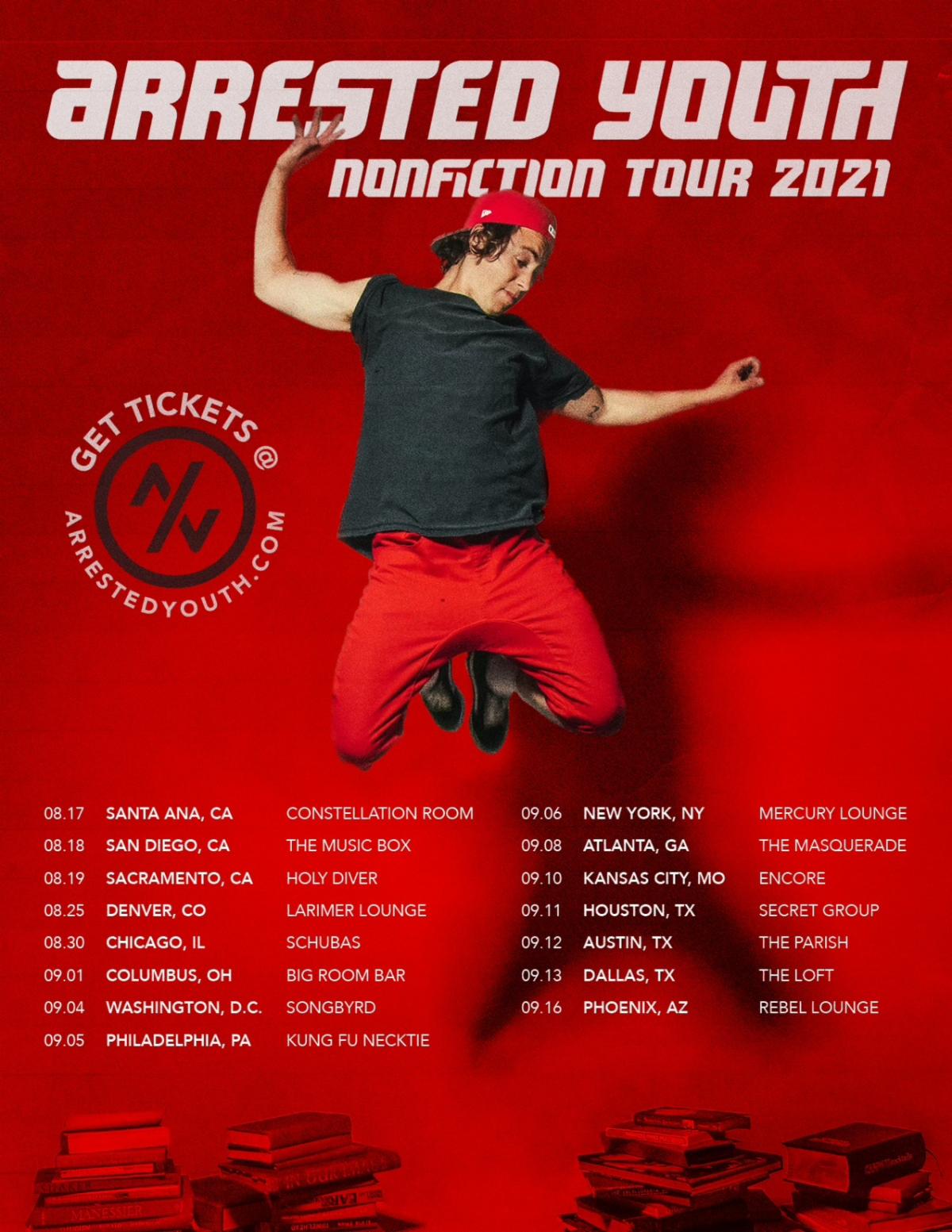 'Nonfiction' LP Tracklisting:
A Message from My Heart to My Head
Find My Own Way (feat. Mark Hoppus)
98 Degrees
Paul McCartney
Ego
7th Grade
Ryan
My Friend
Family Tree
Unfaithful
Father Tell Me
1984
Leave My Casket Open...
Parallel Lines
Woke Up in This Body
ABOUT ARRESTED YOUTH
Honesty is the best policy, but that adage is most powerful when applied to music. For Arrested Youth, started by Ian Johnson in 2017, truth is the impetus behind any good song. It's why Ian writes lyrics and why fans connect to his songs so strongly. For his first studio album, 'Nonfiction,' Ian offers a glimpse into his struggles - and triumphs - over the last year. "These are songs about where I was at in my life and what I was going through," Ian says of 'Nonfiction,' which follows Arrested Youth's EPs, 'FEAR' (2018) and 'Sobville' (2019). "I'm here to tell my story, for better or worse. Writing this album has helped put a lot of things into perspective for me, and I hope it can do the same for others."
MORE FROM ARRESTED YOUTH
WEBSITE | INSTAGRAM | FACEBOOK | TWITTER
For more information on Arrested Youth, please contact