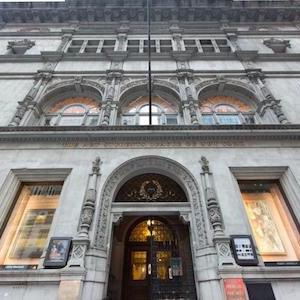 Art Students League of New York Announces Full Schedule for ST[art]UP Weekend Extravaganza on May 11th and 12th
ST[art]UP Weekend Celebrates 125th Anniversary of the League's Landmark Building
Events include Printmaking, Clay and Sketching for Kids, Make Your Own Comic Book, Life Drawing, Animation Tutorial, Screening of ART BASTARD and more!
(New York, NY): The Art Students League of New York has announced the full schedule for their ST[art]UP Weekend extravaganza, celebrating the 125th anniversary of the opening of the landmark building.
On Friday, May 11th the League will host a reception and auction from 7:00PM-10:00PM, where works by the League's renowned Instructors and Alumni, Students, and Young Artists will be exhibited and available for auction. Works from the League's permanent collection by Yasuo Kuniyoshi, William Merritt Chase, Georgia O'Keeffe, Norman Rockwell, Alexander Calder, Frank Vincent DuMond, Isabel Bishop, Charles Alston and many others will also be on display. The reception will include hors d'oeuvres, themed cocktails, and live entertainment.
On Saturday May 12, a family-friendly, all-day open house will take place from 11:00AM-3:00PM, inviting visitors to take part in the creation and celebration of art. The day will offer workshops, exhibitions, screenings and demonstrations by League instructors, including a diverse array of events for children and families such as Live Sketch for Kids, Printmaking for Kids, Clay for Beginners, Make Your Own Comic Book, and Art for Animation.
Later that evening, from 8:00PM-11:00PM, the League welcomes guests to continue the celebration with their inaugural ST[art]Up House Party, promising an over-the-top evening of dancing, performance and costumes. The House Party is a nod to their notorious costume parties for New York City's art community of the 1950's and 60's.
Tickets for all events: http://www.theartstudentsleague.org/startup/
The League is at 215 West 57 Street, between Seventh Ave. and Broadway.
ST[art]UP Weekend Schedule
Friday, May 11, 2018
RECEPTION & AUCTION
7:00 - 10:00 pm
Tickets begin at $250
Saturday, May 12, 2018
OPEN HOUSE | OPEN STUDIOS
11:00 am - 3:00 pm
Tickets for Adults $15 -- Children $10
For Kids & Teens
11:00AM-1:00PM
Studio 11
Live Sketch for Kids-- Kids drawing Kids with League Instructor Marilyn Friedman. Using a variety of drawing techniques and materials, young artists will explore different ways of capturing quick poses.
11:00AM-1:00PM
Mixed-Media Studio
Drawing and mixed-media for Kids-- Use a prompt to create a built environment with League Instructor Susan Cirigliano
1:00PM-3:00PM
Multi-Media Studio
Printmaking for Kids-- Work with a master printer on printmaking techniques anyone can master; take home prints to share with friends and family. Led by League artist Crystal Durant.
11:00PM-3:00PM
Sculpture Studio
Clay for Beginners-- Join us for a drop-in workshop exploring the basics in clay sculpture and relief work led by League artist Jeannette Farrow.
11:00AM-1:00PM
Studios 1 and 2
Art for Animation (teens and adults)-- Get acquainted with one of the classic principals of animation by learning to draw the famous Flour Sack! A perfect vehicle for exploring mass, volume, organic shape, and movement. Led by animator and movie director Jeff Buckland.
1:00PM-3:00PM
Studios 1 and 2
Make Your Own Graphic Novel (teenagers and adults)-- Steve Walker is a comic book artist and illustrator. He teaches Comics and Sequential Art at the League. In this exercise we'll go over some of the fundamentals that you need to begin to make your own comic or graphic novel.
For All Artists at Heart
11:00AM-3:00PM
57th Street
Live! Street Art Like You've Never Seen It-- Top League artists draw, paint and sculpt to create art on 57th Street working from models in the League's front windows.
11:00AM-3:00PM
Sculpture Studios
Heady Sculpture Demonstration-- Watch and learn as Sculpture Instructor Barney Hodes sculpts a big head, a REALLY BIG HEAD.
11:00AM-1:00PM
Gallery
Screening of ART BASTARD, a historical documentary film on Robert Cenedella's life and work, followed by a Q&A with Mr. Cenedella. This film was released in June of 2016 by Concannon Productions to critical acclaim. A *New York Times CRITIC's PICK!
"Robust documentary portrait of lifelong rebel and art-world gadfly...Cenedella comes across as a reassuring voice of sanity." - Stephen Holden, THE NEW YORK TIMES
11:00AM-1:00PM
Studio TBD
Watercolor demonstration-- Naomi Campbell instructs the Contemporary Figure in Watercolor exploring a wide range of dynamic approaches from the representational to very contemporary views, for which she is known. A rare short demo alongside a sample of art works created by working students.
11:00AM-3:00PM
Studio TBD
Still Life Painting-- Compose a still life exploring Color, Energy and Light with League Instructor Karen O'Neil.
11:00AM-1:00PM
Vanderbilt Gallery
Live Sketch for Grown-ups And Live Visitor Modeling-- With Instructor John Varriano. You yourself can model, or draw classic League models in crazy fashions.
11:00AM-3:00PM
Studio 3 and 4
Printmaking Demonstrations-- League instructor Sylvie Covey and the master printer of lithography Tomomi Ono will show a start-to-finish demonstrations of the relief laser engraving, pigment transfer and stone lithography processes.
Tours running through the building every half an hour 11:30, 12:00, 12:30, 1:00, 1:30, 2:00, 2:30. Take a tour of the League's 125-year-old Landmark Building and See Original Paint Drips from Jackson Pollock. Find out stuff that even most of the people who go to the League don't know.
HOUSE PARTY
8:00 - 11:00 pm
Tickets begin at $50