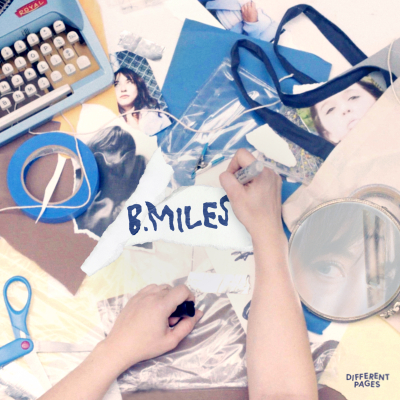 B.Miles Breaks Free Of Someone Else's Dream Via "Mesmerizing Melodies" (The Fader) And Her 90s Pop Heroes On "Different Pages"
"Universally Addictive" (Nylon) New York Artist Shares Title Track To Just-Announced Sophomore Album - Her First In Three Years
B.Miles has unveiled Different Pages today, marking a return for the artist hailed as "a bridge to pop music's future" (Ones To Watch) and for "giving us the language when our emotions are hard to explain" (Refinery29). The New York artist's second album will come September 29, and today she has shared its title track - which finds B.Miles unchecking the boxes she once felt like she needed to check (like a long-term relationship, a 'safe' job, a house in a quiet neighborhood) while confronting the outdated societal expectations placed on women in their 20s and 30s. Inspired by a favorite playlist on her first iPod (or maybe a mixtape on her last Walkman), B.Miles takes musical cues from artists like Natalie Imbruglia, Dolores O'Riordan and Kylie Minogue as she abandons someone else's idea of success in favor of finding it on her own terms.
Watch the Y2K-inspired "Different Pages" video here, directed by Stephen Michael Simon: https://www.youtube.com/watch?v=_mH70Jb8lys
Stream "Different Pages" here: https://mooncrawl.ffm.to/_differentpages
"This one is easily my favorite song on the upcoming album," says B.Miles. "It marks a moment in time where I used every ounce of my courage to flip my life upside down and find what happiness meant for me, rather than settle for 'having it all.' We had a blast making the music video too."
Different Pages also marks B.Miles' truest full-band project yet, inspired by a series of live shows with her best friends that brought them to headlining Bowery Ballroom earlier this year. Recorded in a friend's small-town cabin turned world-class recording with that tight-knit support system by her side, she emerges fearless in exploring the end of a relationship she'd been in for her entire 20s. But beyond the classic breakup album tropes, Different Pages centers on having the courage to ask yourself if you're truly happy and - more importantly - to do something about it if you're not. An eleven song collection, Different Pages includes three tracks she quietly released in the years since her debut: "One Trick Pony" (where she explores fleeting adoration as an artist; and its effect on self-esteem), "The Year I Felt Cool" (which dives into inauthenticity and 4AM New York City nights) and "Wide Eyed" (centered on the bliss of childhood memories, and the things that ultimately keep that bliss at arms length). Different Pages is B.Miles first full-length collection since her 2020 debut In Order of Appearance, and was made with her bandmates: Eric Nizgretsky, Jackson Firlik, Matias Quarleri and Rob Seeley.
DIFFERENT PAGES TRACKLIST
Different Pages
Backseat Lovers
One Trick Pony
The Year I Felt Cool
Separate Rooms
Tongue On Ice
Wide Eyed
Something I Am Not
Summer Vacation And Lonely Nights
Sitcom Laughter
Blurry In My Home