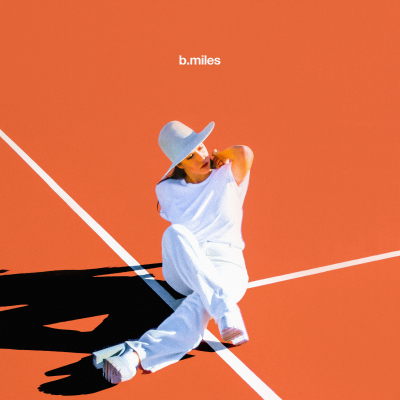 B.Miles Shares Infectious Electro-Pop Return Via The Fader
Announces Self-Titled EP Out March 17, Headlining New York's Baby's All Right Next Friday January 20
B.Miles has unveiled "Running" today via The Fader, the first offering from her self-titled EP out March 17. The Fader praised the track as "mesmerizing," highlighting Miles' "infectious vocal melody." The new record serves as a follow-up to Miles' debut offering 'Twenty Fifteen,' which racked up millions of streams and topped viral charts across the digital sphere. The new EP was written over much of the past year, the project's quadrumvirate (B.Miles joined by co-songwriter Eric Nizgretsky and Brooklyn-based production duo Noise Club) holed up in the same storage-unit-turned-studio where 'Twenty Fifteen' was recorded, adding producer Matias Quarleri into the mix this time around. The new songs display a brooding fusion of pop, R&B and electronic influences; effusing shadowy overtones, vulnerable sensibilities and a chilling edge.
Stream "Running" now through The Fader: http://www.thefader.com/2017/01/13/b-miles-running-premiere
With a five-piece live band in tow, B.Miles will headline Neon Gold Records' PopShop showcase at Baby's All Right next Friday January 20, with more live dates to be announced soon.
Lush strings, driving electronic beats and an eclectic array of samples and soundscapes dot Miles' self-titled collection. From her booming vibrato on the cold-footed love ballad "Rude" to the croon of Blind Willie Johnson (a sample of his 1927 "Mothers Children Have A Hard Time") during the cathartic build-up of "Tell Me I'm Wrong," B.Miles' self-titled EP explores an expansive depth of sonic textures within its five-song arc. "Typical Words" boasts a striking pop chorus and triumphant vocal melody, while album closer "Y.I.N.U." is a hazy minute-and-a-half vignette full of fluttering rhythms, repetitious lyrics and dream-like synths.
B.Miles' 'Twenty Fifteen' debut was a collection of the singer's first-ever recordings. The EP found a remarkable level of attention, with all three tracks hitting the Top 10 on Hype Machine and B.Miles reaching #1 on Spotify's Viral 50 charts in four countries. "Salt" particularly took on a life of its own, tallying over 6 million Spotify streams and receiving airplay on BBC Radio 1 and KCRW, unbeknownst to Miles until she received a flood of messages from friends and family back in Southern California.
'B.Miles' tracklisting:
Running
Rude
Typical Words
Tell Me I'm Wrong
Y.I.N.U.
https://www.facebook.com/B.Miles.Official/
https://twitter.com/brenna_miles
https://www.instagram.com/_b.miles/