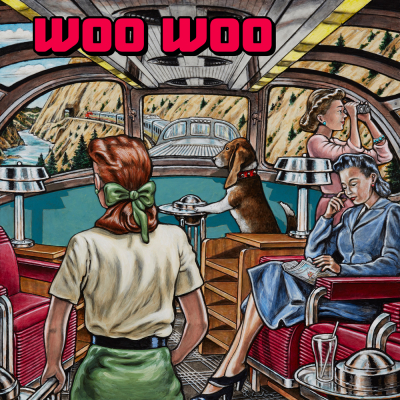 Bay Area Psychedelic Soul Collective Moonalice Shares New Single "Woo Woo"
Listen Here: http://moonalice.ffm.to/woowoo
Today, Moonalice, the 10-piece Bay Area collective known for bringing peace, love, and happiness wherever they go, releases their uplifting anthem "Woo Woo." As fans reset for the new year and look to the future, Moonalice reminds them to reflect on the present, where sometimes the destination is actually the journey itself. Written by The T Sisters' Rachel Tietjen, who now is a member of Moonalice along with her sisters, "Woo Woo" is a song about living in the moment. Featuring upbeat instrumentation that mirrors the clickety-clack sound of a train in motion, the song's rhythmic flow invites listeners to awaken a greater sense of self-awareness and embrace today's offerings.
"Woo Woo'' is the second single that the renowned group has released since signing to Nettwerk in late 2021. It follows Moonalice's rendition of "Time Has Come Today" fronted by Lester Chambers, an original member of influential psychedelic soul band The Chambers Brothers who were featured prominently throughout Questlove's acclaimed Summer of Soul documentary and their single "Uptown" will be on the official soundtrack, due out next year. The San Francisco Chronicle praised Moonalice's take on "Time Has Come Today," proclaiming that it is "the type of jam you'd want to hear in the Golden Gate Park afternoon sunshine at Hardly Strictly Bluegrass or during the Summer of Love." Moonalice's version has also received radio support and Nashville's Lightning 100 recently selected it as their DJ Pick of the Week.
Now, Moonalice releases "Woo Woo," a song that was in high demand for a studio version after their fans faithfully sang along to the joyful 'Woo! Woo!' chorus at concerts all across North America, from the LOCKN' festival in Arrington, VA to Terrapin Crossroads in San Rafael, CA. Throughout the pandemic, the song was performed during Moonalice's frequent livestreams, which have become an essential way for the band to stay connected to audiences. Moonalice's founder, Roger McNamee, continues to hold a weekly "Saturday Stream" to fill the digital airwaves with positive vibrations.
To help fans ring in 2022, Moonalice has created a special playlist featuring "Woo Woo" alongside a collection of songs that have influenced them. Head to Spotify to listen: https://open.spotify.com/playlist/3R6HdFqg8RGawcBZa0ENGP?si=ede0758710ed4a60
"Woo Woo" comes packaged with colorful artwork designed by Dennis Larkins, an artist renowned for his work for the Grateful Dead and Rolling Stones. Larkins has also designed several concert posters for Moonalice, which can be purchased here: https://store.moonalice.com/collections/posters
Moonalice is looking forward to performing live for North American audiences throughout 2022. California fans will have plenty of chances to see the group, as they are scheduled to perform at the Skull & Roses Festival in Ventura, San Francisco's Great American Music Hall, and plenty of other cities, with more national dates to be announced soon. See their current schedule below:
Moonalice 2022 Tour Dates
Feb 25 – Felton Music Hall – Felton, CA
Feb 26 – Sweetwater Music Hall – Mill Valley, CA
April 10 – Skull & Roses – Ventura, CA
April 15 & 16 – Soul Revival's Grateful Easter Weekend – Ukiah, CA
April 22 – Great American Music Hall – San Francisco, CA
April 23 – River Theater – Guerneville, CA
June 4 – Freight & Salvage Festival – Berkeley, CA
June 5 – Redwood Mountain Faire – Felton, CA
June 12 – Hog Farm Hideaway – Laytonville, CA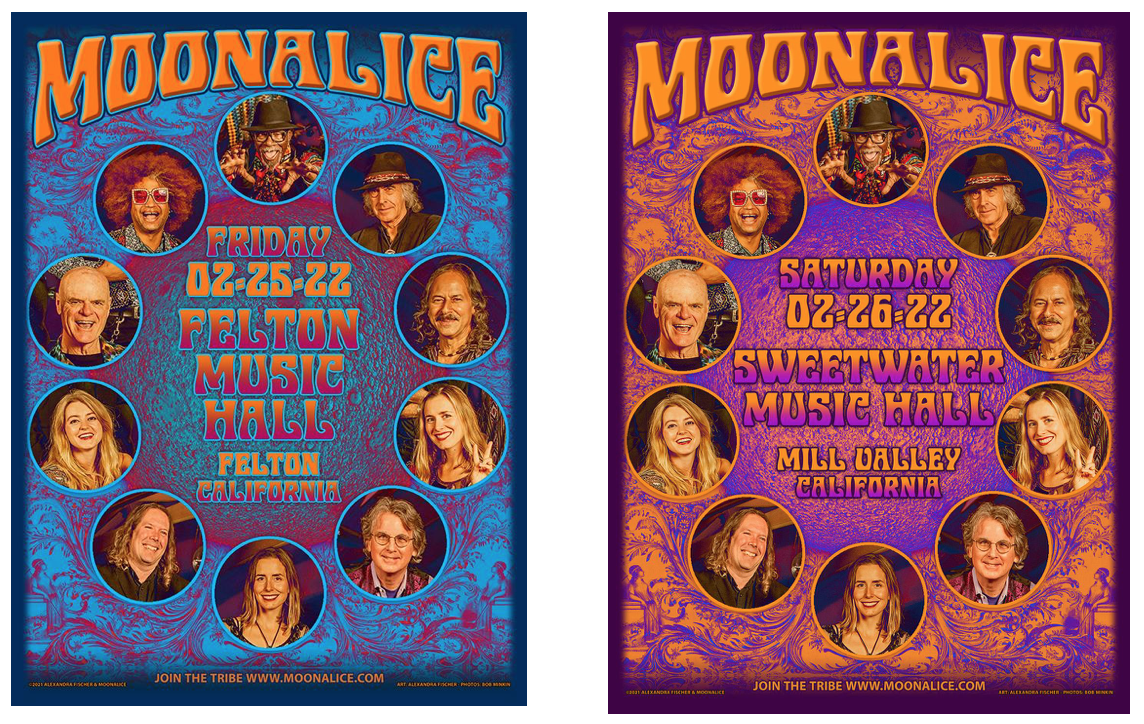 ABOUT MOONALICE
Moonalice is an exuberant Bay Area ten-piece known for delivering a unique brand of psychedelic soul and rock-tinged Americana. With an unparalleled list of collaborations with some of the biggest names in music, the family tree of Moonalice has touched every corner of rock and roll history. Led by vocalist Lester Chambers, who co-founded pioneering '60s psychedelic soul group The Chambers Brothers; bassist Pete Sears, a founding member of Jefferson Starship who has played with everyone from Rod Stewart to Jimi Hendrix, and guitarist Roger McNamee, who was an advisor to Grateful Dead and U2 and fights against entrenched power in the tech industry—their incredible chemistry shines through in their live performances and the recent release of the Chambers Brothers classic, "Time Has Come Today." Moonalice also features esteemed members Barry Sless (lead guitar and pedal steel), Jason Crosby(keyboards), Grammy winner John Molo (drums), along with the next generation of legends including Lester's son Dylan Chambers, and Erika, Rachel, and Chloe Tietjen of acclaimed Americana band the T Sisters. Moonalice has a renegade spirit and an ethos of love, peace, and happiness that permeates everything they do.