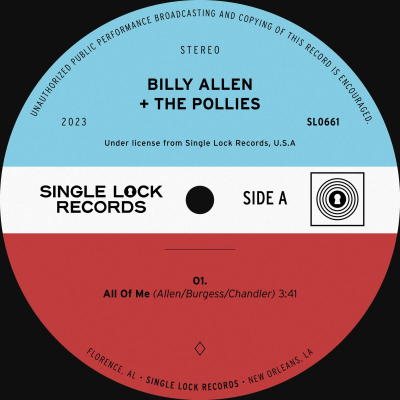 Billy Allen + The Pollies Meld Garage Grunge and Soul on New Single "All Of Me" Out Now on Single Lock Records
US Tour Dates Announced Through March 2024, Including Stops in New York, Philadelphia, and Chicago
November 17, 2023: Today, Billy Allen + The Pollies return with two new tracks: "All Of Me," a liberating anthem of self-worth and "Ride Wit Chu," a fiery b-side on longing and devotion, out now on Single Lock Records. Born and raised on the music of Muscle Shoals, the group - including Jon Davis (Drums, percussion), Todd Roper (congas), Spencer Duncan (Bass), Jay Burgess (Guitar), Clint Chandler (keyboards, synthesizers) - enlisted Grammy-winning musician Ben Tanner (co-owner of Single Lock Records and former Alabama Shakes keys player) to produce the tracks at Sun Drop Sound in nearby Florence, AL. Billy Allen + The Pollies will also be hitting the road in the new year, stopping in New York, Philadelphia, Chicago, Houston, and more, with shows announced into March.
Listen to new tracks "All Of Me" and "Ride Wit Chu" here: https://link.singlelock.com/billypollies
Watch the "All Of Me" live performance video here: https://www.youtube.com/watch?v=DgJI1Ayd0gc
This release follows Billy Allen + The Pollies' initial collaboration, a tender and soulful reimagining of Delta Spirit's "People, Turn Around," from Ode to Sunshine. The Pollies' founder Jay Burgess recalls first hearing Billy Allen play at a local Alabama venue several years ago. Burgess was upstairs with Brittney Howard, in town to play with the Alabama Shakes, when they heard Allen playing in the space below. The two officially met a few years later at FAME studios in Muscle Shoals and there was "an immediate romantic musical connection," as Allen put it. Over the subsequent year, the two groups rehearsed, toured, wrote, and gelled together under the moniker Billy Allen + The Pollies.
The Pollies' previous credits include touring with Dylan LeBlanc and Nicole Atkins, records with guitarist Browan Lollar of St. Paul & the Broken Bones and the late Chris Porter, and backing gigs with John Paul White. They've released four albums to date, drawing on influences from traditional Muscle Shoals sounds and exploring the terrain of independent Southern rock through a charmingly off-kilter lens.
Billy Allen + The Pollies have announced a string of tour dates at the top of the new year, where they will be playing shows in a residency cycle, performing in certain cities and returning a week later for a second show. Full list of dates below. For more information, please visit https://www.billyallenandthepollies.com/
BILLY ALLEN + THE POLLIES TOUR DATES
Jan 17th - Brooklyn, NY @ Sultan Room
Jan 18th - Philadelphia, PA @ The Lounge at World Cafe Live
Jan 24th - Brooklyn, NY @ Sultan Room
Jan 25th - Philadelphia, PA @ The Lounge at World Cafe Live
Feb 7 - Chicago, IL @ The Hideout
Feb 8 - Minneapolis, MN @ 7th Street Entry
Feb 14 - Chicago, IL @ The Hideout
Feb 15 - Minneapolis, MN @ Turf Club
Feb 28 - New Orelans, LA @ Chickie Wah Wah
Feb 29 - Houston, TX @ Continental Club
Mar 1 - Dallas, TX @ Sundown at Granada
Mar 6 - New Orelans, LA @ Chickie Wah Wah
Mar 7 - Houston, TX @ Continental Club
Mar 8 - Dallas, TX @ Sundown at Granada