Black Girls Rock!® And Microsoft Announce 10th Annual Black Girls Lead™ Conference For August 2-5, 2021
A Virtual Leadership Intensive To Empower Young Women To Innovate, Elevate, And Advocate
NEW YORK, NY (Tuesday, July 27, 2021) -- BLACK GIRLS ROCK!®, a leading women's empowerment and philanthropic organization joined forces with tech leader Microsoft to present the 10th annual BLACK GIRLS LEAD™ conference, a series of workshops and keynotes aimed to educate and inspire the next generation of innovators. While this year's lineup is yet to be announced, last year's conference featured speakers including Michelle Obama, Vice President Kamala Harris, Missy Elliott, Mara Brock-Akil, Elaine Welteroth, Amanda Seales, Tatyana Ali, MC Lyte and more. This year's conference will be held virtually through Microsoft Teams from August 2-5, 2021. The four-day leadership intensive will include keynotes, workshops, panels, and masterclasses on STEM, arts, entrepreneurship, career development, financial literacy, creative writing, and social impact, led by prominent thought leaders.
Watch a clip of Michelle Obama's "Becoming" roundtable discussion, which features poetry from 2020 attendee Amanda Gorman: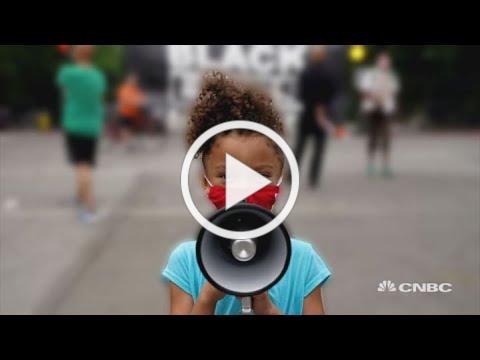 "Fifteen years ago, I created BLACK GIRLS ROCK!® to honor Black women and to counter societal norms that too often marginalize our voices, images, and contributions," said Beverly Bond. "As I reflect on this 15th anniversary milestone, one of the components of the movement that I am especially proud of is our youth development work. BLACK GIRLS LEAD (BGL) was established to nourish the next generation of young women to become future leaders through mentorship programs that inspire and prepare them to change the world. Over the years we've witnessed our BGL alums bloom into Gen Z thought leaders. They've gone on to attend top colleges and graduate schools, forge incredible careers, and even create social enterprises of their own. We are so excited to partner with Microsoft to build more intensive STEM and leadership programs that will allow us to deepen our impact and expand this network of incredible young Black women who are poised to become the innovators of our future."
"For decades Microsoft has worked to create opportunities for STEM and leadership learning content. The past year has shown the need for a renewed commitment to the education and skills that a new generation of technology has made essential for personal progress," said Marcie Nymark, Director of Strategic Partnerships at Microsoft. "We're honored to be partnering with BLACK GIRLS ROCK! to support the BLACK GIRLS LEAD conference to ensure these skills are accessible and impactful for this next generation of leaders."
The BLACK GIRLS LEAD conference is free to all accepted participants. The application is available at lead.blackgirlsrock.com and open until July 22. For more information about BLACK GIRLS ROCK! visit www.blackgirlsrock.com. Follow us on Twitter and Instagram at @BLACKGIRLSROCK and #BLACKGIRLSROCK and #BLACKGIRLSLEAD.
+++
ABOUT BLACK GIRLS ROCK!®
BLACK GIRLS ROCK!® (BGR!) is a global women's empowerment movement and multifaceted media, entertainment, philanthropic and lifestyle brand, dedicated to inspiring, and celebrating women and girls of color. The annual BLACK GIRLS ROCK® Awards is the biggest celebration of the nexus of achievements of exemplary women of color who break boundaries, blaze trails, and set trends across sectors. BLACK GIRLS ROCK! Inc., the 501(c)(3) nonprofit entity of the brand, is devoted to the healthy positive identity development of young women and girls by providing programs that support critical thinking, leadership development, sisterhood, innovation, civic engagement and career exposure. For additional information on BLACK GIRLS ROCK!®, visit http://www.blackgirlsrock.com.
Contact:
Jennifer Valentin
Shorefire Media