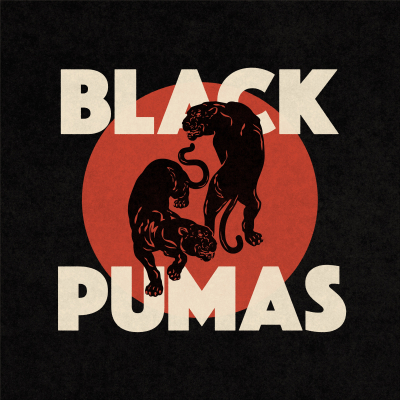 Black Pumas Announce Debut Album, Out June 21 On ATO Records
"The Breakout Band Of 2019" (NPR)
Listen To New Single "Colors" Via Afropunk:https://bit.ly/2v7nn0v
Debut NYC Show at Knitting Factory, May 15
Following their ambitious slate of performances during last month's SXSW, it was clear that Black Pumas — the collaboration between 27-year-old newcomer Eric Burton and Grammy-winning guitarist/producer Adrian Quesada (Grupo Fantasma, Brownout, 2018'sLook At My Soul) — were due for a big 2019. NPR's Here & Now deemed them "the breakout band of 2019" and KCRW called their sound "Wu-Tang Clan meets James Brown." Rolling Stone, in naming Black Pumas "One Of The 30 Best Bands We Saw In Austin," praised Burton's "tireless, charismatic energy" and said that the band "seemed to tap the collective unease of the national moment."
Today, Black Pumas announce the release of their self-titled debut, out June 21st on ATO Records. Produced by Quesada in his home studio and colored by Burton's dark imagery and haunting vocals, the album is equally indebted to East Coast hip-hop as it is to classic funk and soul, resulting in a project that is of the moment rather than retro.
Listen to new single "Colors" over at Afropunk: https://bit.ly/2v7nn0v
Quesada had been working on a new project inspired by a mix of woozy Ghostface Killah instrumentals, crispy Motown soul, and the introspective grandeur of dusty highway folk-rock, and, after hearing him audition over the phone, Burton slotted in beautifully. Pulling from his myriad performance backgrounds — singing in the church, acting in musical theater, and busking at the Santa Monica Pier — Burton injects Quesada's instrumentals with a howling croon and surrealist lyrical bent. From the roiling, solar eclipse-inspired noir of "Black Moon Rising" to the ponderous yet epic "Oct 33," these early collaborations provided the basis for Black Pumas.
Listen to the "punchy, enticing" (Billboard) "Fire" here: https://youtu.be/r5lwBr0qg44
Burton and Quesada were thrilled with the songs, but Black Pumas truly began to make their name with a weekly residency at Austin's C-Boys that quickly became "the hottest party in town" (Austin-American Statesman), with lines wrapping to see their whip-sharp band and Burton's "whirlwind of movement and gesture" (Chicago Tribune). What followed was a quick and dirty ascent through the Austin music scene, culminating in a coronation as Best New Band at the 2019 Austin Music Awards.
Listen to their 2019 Austin Music Awards Song Of The Year-winning debut single "Black Moon Rising," deemed "psychedelic, funky, bold, cinematic, but above all, soulful and sincere" by KUTX: https://youtu.be/K592sLqY2BA
After showing out at SXSW, Black Pumas have announced their debut New York show at the Knitting Factory for May 15th. Current tour dates below, keep an eye out for more tour news coming soon.
Black Pumas Tracklist:
Black Moon Rising
Colors
Know You Better
Fire
Oct 33
Stay Gold
Old Man
Confines
Touch The Sky
Sweet Conversations
Tour Dates:
5/15 - Knitting Factory - Brooklyn, NY
5/21 - Bush Hall (w/ The Heavy) - London, UK (SOLD OUT)
5/23 - La Maroquinerie (w/ The Heavy) - Paris, FR (SOLD OUT)
5/24 - De Helling (w/ The Heavy) - Utrecht, NL (SOLD OUT)
5/25 - Lido (w/ The Heavy) - Berlin, DE (SOLD OUT)
5/28 - Trinity Centre (w/ The Heavy) - Bristol, UK (SOLD OUT)
7/2 - Summerfest - Milwaukee, WI
7/4 - Drake Hotel - Toronto, ON
7/6 - Festival d'été International de Québec – Quebec City, QC
7/10 - Club Cafe - Pittsburgh, PA
7/11 - WTMD First Thursday Festival - Baltimore, MD
7/12 - The Basement - Columbus, OH
7/14 - Third and Lindsley - Nashville, TN
7/16 - Triple Crown Whiskey Bar & Raccoon Motel - Davenport, IA
7/17 - 7th St Entry - Minneapolis, MN
7/18 - Shitty Barn - Spring Green, WI
7/19 - Space - Evanston, IL
7/20 - El Club - Detroit, MI
7/23 - Brighton Music Hall - Boston, MA
9/27-29 - Roots N Blues N BBQ Festival - Columbia, MO
Black Pumas On The Web:
Facebook: https://www.facebook.com/theblackpumas/
Instagram: https://www.instagram.com/theblackpumas/
Twitter: https://twitter.com/blackpumasmusic