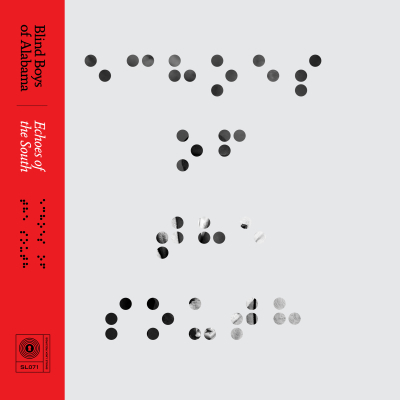 Blind Boys Of Alabama Host A Homecoming For The Ages On First New Album In Six Years,  'Echoes Of The South' (Single Lock Records)
Listen To The Five-Time Grammy Winners Reimagine Pops Staples' "Friendship" Here: https://youtu.be/J4bpk6i2rtc
Blind Boys of Alabama will return on August 25 with 'Echoes Of The South,' which finds the Gospel Music Hall of Fame inductees coming home to honor those they've lost, on a bold declaration of how far they still plan to go. The eleven-song collection is a portrait of perseverance from a group well-versed in overcoming incredible odds - from singing for pocket change in the Jim Crow South, to performing for three different American presidents, soundtracking the Civil Rights movement and helping define modern gospel music as we know it. Recently, the group's decades-long mission of spreading light and love has taken on even deeper context, as they've reckoned with the loss of two of their own, Paul Beasley and Benjamin Moore, both longtime members of the Blind Boys tight-knit family. 'Echoes Of The South' is released in their honor - as well as for the group's recently-retired leader Jimmy Carter - and keeps the Blind Boys' long-held mission statement at its core: "As long as everybody gives all that they have to give and we sing songs that touch the heart, we'll live on forever."
True to that message, the Blind Boys have shared their version of Homer Banks and Lester Snell's "Friendship" today, made famous as one of the last songs ever recorded by Pops Staples, which finds Beasley and Moore sharing in lead vocal duties. Like each track on 'Echoes Of The South,' it was co-produced by Matt Ross-Spang (Margo Price, John Prine), Ben Tanner (Alabama Shakes, Jason Isbell) and Charles Driebe.
Listen to the Blind Boys of Alabama's take on "Friendship" here: https://youtu.be/J4bpk6i2rtc
Pre-order 'Echoes Of The South' here: http://link.singlelock.com/blindboys
On a collection named after the first radio show that ever booked the Blind Boys as guests (out of WSGN in Birmingham), 'Echoes Of The South' is an album all about coming home. Tracked fully in their home state at The NuttHouse Recording Studio in Sheffield, the album also marks the group's first full-length release for Alabama's own GRAMMY-winning indie label Single Lock Records. The Blind Boys' rich history and own personal touches can be felt everywhere on 'Echoes Of The South,' from including braille on the album cover for the first time to a tracklist of the music that's most inspired them over their careers: long-lost gospel classics, traditional spirituals and timeless R&B/soul cuts made famous by artists like Staples and Curtis Mayfield. Teaming with each of their co-producers, these recordings transcend genre and era to touch deep and fundamental elements of friendship, joy, gratitude and persistence.
'Echoes Of The South' marks the first new album release for the Blind Boys of Alabama since 2017's 'Almost Home.' Hailed as "gospel titans" by Rolling Stone, the Blind Boys have collaborated with artists as diverse as Stevie Wonder, Chrissie Hynde, Lou Reed, Tom Waits, Peter Gabriel, Bonnie Raitt and Bon Iver. While winning multiple GRAMMYs and being profiled on CBS' 60 Minutes, the Blind Boys' have left their mark on popular music by making gospel their own and "adding jazz and blues idioms, turning up the volume and creating a sound like the rock 'n' roll that grew out of it" (New York Times). Most recently, they were nominated for a 2023 GRAMMY Award for Best Americana Performance (their 12th total nomination) and performed on The View earlier this year to help celebrate Martin Luther King Jr. Day.
'ECHOES OF THE SOUTH' TRACKLIST
1. Send It On Down
2. Work Until My Days Are Done
3. Friendship
4. You Can't Hurry God
5. Jesus You've Been Good To Me
6. The Last Time
7. Keep On Pushin'
8. Paul's Prayer
9. Wide River to Cross
10. Nothing But Love
11. Heaven Help Us All
BLIND BOYS OF ALABAMA TOUR DATES
June 5 - Gospelfest at Riverfest - Wichita, KS
June 7 - Historic Temple Theatre of Viroqua - Viroqua, WI
June 8 - Chicago Blues Festival 2023 - Chicago, IL
June 9 - Dakota - Minneapolis, MN
July 19 - Mendocino Music Festival 2023 - Mendocino, CA
August 19 - CHOMP - Redmond, WA
August 27 - Vancouver Wine & Jazz Festival - Vancouver, WA
September 9 - Paramount Center for the Arts - Saint Cloud, MN
September 10 - Reif Performing Arts Center - Grand Rapids, MN
September 11 - Pablo Center at the Confluence - Eau Claire, WI
September 15 - City Winery Philadelphia - Philadelphia, PA
September 16 - City Winery Boston - Boston, MA
September 17 - City Winery New York - New York, NY
November 26 - Lone Tree Arts Center - Lone Tree, CO
January 13-20 - Sandy Beaches Cruise 2024 - Fort Lauderdale, FL