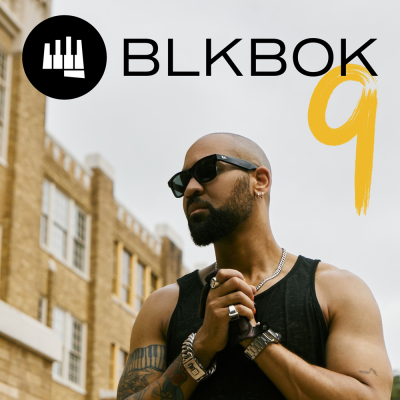 Neoclassical Piano Renegade and Culture Creator BLKBOK Unveils His Sophomore Album '9'
A Fusion of Hip-Hop and Classical Music Rooted in a Lifetime of Musical Exploration and a Passion for Connection
"His music points directly to great composers...Rachmaninoff, Debussy and the waltz king, Chopin — but characterizes differently the look and feel of the institutions that contain them." - THE NEW YORK TIMES
STREAM '9' ALBUM: https://lnk.dmsmusic.co/blkbok_9
Monday, September 25 – BLKBOK (pronounced 'Black Bach'), the piano renegade hailing from Detroit's West Side, presents his sophomore album '9' today, available viaicons+giants/downtown. This profound body of work showcases BLKBOK's remarkable evolution as an artist, drawing inspirational compositions from his unique blend of classical piano training and a lifelong love for hip-hop culture to create his disruptive neoclassical sound. Through rich instrumental storytelling and spoken word vignettes narrated by life coach Dr. Felicia Thomas, '9' allows listeners to experience classical music infused with an inclusive Black perspective.
Over the past few years, BLKBOK spent extended amounts of time in Florida and Georgia visiting family and friends. Like many navigating a polarized America, he went through culture shock not being able to see eye-to-eye even with those he loves, and repeatedly witnessing the stark realities of racism, oppression and close-mindedness. While these low moments occupied his thoughts, BLKBOK found a life vest in elevated moments of Black Excellence, like the inspiringly resilient RowVaughn Wells, Wanda Jones and Gwen Knight, and Magic Johnson and Isaiah Thomas' public apology to one another.
In a climate where civil liberties are under threat and there are repeated–even legislative–attempts to re-write and omit Black history, BLKBOK composed a collection that can not only be a catalyst for productive dialogue but can illuminate some uniquely Black stories. With '9,' BLKBOK sets the table for discussion, inviting listeners to explore his world, be inspired, and converse in a meaningful way that calls for positive change. The album's title pays homage to The Little Rock Nine, a powerful symbol of courage and resilience in the face of adversity that cannot be rewritten or ignored. BLKBOK traveled to Little Rock, where he met with Elizabeth Eckford, one of the original Little Rock Nine, to hear firsthand stories and solidify his belief in a more just way forward. He photographed the album cover outside Little Rock Central High School, where 66 years ago, history was made when the first Black students were integrated into an all-white high school during what seemed like America's most hopeless and divided moment.
"When developing the concepts and compositions for '9,' each piece is meant to be a conversation starter–a prompt," states BLKBOK. "We can only make changes if we engage in conversations with each other, and in particular with those who don't believe in the same things or think the same way."
The album title is also a reference to the Angel Number 9, which symbolizes universal love and humanitarianism. BLKBOK continues, "No one listens to piano music and thinks about the socio-economic or cultural background of the composer or performer; people hear music that touches them emotionally. But as more people discover my 'why' and my vision, I hope that I can tilt that social mirror just enough to shift perspectives in others to be open to seeing things differently. Even just the slightest shift may help bridge some of the big gaps in our world to create a greater understanding of each other, more human connection and ultimately more love."
BLKBOK is the embodiment of diverse musical experiences, driven by a profound desire to tell stories that resonate with culture and the present times. Growing up amidst the hip-hop culture of Detroit, he began learning classical piano at the tender age of four. He would spend his teenage years practicing the works of icons like Debussy, only to retreat to his room to immerse himself in the rhymes and rhythms of artists like Busta Rhymes. As an adult, he toured as a musical director and pianist for the biggest artists in the world including Rihanna, Demi Lovato, John Mayer, and Justin Timberlake, before crafting his signature neoclassical sound. His original compositions bridge classical music with genres like hip-hop, R&B, and jazz, creating work that defies conventional boundaries and making classical music accessible to a new generation, through fresh perspectives and unforgettable live experiences. "Imagine me as a rapper, except I spit lyrics and tell my stories through my hands, with these notes," BLKBOK explains.
BLKBOK is currently captivating audiences across North America on his Mixtapes X Counterpoint Tour. Known for live piano performances that weave together storytelling, inclusive cultural insights, and thought-provoking sounds, BLKBOK has recently graced stages at MoMA's Black Arts Council Benefit, The Atlantic Festival, and DC's Juneteenth Freedom Festival. This fall, fans can catch him in Atlanta, Chicago, New York and many more cities. Each night promises to provide a platform for every individual to embark on a personalized journey.
See below for routing and visit www.blkbok.com/events for tickets.
'9' Tracklist
1. 6:57 AM
2. Awareness, A New Reality
3. Buried Stories in F# minor
4. No Days Off in F minor
5. Grace Forgiveness
6. Magic's Apology to Isiah
7. Toddlers Don't Care About Race
8. A Better Way, Racism
9. In Just Us
10. RowVaughn, Wanda, & Gwen
11. Heat Island
12. The Dissolution of Kanye West
13. The Path To Self Love
14. Meditation for Moe
15. What is Truth
BLKBOK "MIXTAPES X COUNTERPOINT" TOUR DATES:
September 28 - Harvard, MA - Fruitlands Museum
October 7 - Traverse City, MI - City Opera House
October 12- Chicago, IL - City Winery Chicago, Main Room
October 13 - St. Louis, MO - City Winery St. Louis, Main Room
October 17 - Columbus - Natalie's Music Hall
October 19 - Atlanta, GA - Eddie's Attic
October 20 - Nashville, TN - City Winery Nashville, Main Room
November 8 - Boston, MA - City Winery Boston, Main Room
November 9 - Northampton, MA - The Parlor Room
November 10 - Philadelphia, PA - City Winery, Loft
November 11 - New York, NY - Joe's Pub
November 12 - Fairfield, CT - Stage One
About BLKBOK
Born and raised in Detroit's inner-city, BLKBOK (born Charles Wilson III), grew up in a music-filled house. While his parents and siblings were all musically inclined, little Charles could always be found walking his chubby fingers up and down the piano keys. His Mom had no choice but to nurture her baby's keyboard obsession and by the time he was 8, BLKBOK was an acclaimed piano prodigy, winning statewide accolades and college-level competitions. When it came to music, most of the kids he grew up with pursued hip-hop, adopting rap names. However, it's no coincidence that Charles chose the name BLKBOK, which echoes that of one of the greatest pianists and composers of all time. The tag is also an apt reflection of the elements that have contributed to the artist's identity and symbolizes his colorful journey from pop and hip-hop culture to his critically acclaimed, neo-classical debut album Black Book, and various Mixtape projects and collaborations. BLKBOK is no stranger to the industry grind, having hit the road throughout his career as a lead pianist or musical director with artists including Rihanna, Justin Timberlake, Demi Lovato, Cirque Du Soleil, John Mayer and more. BLKBOK's explosive and immersive live music performances engage his audience with his incredible talent and channel his experience from sharing the stage with the World's biggest performers. BLKBOK's critically-acclaimed debut album Black Book, served as a founding cornerstone at the Juneteenth Foundation's Freedom Concert. His Mixtape releases, 'CVRART,; 'Angels Watching Over Me,' with world-renowned tenor Lawrence Brownlee, and 'Chill Music Vol 1' illustrate the innovative and disruptive musical landscape that is BLKBOK.
MORE FROM BLKBOK
WEBSITE | INSTAGRAM | TIKTOK | YOUTUBE
For more information on BLKBOK, please contact
Rebecca Shapiro or Mike Jones or Haley Griffin at Shore Fire Media