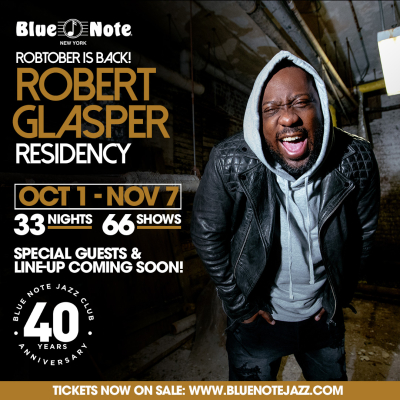 Blue Note Jazz Club Announces Fall Robert Glasper Residency
October 1-November 7; 66 Shows Across 33 Nights
Special Guests & Line-Up Coming Soon
PURCHASE TICKETS HERE
Today, New York City's Blue Note Jazz Club announces the return of multi-Grammy Award-winning artist Robert Glasper to the Blue Note stage for a stacked "Robtober" Fall residency. From October 1 to November 7, Glasper will perform a total of 66 shows across 33 nights, including Halloween weekend. The run of shows continues Blue Note's historic 40th anniversary festivities.
Robtober is already shaping into an incredible run of shows with high-caliber guests who are sure to command the stage alongside Robert Glasper. Glasper's previous Blue Note shows have included tributes to Stevie Wonder, Roy Hargrove and J Dilla. A-list celebrities and unannounced special guests, including Dave Chappelle, Kanye West, Chris Rock, Questlove, Jill Scott, Common, Yasiin Bey and Talib Kweli (Black Star) and Yebba are known to pop by the Blue Note to join Glasper for impromptu performances when he is in town.
In 2018, Glasper became just the 4th musician to hold a month-long residency at Blue Note, joining a short list that includes jazz legends Dizzy Gillespie, Chick Corea and Chris Botti. The residency was spotlighted in the New York Times, which proclaimed that Glasper is "probably the most prominent jazz musician of his generation."
"The Blue Note is special to me because it's the pinnacle of jazz, but it doesn't stop there,"states Robert Glasper. "They allow me to step outside the box and be who I really am, unapologetically. They give me the venue to do it. The first two residences were amazing. We had to take a break but I'm really excited to be back and see my fans again. Not being able to perform for so long made it really clear how important the fans are so I can't wait to go there and make some more history."
"We're thankful and appreciative to be able to uphold the tradition of Robert's unprecedented annual residency at Blue Note," says Alex Kurland, Director of Programming at Blue Note. "This residency is a monumental and historic event within culture, with each show an experience and literally unforgettable. Robert's residency always produces landmark and extraordinary moments, and to be able to move forward with it after such challenging times is deeply meaningful to the Blue Note, New York City, and to art and music culture. The caliber and range of Robert's to-be-announced projects, special guests and collaborations, are an incredible testament to his icon status."
Tickets for Robert Glasper's residency shows can be purchased at https://www.bluenotejazz.com
ABOUT ROBERT GLASPER:
Robert Glasper is the leader of a new paradigm in jazz, with a career that spans musical and artistic genres, winning 4 Grammys and 8 nominations across 7 categories, as well as an Emmy for his song on Ava Duvernay's doc "13th". October 2021 marks his return to the Blue Note, one of his first jazz stomping-grounds, for another record breaking residency (coined "Robtober") as he takes over the Blue Note New York with an astounding 66 shows over 33 days, celebrating his musical career. Whilst his style consistently defies definition, Glasper's residency demonstrate not only different eras, but also various parts of his musical community and the impact his collaborators have had on his development and style.
ABOUT BLUE NOTE JAZZ CLUB
Since 1981, Blue Note Jazz Club has been a cultural institution in New York City and one of the premiere jazz clubs in the world. Blue Note strives to preserve the history of jazz, and the club is a place where progression and innovation - the foundations of jazz - are encouraged and practiced on a nightly basis. In addition to the main acts that feature the likes of Robert Glasper, Pat Metheny, Christain McBride, Joshua Redman, Ron Carter and Chris Botti, Blue Note regularly showcases up-and-coming jazz, soul, hip-hop, R&B and funk artists. After 40 years of success, Blue Note continues to carry the torch for jazz into the 21st century in the cultural heart of New York, Greenwich Village.
BLUE NOTE JAZZ CLUB ON THE WEB
https://www.instagram.com/bluenotenyc/
https://www.facebook.com/BlueNoteNYC
https://twitter.com/bluenotenyc
# # # # # #
For more information on Blue Note Jazz Club, please contact Shore Fire Media:
Rebecca Shapiro
Mike Jones
Auden Su
For Robert Glasper booking inquiries, please contact mn2s