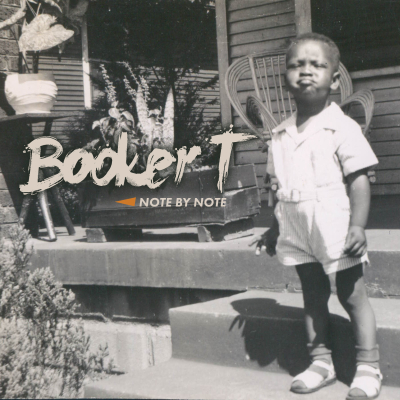 Booker T. Jones Announces New Album Note By Note(Edith Street Records) Out November 1
Companion To Time Is Tight Memoir Out October 29 (Little, Brown And Company)
INTERVIEW GUEST ON THE TONIGHT SHOW WITH JIMMY FALLON OCTOBER 30 + BOOK/CONCERT EVENTS THROUGHOUT FALL INCLUDING NYC, LA AND STAX MUSEUM IN MEMPHIS
Legendary musician, songwriter and producer Booker T. Jones has announced a new album: Note By Note (Edith Street Records) will be released on November 1. Note By Note is a musical companion to Booker T. Jones' soon-to-be-released memoir, Time Is Tight, out October 29 on Little, Brown and Company. The newly recorded album celebrates and revisits a number of integral musical moments throughout Jones' life - from playing with Mahalia Jackson at age 12, to his pivotal role as bandleader, performer and songwriter at Stax, to his focus on production through his work with Willie Nelson and Carlos Santana. In addition to playing Hammond B3 and piano on the album, Jones sings as well, and is joined by guests including Matt Berninger (The National), Ty Taylor (Vintage Trouble), his son, songwriter and guitarist Teddy Jones, and vocalists Joshua Ledet, Ayanna Irish, DeAndre Brackensick, Sharlotte Gibson and Stax Academy graduate Evvie McKinney.
Jones has a number of key events in October and November as well, including an interview appearance on The Tonight Show with Jimmy Fallon on October 30. He will also have book release events at the New York Public Library on October 29, at the Stax Museum in Memphis on November 1 and at Live Talks LA in Los Angeles on November 5. He'll return to NYC for a concert/book reading at Le Poisson Rouge in NYC on November 18. Full itinerary is below.
Listen to "Cause I Love You" here: https://soundcloud.com/edithstreetrecords/causeiloveyou
Carla and Rufus' 1960 single "Cause I Love You" was the first song Jones ever recorded on. Picked up from his high school algebra class and driven to Stax, Jones played the opening notes of the song on a borrowed baritone saxophone.
Note By Note is an emotional musical journey that largely mirrors the chapter titles in his memoir and twists through a host of genres. "Born Under A Bad Sign" finds Jones singing the blues classic, which he co-wrote. "These Arms Of Mine," a beloved Otis Redding classic, is interpreted here by Ty Taylor on vocals. Booker T & the M.G.'s fans will enjoy a new ending to the song "Time is Tight," a Romanesque coda that has been played live yet never recorded until now. "Havana Moon" (featuring Teddy Jones on guitar) and "Stardust" (featuring Matt Berninger) represent two key albums that Jones produced, by Carlos Santana and Willie Nelson, respectively. The album culminates with two new, original songs co-written by Teddy Jones: "Paralyzed" and "Maybe I Need Saving."
Jones' band on the album features Steve Ferrone on drums (Average White Band, Tom Petty), longtime bandmate Melvin Brannon on bass, Teddy Jones on guitar.
TRACK LIST:
1. Cause I Love You Ft. Evvie McKinney and Joshua Ledet
2. Born Under A Bad Sign Ft. Booker T. Jones on Vocal
3. B-A-B-Y Ft. Ayanna Irish
4. I Want You Ft. DeAndre Brackensick
5. Precious Lord Ft. Sharlotte Gibson
6. These Arms of Mine Ft. Ty Taylor
7. Havana Moon Ft. Booker T. Jones on vocal
8. Stardust Ft. Matt Berninger
9. Time is Tight
10. Maybe I Need Saving Ft. Teddy Jones
11. Paralyzed Ft. Teddy Jones
BOOKER T. JONES FALL TOUR DATES:
10/29 - New York, NY - New York Public Library (book event)
11/01 - Memphis, TN - Stax Museum (book event)
11/05 - Los Angeles, CA - Live Talks LA (book event)
11/07 - Portland, OR - Alberta Rose Theatre
11/08 - Kirkland, WA - Kirkland Performance Venue
11/14 - Chicago, IL - City Winery
11/15 - Park Forest, IL - Freedom Hall
11/16 - Cleveland, OH - Music Box Cleveland
11/18 - New York, NY - Le Poisson Rouge
11/19 - Ardmore, PA - Ardmore Music Hall
11/20 - Washington DC - City Winery
11/22 - Fall River, MA - Narrows Center for the Arts
11/23 - Medina, MN - Medina Entertainment Center
11/24 - Salt Lake City, UT - The State Room
1/08/2020 - Phoenix, AZ - Musical Instrument Museum
1/09/2020 - Phoenix, AZ - Musical Instrument Museum
1/10/2020 – Tucson, AZ – Rialto Theatre
1/16/2020 – Nashville, TN – City Winery
1/18/2020 – Memphis, TN - The Crosstown Theater
1/19/2020 – Atlanta, GA – City Winery
1/31/2020 – Berkeley, CA – Freight and Salvage
2/1/2020 – Berkeley, CA – Freight and Salvage
2/14/2020 – Austin, TX – Antone's
2/15/2020 – Austin, TX – Antone's
2/21/2020 - Roanoke, VA - Jefferson Center (Shaftman Performance Hall)