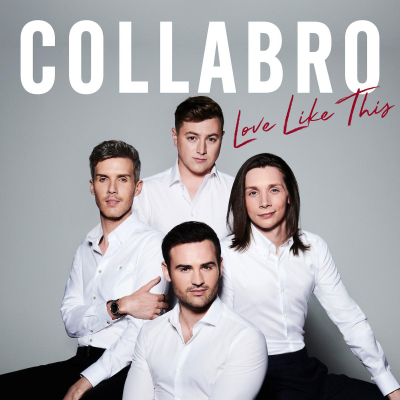 British Theatrical Vocal Group Collabro Release New Album 'Love Like This' (Nov. 15, BMG)
Collabro Set To Compete In America's Got Talent: The Champions In January 2020
HEAR THE BRITAIN'S GOT TALENT FAVORITES PERFORM ED SHEERAN'S "PERFECT" - https://www.youtube.com/watch?v=4IVr9WAAuF0
Collabro, the British theatrical vocal group known for their show-stopping performances on Britain's Got Talent, will release their new album 'Love Like This' on November 15th through BMG. Recorded with the Prague Philharmonic, 'Love Like This' sees singers Michael Auger, Jamie Lambert, Matthew Pagan and Thomas J Redgave performing sweeping renditions of contemporary favorites including Coldplay's "Fix You," Celine Dion's "My Heart Will Go On," and Lewis Capaldi's "Someone You Loved." Listen to Collabro perform Ed Sheeran's "Perfect" in glorious four-part harmony: https://www.youtube.com/watch?v=4IVr9WAAuF0
And listen to two additional album tracks, "Fix You" and "Shallow" from A Star Is Born.
'Love Like This' is an 11 song collection of Collabro's favorite contemporary songs, each featuring the group's distinct and original arrangements. "Fix You" is a stark, mostly a cappella rendition of the Coldplay classic, aided by the gentle strings of the Prague Philharmonic. "We know that everyone thinks of something different when they hear this song and we used our voices to act as the majority of instruments to put our unique spin on it," Collabro says. Ellie Goulding's "Love Me Like You Do" is the group's answer to their fans' request for a Collabro wedding song, while Lewis Capaldi's "Someone You Loved" holds special meaning to the foursome. "When we heard Lewis sing this for the first time we were all together," they say. "We looked at each other and just knew it was a song we wanted to sing."
Collabro are the world's most successful musical theatre group. Having met for their first rehearsal in a pub at London Bridge in 2014, they auditioned for Britain's Got Talent a month later and received a full standing ovation from both the audience and the judges after their performance. They went on to win the competition with one of the biggest majorities ever, and their debut album 'Stars' entered the UK albums chart at number one, was quickly certified gold, and became the fastest selling album in 2014. Collabro most recently performed on Britain's Got Talent: The Champions, and in January 2020, they will travel stateside to perform on America's Got Talent: The Champions.
Collabro has sold out 4 UK tours and 2 US tours, headlined shows at the London Palladium, Wembley Stadium, the Royal Albert Hall and the O2 Arena, and they've performed for Her Majesty The Queen. They will embark on a full UK tour throughout October 2020.
'LOVE LIKE THIS' TRACK LIST
1. Shallow
2. Someone You Loved
3. My Heart Will Go On
4. Fix You
5. A Million Dreams
6. Perfect
7. Only Love Can Hurt Like This
8. I Can't Help Falling in Love with You
9. Love Me Like You Do
10. Somewhere Only We Know
11. Hero
COLLABRO 2020 TOUR DATES
Mon, Nov 11 - Chiyoda-ku, Japan
Tue, Nov 12 - Chiyoda-ku, Japan
Oct 2, 2020 - Aylesbury, United Kingdom
Oct 3, 2020 - Southend-on-sea, United Kingdom
Oct 4, 2020 - Bexhill-on-sea, United Kingdom
Oct 6, 2020 - Nottingham, United Kingdom
Oct 7, 2020 - Leicester, United Kingdom
Oct 9, 2020 - Bournemouth, United Kingdom
Oct 10, 2020 - Cardiff, United Kingdom
Oct 11, 2020 - Torquay, United Kingdom
Oct 12, 2020 - Ipswich, United Kingdom
Oct 14, 2020 - Bath, United Kingdom
Oct 15, 2020 - Sheffield, United Kingdom
Oct 16, 2020 - Llandudno, United Kingdom
Oct 17, 2020 - Hull, United Kingdom
Oct 20, 2020 - Liverpool, United Kingdom
Oct 21, 2020 - Gateshead, United Kingdom
Oct 23, 2020 - Blackpool, United Kingdom
Oct 24, 2020 - Harrogate, United Kingdom
Oct 25, 2020 - Salford, United Kingdom
Oct 26, 2020 - Glasgow, United Kingdom
Oct 28, 2020 - Birmingham, United Kingdom
Oct 29, 2020 - London, United Kingdom
Oct 30, 2020 - G Live - Guildford, United Kingdom
Oct 31, 2020 - Carlisle, United Kingdom
MORE INFO ON COLLABRO