Brooklyn Bowl Philadelphia, City's Newest Concert Venue Adds 15 Shows To Its Inaugural Lineup
Bouncing Souls + Face To Face, Shovels & Rope, Breaking Benjamin - Unplugged, Melvin Seals & Jgb, And More To Play In Fishtown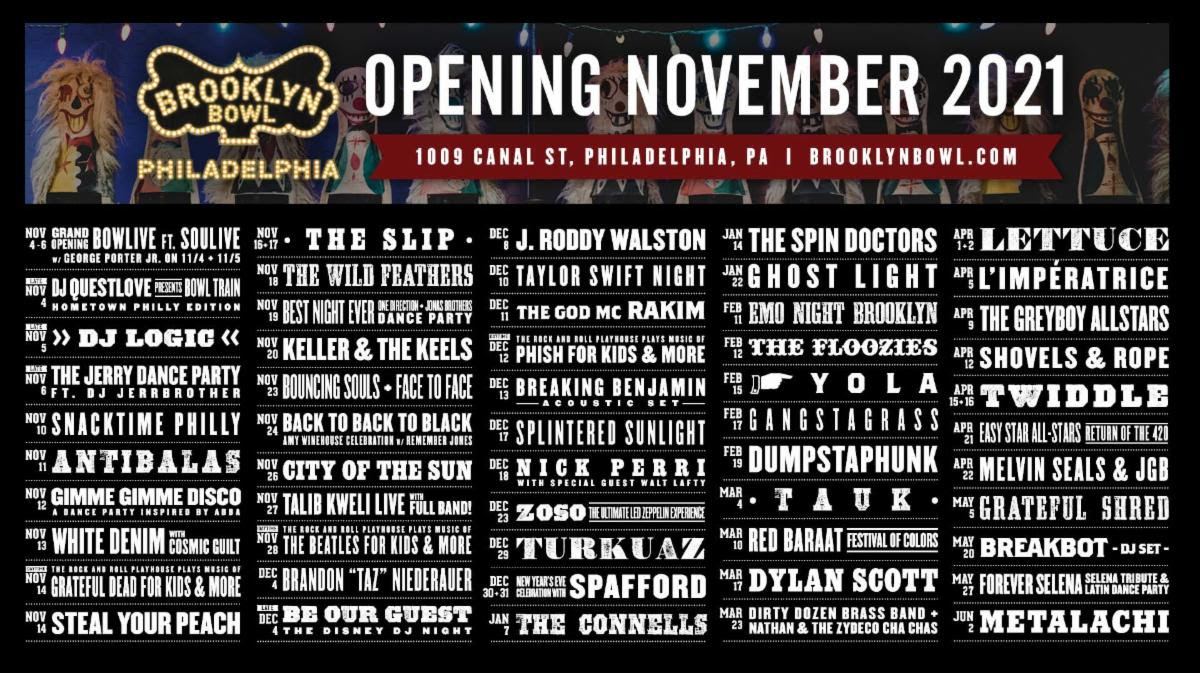 October 27, 2021— Brooklyn Bowl, the award-winning live music venue, bowling alley, and restaurant has added 15 shows to its inaugural lineup at their Philadelphia location in Fishtown. Additions to the extensive lineup include Shovels & Rope, Bouncing Souls + Face to Face, Breaking Benjamin - Unplugged, White Denim, Melvin Seals & JGB, Breakbot (DJ set), J.Roddy Walston, Ghost Light, Be Our Guest: The Disney DJ Night and more.
Brooklyn Bowl Philadelphia will host The Rock and Roll Playhouse, a family concert series, with Music of The Beatles For Kids & More. Hosted at historic music venues across the country, kids "move, play and sing while listening to works from the classic-rock canon" (NY Times).
The venue opens its doors to the public when soul-jazz trio Soulive kickstarts a three-show engagement entitled "Bowlive" on Thursday, November 4 with the late night party hosted by Philly legend DJ Questlove, complete with a 24-lane bowling alley and food courtesy of the Blue Ribbon Restaurant Group.
The flagship venue in Brooklyn was previously ranked the No. 1 Busiest Club in New York City and nominated for Nightclub of the Year at the 30th Annual Pollstar Awards. The Las Vegas establishment has been voted Readers' Choice "Best Music Venue" the last four years in a row in Las Vegas Weekly's annual "Best of Vegas" awards. Brooklyn Bowl Nashville, which opened this past June, is already one of Music City's go-to venues. The opening of Brooklyn Bowl Philadelphia is an exciting next step for the fast-growing and most-beloved live music venues in the nation.
Brooklyn Bowl Philadelphia will hit the ground running with a multi-genre initial lineup of more than 45 shows including Philly's own DJ Questlove, Grammy-nominated Americana songstress Yola, New Orleans legends Dirty Dozen Brass Band, iconic NYC MC's Talib Kweli & Rakim, rising country-pop star Dylan Scott, avant-rock trio The Slip, eclectic international sounds from Antibalas, Red Baraat, L'Impératrice, jam staples Twiddle, Spafford and Keller Williams with a heavy dose of funk-soul from Soulive, Lettuce, Turkuaz and The Greyboy Allstars, and even family focused programming with The Rock and Roll Playhouse daytime series.
Brooklyn Bowl Philadelphia is a partnership between Brooklyn Bowl and Live Nation. The partnership acknowledges the work of the City of Philadelphia, Councilman Mark Squilla, and the Fishtown-Kensington Business Improvement District on the Brooklyn Bowl Philadelphia.
Tickets for the inaugural series of shows are available at
www.brooklynbowl.com/philadelphia.
Follow Brooklyn Bowl Philadelphia on social media @BBowlPhilly
Brooklyn Bowl Philadelphia Lineup – Fall/Winter 2021 & Spring 2022
November 4-6: Bowlive feat. Soulive w/ George Porter Jr.
November 4: DJ Questlove Presents Bowl Train: Hometown Philly Edition (late show)
November 5: DJ Logic (late show)
November 6: The Jerry Dance Party ft. DJ JerrBrother (late show)
November 10: Snacktime Philly
November 11: Antibalas
November 12: Gimme Gimme Disco - A Dance Party Inspired by ABBA
November 13: White Denim with Cosmic Guilt
November 14: The Rock and Roll Playhouse Plays Music of The Grateful Dead for Kids & More
November 14: Steal Your Peach
November 16-17: The Slip w/ Delicate Steve & Muscle Tough
November 18: The Wild Feathers
November 19: Best Night Ever: One Direction + Jonas Brothers Dance Party
November 20: Keller & the Keels
November 23: Bouncing Souls + Face to Face
November 24: Back to Back to Black, Amy Winehouse Celebration w/ Remember Jones
November 26: City of the Sun
November 27: Talib Kweli LIVE with Full Band!
December 4: Brandon "Taz" Niederauer
December 4: Be Our Guest: The Disney DJ Night
December 8: J. Roddy Walston Presents Christmas to the Bone
December 10: Taylor Swift Night
December 11: The God MC Rakim
December 12: The Rock and Roll Playhouse Plays Music of Phish for Kids & More ft. Uncle Ebenezer
December 13: Breaking Benjamin: Unplugged
December 17: Splintered Sunlight
December 18: Nick Perri with special guest Walt Lafty
December 23: Zoso - The Ultimate Led Zeppelin Experience
December 29: Turkuaz
December 30-31: New Year's Eve Celebration with Spafford
January 7: The Connells
January 14: The Spin Doctors
January 22: Ghost Light
February 11: Emo Night Brooklyn
February 12: The Floozies
February 15: Yola
February 17: Gangstagrass
March 4: TAUK
March 10: Red Baraat Festival of Colors
March 17: Dylan Scott
March 23: Dirty Dozen Brass Band + Nathan & The Zydeco Cha Chas
April 1-2: Lettuce
April 5: L'Impératrice
April 9: The Greyboy Allstars
April 12: Shovels & Rope
April 15-16: Twiddle
April 21: Easy Star All-Stars: Return of the 420
April 22: Melvin Seals & JGB
May 5: Grateful Shred
May 20: Breakbot (DJ Set)
May 27: Forever Selena: Selena Tribute & Latin Dance Party
June 2: Metalachi
About Live Nation Entertainment
Live Nation Entertainment (NYSE: LYV) is the world's leading live entertainment company comprised of global market leaders: Ticketmaster, Live Nation Concerts, and Live Nation Sponsorship. For additional information, visit www.livenationentertainment.com.
About Brooklyn Bowl Philadelphia
Brooklyn Bowl Philadelphia provides the ultimate night out. With its groundbreaking integration of premiere music, 24 lanes of bowling, a bar featuring local craft beer favorites, and an exquisite dining menu from the acclaimed Blue Ribbon Restaurant Group, the 1,000-capacity venue is located in Philadelphia's Fishtown neighborhood, next door to The Fillmore, and features adjacent outdoor space. Its opening marks Brooklyn Bowl's fourth location, following its flagship in the Williamsburg section of Brooklyn, its Las Vegas venue, and its new outpost in Nashville. Wearing its homegrown values on its sleeve, Brooklyn Bowl is committed to locally made products and environmental sustainability, and boasts an unprecedented mix of top-flight music, bowling, beer, and food. Visit BrooklynBowl.com/Philadelphia.
For More Information on Brooklyn Bowl Philadelphia, please contact:
Rebecca Shapiro
Brian Giglio
Taylor Apel
For More Information on Live Nation Philadelphia, please contact:
Ike Richman