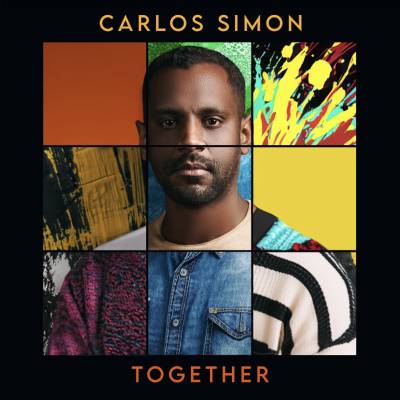 GRAMMY-nominated composer, curator and activist Carlos Simon releases new album 'Together' 
10-Track album out globally via Decca Classics
Listen to 'Together' Here: https://carlossimon.lnk.to/TogetherPR
Friday, September 8, 2023 – Today, GRAMMY-nominated composer Carlos Simon releases his new album 'Together' globally via Decca Classics. The 10-track project is a celebration of life and music, honoring some of the world's greatest songs through carefully crafted reimaginations alongside some of Simon's own unique original compositions. Each track, from the soul-stirring
"Amazing Grace" to the evocative "Memory of Summer," tells a unique story, showcasing Simon's diverse musical influences, and provides deeper insights into the artist's history, making 'Together' a moving and powerful musical experience.
Simon's multifaceted personality, upbringing and musical depth resonate throughout 'Together.' "Love Is Stronger Than Pride" sees Simon put a fresh spin on Sade, reworking the ballad into a spell-binding piano-only composition. Simon's standwork original "Between Worlds," is centered around the life of Bill Traylor, who was born a slave in 1853 and went on to become one of the most important American artists of the twentieth century. As a self-taught visual artist, Traylor's work reflects two separate worlds— rural and urban, black and white, old and new.
Spirituality is a constant theme throughout 'Together', as hymns like "Amazing Grace" and "Angels In Heaven," reflect on transformation. "Traveling Song," a poignant tribute to his late grandmother who battled Alzheimer's disease, features a new arrangement of one of her favorite hymns "When He Calls Me, I Will Answer." "Near the Cross" with mezzo-soprano J'Nai Bridges explores the duality of the cross, a symbol of solace and suffering. Simon masterfully blends original compositions, improvisations, and arrangements, crafting a harmonious musical tapestry that resonates with listeners.
To create this new body of work, Simon took the opportunity to collaborate with other talented friends and musicians in the wake of the pandemic to make exquisite, soul-satisfying music with a message. In addition to performing piano on a number of tracks, Simon enlisted violinist and fellow Decca recording artist Randall Goosby, 2 x GRAMMY Award-winning mezzo J'Nai Bridges ("the 'Beyoncé of opera" - BET), acclaimed GRAMMY Award-winning baritone Will Liverman and GRAMMY-nominated rising star cellist Seth Parker Woods. 'Together' also features contributions from the Carlos Simon Collective, a group that Simon founded and conducted. Made up of Chicago's best freelance artists, the collective is headed up by fellow GRAMMY-nominated, acclaimed composer, violinist, educator and friend Jessie Montgomery.
'Together' is the follow-up to Simon's critically-acclaimed debut 'Requiem for the Enslaved'. When Simon joined Georgetown's Department of Performing Arts as an assistant professor in 2020, he learned about the history of the GU272. One of the largest sales of human beings in U.S. history, the Maryland Province of the Jesuits, who ran Georgetown at the time, sold 272 men, women, and children in 1838. Determined to honor the lives of the enslaved (and their 8,000+ Descendants) through music that evoked the spirit of those in captivity, Carlos composed 'Requiem for the Enslaved'. The work debuted at the Library of Congress on Nov. 5, 2021, and received a "Best Contemporary Classical Composition" nomination at the 2023 GRAMMY Awards.
Simon's passion for social justice shines through in his compositions. His work tackles complex themes that include migration, belonging and community – especially illuminating the transatlantic slave trade, the Jim and Jane Crow era, and the injustice people of African ancestry face today. His music possesses both classical textures and structures in a contemporary aesthetic alongside strong jazz, hip-hop and heavy gospel influences. Most recently, Simon released 'brea(d)th,' his landmark work that commemorates the murder of George Floyd, and "bears witness to the continued racial reckoning of America" (Forbes).
Tonight, Simon is celebrating 'Together' at a WQXR LIVE event in New York City. Hosted by Terrance McKnight, Simon will perform 'Together' tracks live alongside album collaborators mezzo-soprano J'Nai Bridges and cellist Seth Parker-Woods at The Greene Space. For more information visit: https://thegreenespace.org/event/wqxr-live-carlos-simon/
'Together' Tracklist: 
1. Prayer "Gather Up" with J'Nai Bridges
2. Love Is Stronger Than Pride
3. Amazing Grace with Randall Goosby
4. Near the Cross with J'Nai Bridges
5. Loop
6. Memory of Summer
7. Settle (part III from Warmth from Other Suns)
8. Angels in Heaven with Will Liverman
9. Traveling Song
10. Between Worlds with Seth Parker Woods
About Carlos Simon:
GRAMMY-nominated Carlos Simon is a multi-genre composer and performer who is a passionate advocate for diversity in music. Carlos, whose father wanted him to be a minister, describes music making as a pulpit where he can deliver messages and minister to those listening. As winner of the Sphinx Medal of Excellence 2021 and Composer-in-Residence at the Kennedy Center, he sees himself as a conduit, a vessel used by God to deliver music to the people. Listed in the Kennedy Center's Next 50', his recent commissions have been granted by the New York Philharmonic, Boston Symphony, Kennedy Center, Minnesota Orchestra, Los Angeles Opera, Philadelphia Orchestra, PBS, and the Washington National Opera as well as his work being set to ballets by Washington National Ballet and American Ballet Theater.