Come Hear North Carolina Unveils In The Water Live Session Series With Stunning Mary Lattimore Performance From Historic Rural Church
Upcoming In The Water Episodes To Feature The Mountain Goats, Rhiannon Giddens, Rapsody, Vanessa Ferguson + More
WATCH THE MESMERIZING HARPIST PERFORM HER STANDOUT "IT FEELS LIKE FLOATING" + DISCUSS NORTH CAROLINA UPBRINGING VIA BILLBOARD:https://www.billboard.com/articles/news/8526651/mary-lattimore-feel-like-floating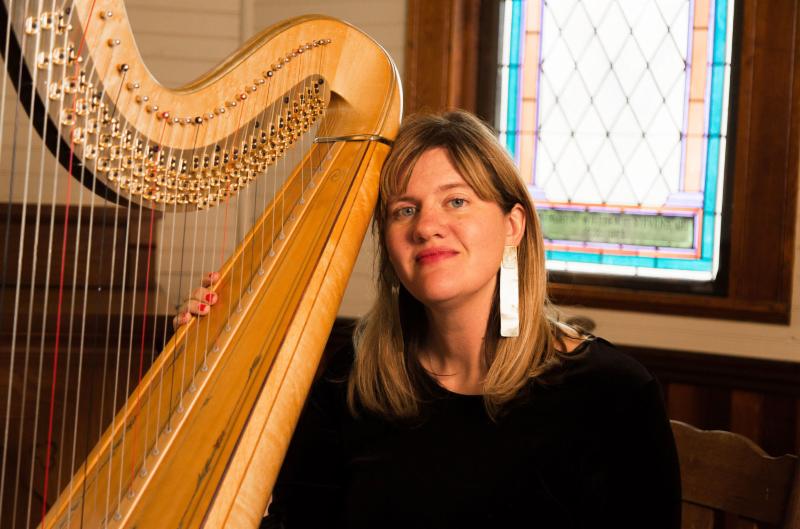 Come Hear North Carolina has announced In The Water, a live session series featuring North Carolina musicians performing in unique, meaningful locations throughout the state.
In The Water kicks off with an episode featuring the renowned avant-garde harpist Mary Lattimore, who grew up between Asheville and Shelby before launching an impressive solo career that has included collaborations with indie rock luminaries like Arcade Fire, Kurt Vile and Mac McCaughan. This debut episode sees Mary perform at the Chapel of Rest in Historic Happy Valley, near Lenoir, N.C. (located exactly halfway between Asheville and Shelby) while discussing the impact of North Carolina on her music.
Billboard has shared an excerpt from the first episode of In The Water, which features Mary performing "It Feels Like Floating" from her 2018 album Hundreds of Days mixed in with reflections on childhood summers in Atlantic Beach, N.C. that helped inform the song: https://www.billboard.com/articles/news/8526651/mary-lattimore-feel-like-floating
Watch an extended version that also includes performances of her original compositions "Otis Walks Into The Woods" and "For Scott Kelly, Returned To Earth" here: https://youtu.be/8UZ18LBMJbM
Upcoming episodes of In The Water will feature performances from The Mountain Goats in Hamlet (John Coltrane's hometown), Rhiannon Giddens in Wilmington (where she is currently writing a musical about the city's insurrection of 1898), Snowhill, N.C. native Rapsody and a special performance from Vanessa Ferguson (The Voice) at Nina Simone's childhood home in Tryon. Each episode of In The Water will feature a three-to-four-song performance, as well as environmental footage and narration from the artist. The goal is for these elements to collectively paint a picture of the spaces - both literal and metaphorical - that shape the sounds and souls of each musician.
In The Water is the latest addition to this year's Come Hear North Carolina festivities, a statewide celebration of the state's rich musical history from the North Carolina Arts Council and North Carolina Department of Natural and Cultural Resources. Come Hear North Carolina's Nina Simone Weekend at the North Carolina Museum of Art in Raleigh is scheduled for August 16 to 18 in partnership with the National Trust and the North Carolina African American Heritage Commission. Funds raised from the weekend's programming, which will include a performance by Nina Simone's daughter Lisa Simone, will be used to restore the childhood home of Nina Simone.
This year the First Lady of North Carolina Kristin Cooper and Come Hear North Carolina also launched Music at the Mansion, an unprecedented concert series filmed at the North Carolina Executive Mansion. Throughout 2019 Come Hear North Carolina is also sponsoring various creative endeavors from local artists (most recently The Listeningdocumentary on Durham hip-hop group Little Brother) and has formed partnerships with the Americana Music Association, Yep Roc Records, Merge Records, MerleFest, Hopscotch Music Festival, the International Bluegrass Music Association's Wide Open Bluegrass Festival and more.
For more information visit www.ComeHearNC.com