Comedy Dynamics To Release Marina Franklin's First Stand-Up Special, Single Black Female On July 23. 2019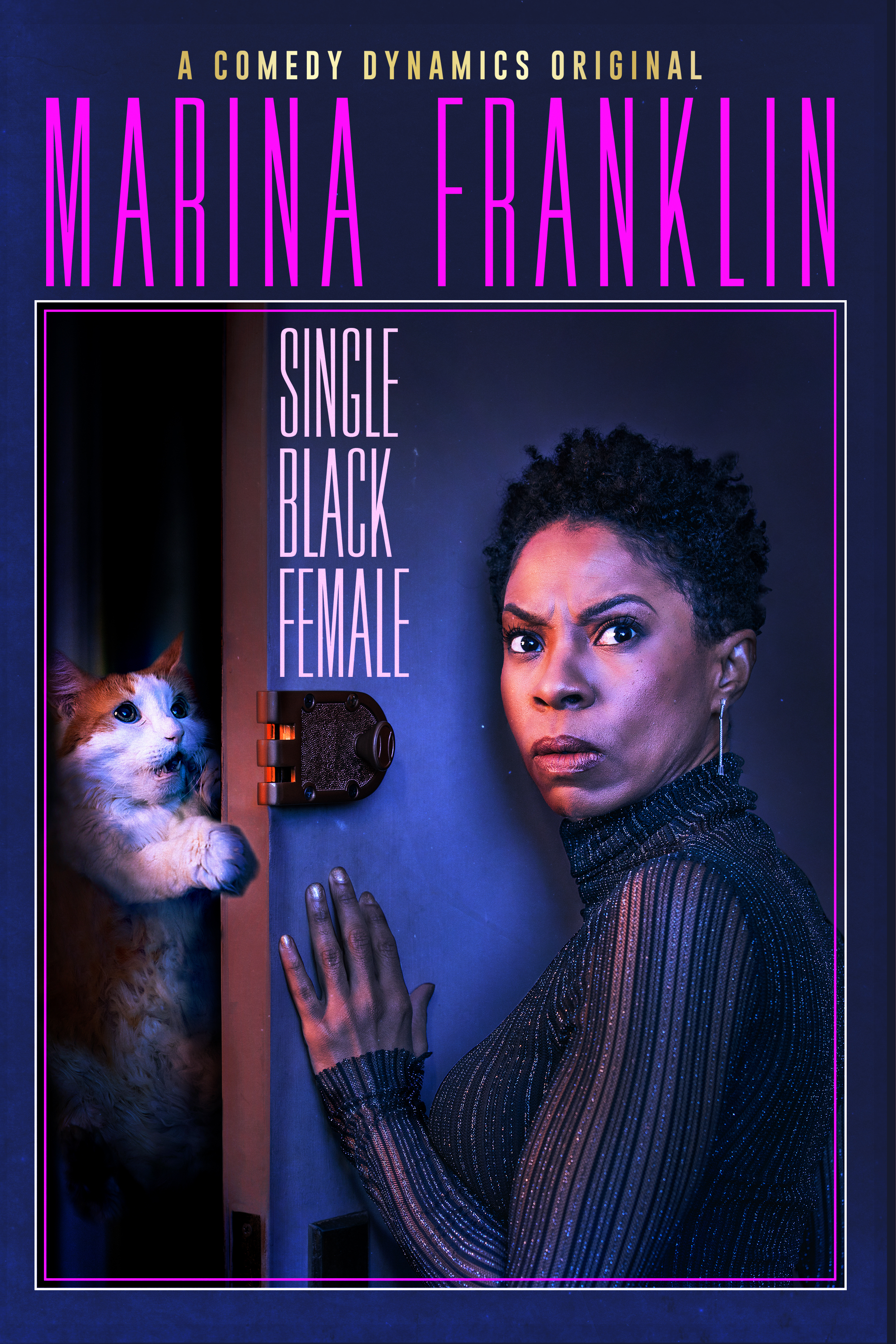 LOS ANGELES, CA – Comedy Dynamics announced they will release Marina Franklin's new stand-up special, Single Black Female on the Comedy Dynamics Network via iTunes, Amazon Prime Video, Comcast, Spectrum, Dish, Google Play and more on July 23, 2019. The album will be released July 26, 2019, and will be available on iTunes, Spotify, SiriusXM, Pandora, Google Play and more.

Marina Franklin returns to her Chicago roots to celebrate and unpack what it means to be 'woke' in these confusing and tumultuous times. Franklin offers us a hilarious yet honest glimpse into the challenges of navigating America's complex blah blah blah.. oh yeah and dating.

Marina Franklin is a veteran comedian, actor, writer, and host whose long tenure as a stand-up standout at premier comedy venues and festivals around the world – alongside her memorable TV and film appearances, and critically acclaimed podcast – have made her a fan favorite and in-demand creative force. The Chicago native's onscreen credits include HBO's Crashing, the hit movie, Trainwreck, Stephen Colbert's Late Show, the Nightly Show with Larry Wilmore, Conan, Louie Season V, The Jim Gaffigan Show, Showtime's Women Who Kill, and Comedy Central's Chappelle's Show. Marina is a favorite at comedy festivals around the world, including the Melbourne Comedy Festival; Scotland's Glasgow Comedy Festival; BBC's World Stand's Up; Rotterdam's Comedy Factory; Montreal's Just For Laughs; Ireland's Kilkenny Comedy Festival; and Nashville's Bonnaroo Music Festival. Her podcast, Friends Like Us, features a diverse group of women comedians of color – and their occasional male guests – and their takes on the news of the day.

"Taping my first comedy hour in my native Chicago was a wonderful homecoming, it was like the wedding I never had, and now through the magic of streaming, you're all invited to the reception." said Marina Franklin.

"Marina is a hysterical and important comic and we're honored to have produced her long overdue first special." said Brian Volk-Weiss, CEO of Comedy Dynamics.

Founded by Brian Volk-Weiss, Comedy Dynamics, a Nacelle company, is the largest independent comedy production and distribution company, producing the reboot of Mad About You featuring Paul Reiser and Helen Hunt, Netflix's Kevin Hart's Guide to Black History, Netflix's The Toys That Made Us, Jim Gaffigan: Noble Ape, The CW's Discontinued, Animal Planet's Animal Nation with Anthony Anderson, the scripted comedy on Hulu There's… Johnny!, History's Join Or Die with Craig Ferguson, MTV2's Wild 'N On Tour, and Hulu's Coming To The Stage. Comedy Dynamics began releasing original films in theaters and will release the acclaimed independent film Slut in a Good Way in Spring of 2019. In 2017 the Comedy Dynamics Network (CDN) was launched and currently distributes specials, television shows and films to all major transactional platforms such as iTunes, Amazon, Google, PlayStation, Xbox and many major telco & satellite providers, including AT&T, Comcast, Charter, Dish, and Verizon. The company has worked with a wide range of established and emerging comedic talent including Tiffany Haddish, Kevin Hart, Aziz Ansari, Jim Gaffigan, Ali Wong, David Cross, and many more. 17 Comedy Dynamics releases have been Grammy-nominated (with three wins), including all 5 in the Comedy Album category for the 61stAnnual Grammy Awards.