Comedy Dynamics Partners With Tribeca To Release 'Miz Cracker: Here I Stand' Across Multiple Streaming Platforms July 19th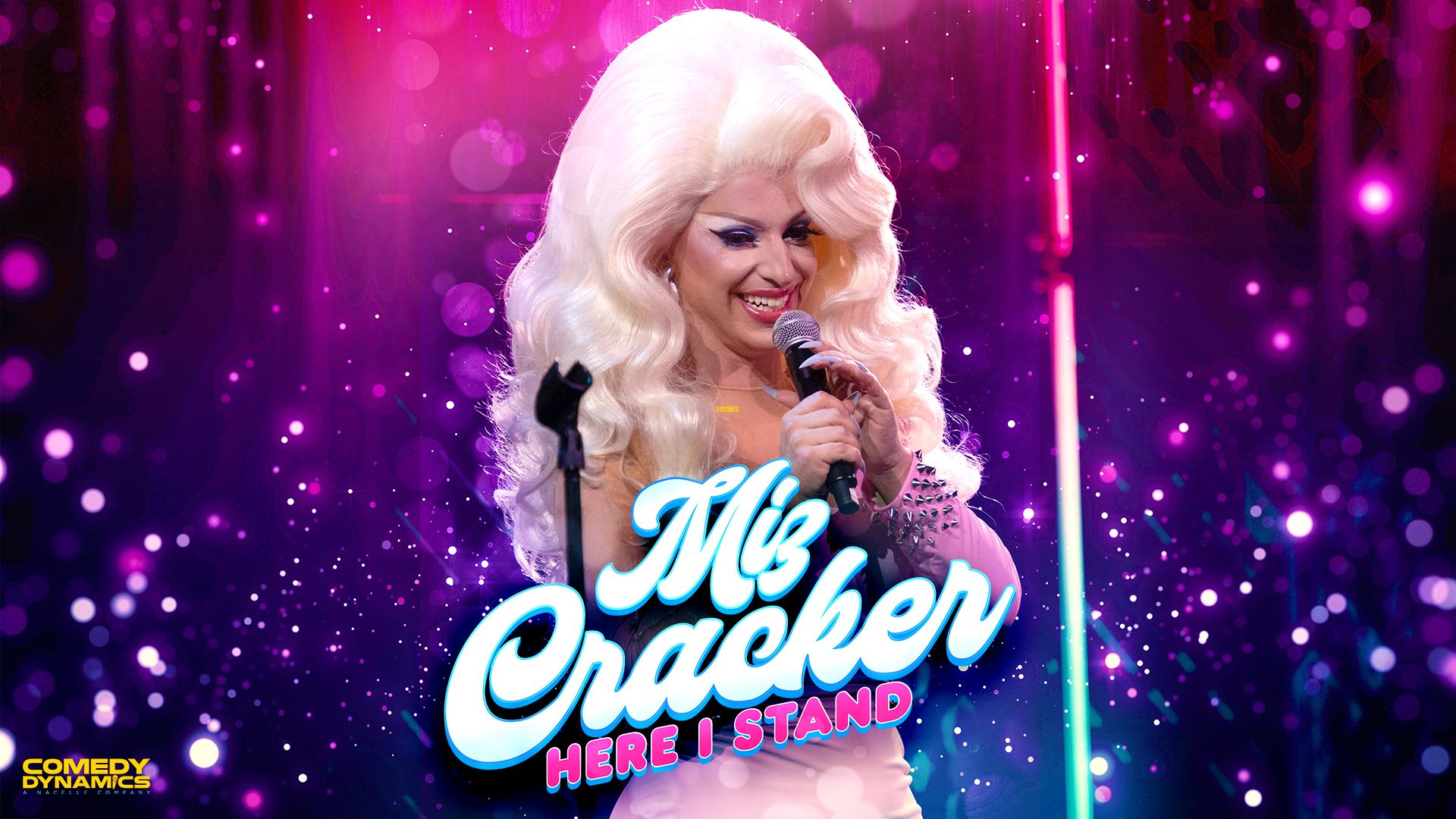 LOS ANGELES, CA – Comedy Dynamics has partnered with Tribeca to release Miz Cracker's' debut stand-up comedy special, Here I Stand. The special, directed by Brian Volk-Weiss, was filmed live from the acclaimed 2021 Tribeca Festival. Comedy Dynamics, the world's largest independent stand-up comedy production company will release the special digitally through their hybrid distribution network consisting of Amazon Prime Video, Apple TV, Dish, YouTube, and more starting July 19th. The album will be released on Sirius XM, Apple Music, Amazon Music, Spotify, Pandora and more for streaming and purchase starting July 22nd.
In her brand new stand-up comedy special, Here I Stand, drag queen and comedienne Miz Cracker discusses everything from sex and dating to quarantining, dieting, and getting older. With her signature brand of cheerful pessimism, she tells jokes and stories about her bizarre childhood, her vices, her worst mistakes, and how she managed to survive it all. Embracing a message of self-acceptance, Here I Stand is a show for anyone who needs to laugh out loud—sometimes at themselves.
"I'm thrilled to share my special with everyone, especially right now. These days, we wake up to so much bad news about our world. I wanted to create something that brings a little hope and laughter—make fun of the times we're living in, make fun of myself. I wanted to offer a little comic relief and maybe, just maybe, give us all a sense that we can love ourselves and one another a little more. Press play and join me!" said Miz Cracker.
"Miz's talent seemingly has no bounds, and it's truly on full display in her debut special!" said Brian Volk-Weiss, Founder and CEO of Comedy Dynamics.
About Comedy Dynamics:
Founded by Brian Volk-Weiss, Comedy Dynamics, a Nacelle company, is the largest independent comedy production and distribution company. The company has produced Netflix's Emmy Award winning series, Down to Earth with Zac Efron, The Movies That Made Us, The Toys That Made Us, Behind The Attraction for Disney +, Sony's Mad About You reboot, Netflix's Kevin Hart's Guide to Black History, The CW's Discontinued, All The Way Black for BET+, Animal Planet's Animal Nation with Anthony Anderson, the scripted comedy on Hulu There's… Johnny!, History's Join Or Die with Craig Ferguson, MTV2's Wild 'N On Tour, History's Center Seat: 55 Years of Star Trek, and more. In 2017 the Comedy Dynamics Network (CDN) launched and currently distributes specials, television shows and films to all major transactional platforms such as iTunes, Amazon, Google, PlayStation, Xbox, Tubi, Peacock, Pluto TV and most major telco & satellite providers, including AT&T, Comcast, Charter, Dish, Verizon, and Samsung TVs. The company has worked with a wide range of established and emerging comedic talent including Ali Wong, Tiffany Haddish, Kevin Hart, Aziz Ansari, Jim Gaffigan, Pete Davidson, and many more. The company was nominated for an NAACP Spirit Award in 2019 for Kevin Hart's Guide to Black History and an Emmy Award for Down to Earth with Zac Efron in 2021. 21 Comedy Dynamics releases have been Grammy-nominated (with four wins), including all 5 in the Comedy Album category for the 61st Annual Grammy Awards in 2019.