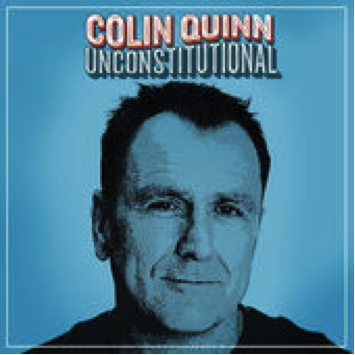 Comedy Dynamics Releases Colin Quinn: Unconstitutional
LOS ANGELES, CA (August 22, 2016) –Comedy Dynamics presents Colin Quinn: Unconstitutional stand-up special available on all digital and streaming platforms now. Links to buy here:
iTunes: https://itun.es/i6hB2vj
Amazon: https://amzn.com/B01JREOGPO
GooglePlay: https://goo.gl/NVV0s0
From executive producer Jerry Seinfeld, the show originally streamed exclusively on Netflix. The SNL alum historically themed Colin Quinn Unconstitutional, covers the creation of the United States Constitution and its effect on the American psyche. Quinn examines how the three branches of government are similar to people in a bar, why most U.S. presidents are unattractive, and how the Kardashians reflect our country.
Colin Quinn recently played Amy Schumer's father, Gordon, in the popular romantic comedy Trainwreck and can be seen as 'Hermie' on HBO's Girls. The 3rd season of Colin's webseries Cop Show is now streaming on lstudio.com. Quinn and Seinfeld previously worked together on Colin Quinn Long Story Short, a one-man show about world history that was presented on Broadway and HBO in 2010, and most recently off-Broadway with Colin Quinn The New York Story.
"Nothing is off-limits here," says Brian Volk-Weiss, president of Comedy Dynamics. "You don't have to be a history buff to find this show brilliant."
Colin Quinn: Unconstitutional is directed by Jay Chapman, and written and performed by Colin Quinn. Jerry Seinfeld, Mike Berkowitz, Brian Stern, Cisco Henson, Jack Vaughn, and Brian Volk-Weiss executive produced. Kieran Dotti is production supervisor for Comedy Dynamics.
Comedy Dynamics is the largest independent stand-up comedy production and distribution company in North America, producing the popular new series on History Join Or Die with Craig Ferguson, MTV2's Wild 'N On Tour, Coming To The Stage, and a new show for MTV with Zac Efron (The Untitled Zac Efron Documentary). The company has worked with a wide-range of established and emerging comedic talent including Kevin Hart, Louis C.K., Aziz Ansari, Jim Gaffigan, Katt Williams and many more. Comedy Dynamics is available on many streaming platforms including: Hulu, Roku, iOS, Amazon, and Android.
Eight albums produced between 2013-2015 have been Grammy-nominated, one of which, Louis C.K. Live At Madison Square Garden, won Best Comedy Album in 2016.