Common Announces Special One-Night Only Performance At The Apollo Theater, October 8
Brings "Exquisite" (People) New Album Let Love For "A Whirlwind Performance" (KCRW)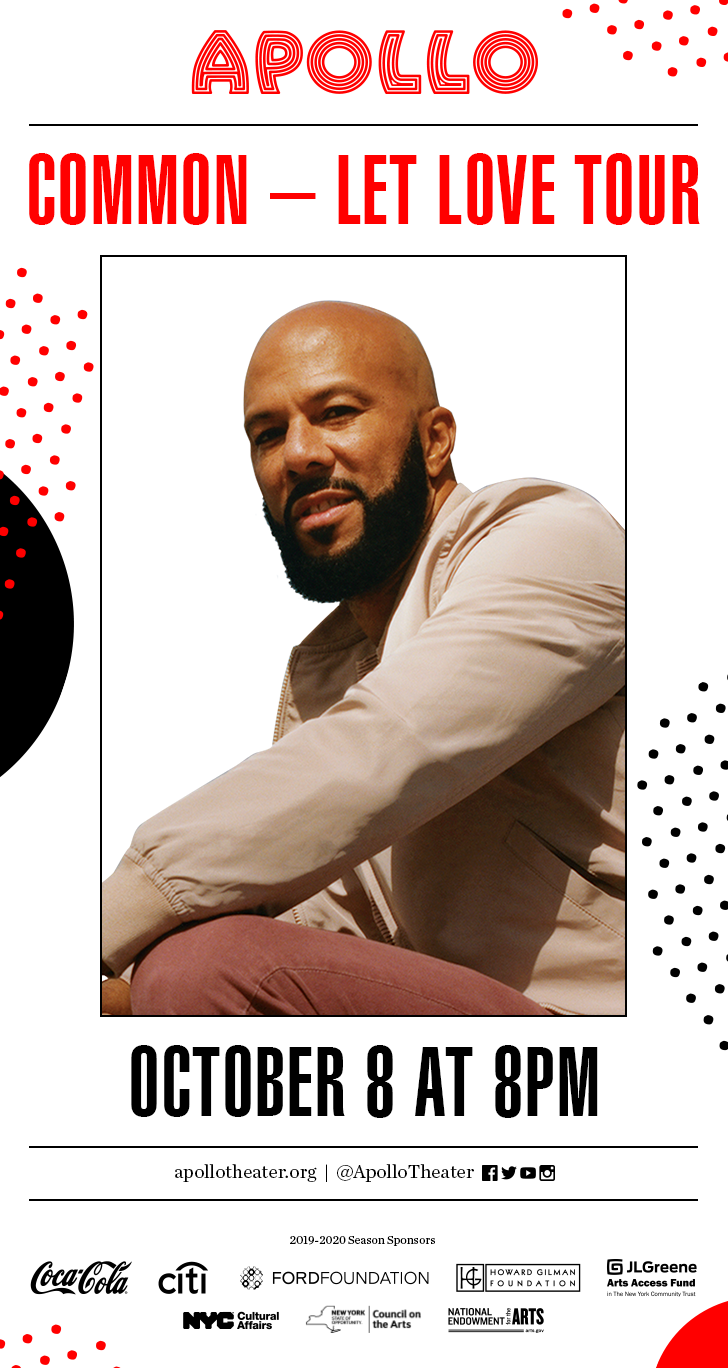 Let Love Debuts At #2 On Billboard R&B / Hip Hop Albums Chart
Today, Common announces a special one-night only performance on October 8th at The Apollo Theater. The Emmy-, GRAMMY-, and Oscar-winning rapper, actor, activist, and best-selling author will perform and present his "deeply spiritual and introspective" (People) new album Let Love. Inspired by a phone call from his daughter that forced him to reconsider his approach to fatherhood, faith, and family, Let Love — which just debuted at #2 on Billboard R&B / Hip Hop Albums chart — is a wide-ranging, therapeutic statement that delves into modern Blackness, police brutality, toxic masculinity, and so much more -- "a captivating tale about using love as a weapon to overcome" (Exclaim) that results in "one of his most personal, raw collections" (Stereogum).
Tickets are on-sale today at 12pm EST. Tickets can be purchased athttps://www.apollotheater.org/event/common-let-love-tour/. For more information please visit apollotheater.org.
Catch an intimate preview of Common's stunning live show and his killer live band in this "whirlwind performance" for KCRW's Morning Becomes Eclectic:https://www.kcrw.com/music/shows/morning-becomes-eclectic/common
Read a new Talk Of The Town profile of Common for The New Yorker, where he discusses Let Love and how "self-care is the new Black": https://bit.ly/2kCsAvA
Common recently appeared as the lead guest on Fallon, discussing Let Love and performing "Hercules" alongside Swizz Beatz. He also spoke recently with CBS Sunday Morning and NPR All Things Considered about his journey to Let Love.
Praise For Common and Let Love
"The Chicago rapper serves up more lucid rhymes and exquisite jazz-derived beats…deeply spiritual and introspective." — People
"One of his most personal, raw collections." — Stereogum
"Meticulous storytelling… Common approaches the ideas of light and hope with a more realistic outlook, producing a record that effectively touches every listener." — Hypebeast
"Fluid, deceptively intricate…[Common] has never been more open." — AllMusic
"The universally recognized master lyricist is back…A very personal exploration of Common's relationship with love." — KCRW
"Sonically, the album is a time capsule of the greatest moments in black music history. Lyrically, it's hard-hitting reality about the present day…a captivating tale about using love as a weapon to overcome." — Exclaim
"It couldn't be more timely." — The Independent UK
About the Apollo Theater
The legendary Apollo Theater—the soul of American culture—plays a vital role in cultivating emerging artists and launching legends. Since its founding, the Apollo has served as a center of innovation and a creative catalyst for Harlem, the city of New York, and the world.
With music at its core, the Apollo's programming extends to dance, theater, spoken word, and more. This includes special programs such as the blockbuster concert Bruno Mars Live at the Apollo, 100: The Apollo Celebrates Ella, the annual Africa Now! Festival, and the New York premiere of the opera We Shall Not Be Moved. The Apollo is a performing arts presenting organization that also produces festivals and large-scale dance and music works organized around a set of core initiatives that celebrate and extend the Apollo's legacy through a contemporary lens; global festivals including the Women of the World (WOW) Festival and Breakin' Convention, international and U.S.-based artist presentations focused on a specific theme; and Special Projects, multidisciplinary collaborations with partner organizations.
Since introducing the first Amateur Night contests in 1934, the Apollo Theater has served as a testing ground for new artists working across a variety of art forms and has ushered in the emergence of many new musical genres—including jazz, swing, bebop, R&B, gospel, blues, soul, and hip-hop. Among the countless legendary performers who launched their careers at the Apollo are D'Angelo, Lauryn Hill, Machine Gun Kelly, Miri Ben Ari, Ella Fitzgerald, Sarah Vaughan, Billie Holiday, James Brown, Michael Jackson, Gladys Knight, Luther Vandross, and Stevie Wonder; and the Apollo's forward-looking artistic vision continues to build on this legacy.
Follow Common