Cyndi Lauper Shines as Artist and Advocate in Key September Appearances at Global Citizen Festival, Tony Awards & MTV VMAs 
True Colors 35th Anniversary Celebrated With Re-Issued B-Side, Video and Remix Out October 14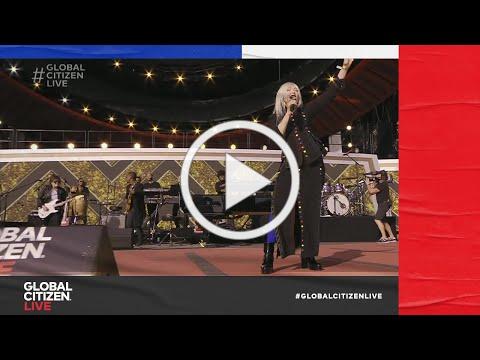 Grammy, Emmy and Tony Award-winner Cyndi Lauper has made a number of key appearances in September that reinforce her status as an icon, role model and advocate.
This past weekend Lauper performed at the Global Citizen Live concert, singing "Girls Just Want To Have Fun," which she dedicated to Afghan women, and "True Colors," each backed by Jon Batiste and his band. Lauper has been a strong supporter of the festival, one of the biggest-ever international charity events. The 24 hour concert had over 60 artists perform in cities including New York, Paris and Seoul. Tens of thousands of people attended in person and millions more tuned into the broadcast online. Lauper performed from Central Park in New York City, along with Coldplay, Billie Eilish, Camila Cabello, Lizzo, Meek Mill and Shawn Mendes.
Last night, Lauper, who is currently working on the music for the Broadway adaptation of Working Girl, presented the Tony Awards for Best Book of a Musical, Best Orchestrations, and Best Choreography. She also introduced a performance from the company of Jagged Little Pill, a musical based on the album by Alanis Morissette. Lauper won a Tony for Best Original Score for Kinky Boots in 2013; the musical won 6 Tony Awards in total that year.
She also made headlines for her remarks when she presented the award for Best Pop Video to Justin Bieber at the 2021 MTV Video Music Awards. Before introducing the nominees, Lauper proclaimed: "Girls wanna have fun. But we also want to have funds. Equal pay. Control over our bodies! You know, fundamental rights." Lauper won the first-ever MTV Video Music Award for Best Female Video for "Girls Just Want to Have Fun" during the inaugural show in 1984, and has 10 subsequent nominations.
On October 14, Lauper will celebrate the 35th anniversary of her sophomore album True Colors. Nominated for 2 GRAMMYs, True Colors hit #4 on the Billboard 200 and features the title track that would go on to become one of her most famous recordings. "True Colors" continues to empower new generations of fans across the globe, notably as an anthem for LGBTQ+ pride. For the 35th anniversary, Lauper's recording of "Heading For The Moon" will be re-issued, which was the b-side to the "True Colors" single but not included on the original version of the album. There will also be a new lyric video to accompany "Heading For The Moon," as well as a remix of "True Colors" by Junior Vasquez.
Another Lauper classic, "Time After Time," from her landmark debut She's So Unusual, is featured on Rolling Stone's just-published 500 Greatest Songs Of All Time list. She also sat down with Rolling Stone's The Breakdown series to detail how the song was written and created. Rolling Stone describes "Time After Time" as "one of the songs that would turn Lauper into a pop phenomenon."