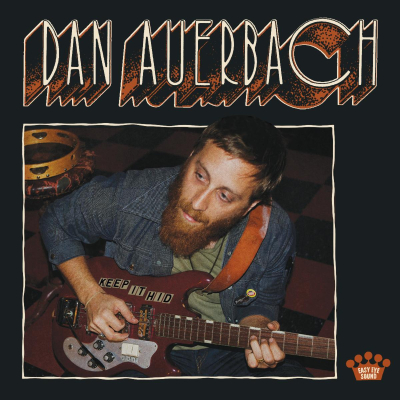 Dan Auerbach Reissues Long-Out-Of-Print Solo Debut Keep It Hid Via Easy Eye Sound
Watch All New Video For "Whispered Words (Pretty Lies)" HERE
2009 Collection Returns With Six Vinyl Variants, Limited Edition Cassette, New Album Art And More
Today, Dan Auerbach's debut solo album, Keep It Hid, returns to print, with the seminal 2009 collection being reissued on vinyl, cassette and CD via Easy Eye Sound — the label that Keep It Hid inspired Auerbach to create.
As Dan Auerbach's first major work outside The Black Keys, Keep It Hid was the true impetus for Auerbach's now multifaceted career as a GRAMMY®-winning producer, mentor to emerging talent, and founder of Easy Eye Sound, Billboard's reigning Blues Label Of The Year.
The Keep It Hid reissue is equipped with new album art, a limited-edition cassette release for the first time, and six updated vinyl variants: including exclusive variants for US Indie Record Stores (Orange + Black Marble), Tennessee Indie Record Stores (signed copies on Peach + Black Marble), Easy Eye Sound's online store (limited signed copies on Orange + Yellow Splatter), Vinyl Me, Please (Maroon Marble, limited to 750 copies) and Newbury Comics (signed copies on Orange + Black two-sided vinyl).
Order Keep It Hid here: https://click.ees.link/keepithid
Watch the all new video for "Whispered Words (Pretty Lies)," directed by Robert Schober — better known as Roboshobo, the artist who has directed for Metallica, Green Day, The Killers, and more — here: https://youtu.be/l7eoNeV8Bhs
Originally recorded by Auerbach as he was building his first home studio in Akron, Ohio — a precursor to his Easy Eye Sound Studio in Nashville, where Auerbach now records and produces most of the label's current releases — Keep It Hid tapped into the now-veteran crate-digger's penchant for rare finds. Inspired by forgotten 60s psych rock, obscure British power-pop, bluegrass family bands, the collection spans from echo-laden garage rock ("Heartbroken, In Disrepair") and fuzz-scarred blues ("The Prowl") to haunted Southern soul ("Real Desire") and bittersweet-country comfort ("When The Night Comes").
The album was hailed as "intimate and thrilling" by NPR's Fresh Air upon its original release, with reviewer Ken Tucker adding it "sounds like a clearing of the throat and mind." Dan Auerbach recently appeared on MSNBC's Morning Joe to discuss Easy Eye Sound, his early career in music, his blues heroes, and more: https://www.msnbc.com/morning-joe/watch/new-blues-compilation-tell-everybody-a-saturday-night-party-record-191109189602
The re-issue comes during a banner year for Auerbach and Easy Eye Sound, who just threw their second annual East Nashville Community Fish Fry in partnership with Luck Reunion last week during AmericanaFest. 2023 highlights for the label include releasing The Arcs' first album in eight years, topping the Billboard Blues charts for multiple weeks with the juke joint compilation Tell Everybody!, the emergence of Nat Myers (the first Korean-American musician to play the Grand Ole Opry and one of NPR Music's "Favorite New Artists" of the year), an AmericanaFest "Album Of The Year" nomination for Hermanos Gutiérrez and now Auerbach's Keep It Hid re-issue. Performers at this year's Fish Fry also included Hermanos Gutiérrez, as well as Shannon & The Clams, Robert Finley, and many more. Watch the magic here: https://www.youtube.com/watch?v=KvQDq8W5Zbw
DAN AUERBACH - KEEP IT HID TRACKLIST
Trouble Weighs A Ton
I Want Some More
Heartbroken, In Disrepair
Because I Should
Whispered Words (Pretty Lies)
Real Desire
When The Night Comes
Mean Monsoon
The Prowl
Keep It Hid
My Last Mistake
When I Left The Room
Street Walkin'
Goin' Home