Dillon Carmichael Discusses "Son Of A" With Co-Writers Casey Beathard And Phil O'Donnell
Watch the First Episode of His Three-Part Series HERE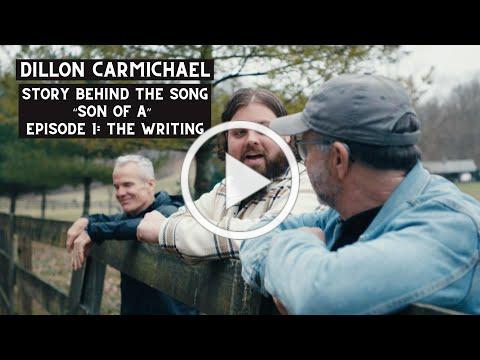 Today (3.9), Kentucky-bred, heartland troubadour Dillon Carmichael releases the first episode of his in-depth, three-part video series that dives into the beautiful and heartbreaking stories behind his current radio single, "Son Of A."
Featuring an intimate conversation between Carmichael and his co-writers, Casey Beathard and Phil O'Donnell, the first episode finds the trio discussing the early stages of the heartwarming track and revealing details around the inspiration behind one of the most touching songs currently climbing the country radio charts.
Highlights from their discussion include:
* How an argument between Beathard and his son led to the chorus
* Finding the right melody for the lyrics almost instantly
* Being moved by the song immediately and knowing that others would too
"Son Of A" is the "instantaneously impactful" (Tennessean) title track from Carmichael's 2021 full-length record and quickly became a relatable fan favorite upon its release. The song is currently top-30 on the Mediabase Country Airplay chart and continues climbing. Carmichael will release episode two of his "Son of A" mini-series tomorrow (3.10) and episode three on Saturday (3.11), but fans can watch the whole series now through The Tennessean, here: tennessean.com/story/entertainment/music/2023/03/09/dillon-carmichaels-son-of-a-a-single-highlighting-industry-flaws/69953798007/
Carmichael is set to release new music in 2023, and fans can stay up-to-date by visiting dilloncarmichael.com.
###
For more information, please contact:
Jaclyn D. Carter | jcarter@shorefire.com
Lexi Cothran | lcothran@shorefire.com
Nick Jurich | njurich@shorefire.com