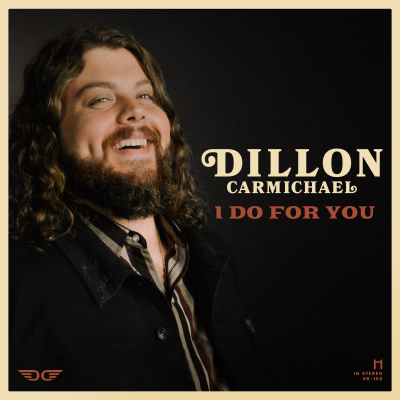 Dillon Carmichael To Release 5-Track 'I Do For You' On Oct. 18 Via Riser House Records
New song "99 Problems (Fish Ain't One)" penned by Rhett Akins, Casey Beathard and Dan Isbell out now: hyperurl.co/DC_99Problems
Country newcomer Dillon Carmichael announces 'I Do For You,' a five-track EP dueFri., Oct. 18 via Riser House Records. In addition to Carmichael, songwriters on the record include Chris Stapleton, Jimmy Melton (Jon Pardi, Willie Nelson), Brice Long(Kenny Chesney, Diamond Rio) and others. The five tracks follow Carmichael's 2018 Dave Cobb-produced debut, 'Hell on an Angel,' which was praised by The New York Times, The FADER, Billboard, Rolling Stone, Washington Post and many others.
Rolling Stone Country shares the outdoors-inspired "99 Problems (Fish Ain't One)." Penned by Rhett Akins, Casey Beathard and Dan Isbell, the track is a "cheeky fishing tune in the tradition of Brad Paisley's 'I'm Gonna Miss Her'." It will be available on all music platforms this Friday, Sept. 13th. Listen first here: hyperurl.co/DC_99Problems
Carmichael — the nephew of country greats John Michael Montgomery and Montgomery Gentry's Eddie Montgomery — is an act that Rolling Stone coined the "most convincing young star since Stapleton." He's drawn comparisons to Randy Travis, Sturgill Simpson and Blackberry Smoke and opened for the likes of Trace Adkins, Justin Moore, Jon Pardi, Jordan Davis and others.
'I DO FOR YOU' TRACKLIST:
1. I Do For You (Dillon Carmichael, Jimmy Melton)
2. 99 Problems (Fish Ain't One) (Dan Isbell, Rhett Akins, Casey Beathard)
3. It's Your Fault (Justin Wilson, Shane Minor, Robert Counts)
4. Hung Up On You (Gary Stanton, Casey Beathard, Charlie Muncaster)
5. Feel That Way Again (Brice Long, Chris Stapleton)
DILLON CARMICHAEL ON TOUR:
Sept. 11 - Patriot Day Bash @ Wild Horse Saloon - Nashville, TN
Sept. 14 - Central Carolina Fair - Greensboro, NC
Sept. 15 - Hometown Rising - Louisville, KY
Sept. 17 - Grand Ole Opry - Nashville, TN
Sept. 19 - DTE Energy Theatre - Clarkston, MI*
Sept. 21 - Bristol Rhythm & Roots - Bristol, TN
Sept. 22 - Bristol Rhythm & Roots - Bristol, TN
Sept. 23 - Pandora Live @ Buckhead Theatre - Atlanta, GA**
Sept. 26 - Clos Lachance Winery - San Martin, CA
Sept. 27 - Brimstone Recreation - Huntsville, TN
Sept. 28 - Highway 49 Festival - Richland, MS
Oct. 4 - Nashville in the Neighborhood - Roseville, CA
Oct. 6 - KCON Country Fest - Del Mar, CA
Oct. 12 - Black Walnut Festival - Spencer, WV
Nov. 8 - Kewadin Casinos - Sault Ste. Marie, MI
Nov. 9 - Kewadin Casinos - Sault Ste. Marie, MI
* denotes show with Jordan Davis
** denotes show with Jon Pardi