DJ Shadow Unveils "Nobody Speak" Music Video Featuring Run The Jewels
'The Mountain Will Fall' North American Tour Kicks Off September 27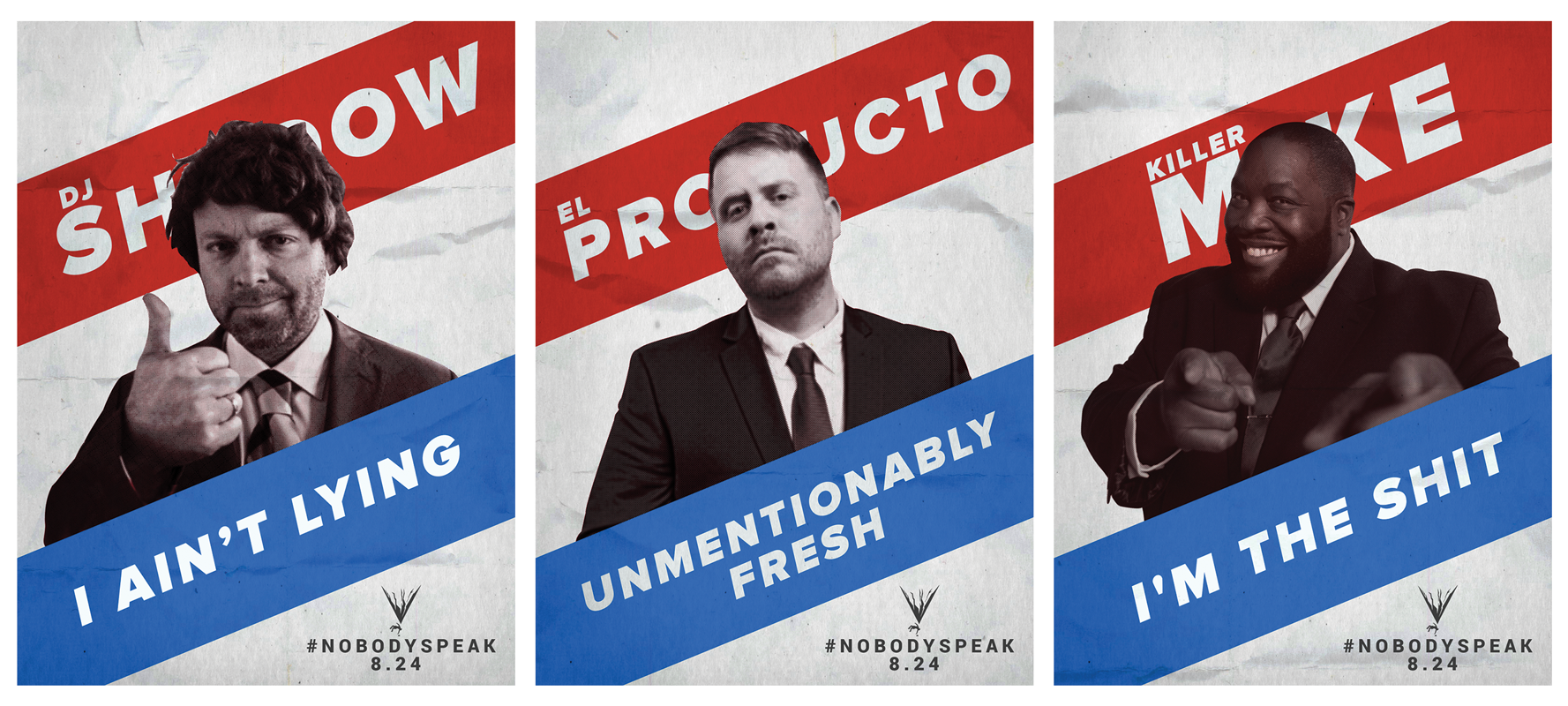 DJ Shadow has unveiled the music video for the song "Nobody Speak" featuring Run The Jewels, a standout track from his latest album 'The Mountain Will Fall,' out now on Mass Appeal Records. The video depicts a meeting of leaders that quickly descends into chaos, a scene not unlike what is unfolding in governments around the globe. It also features cameos by DJ Shadow and Run The Jewels. Watch the video here: https://youtu.be/NUC2EQvdzmY
Says DJ Shadow: "We wanted to make a positive, life-affirming video that captures politicians at their election-year best. We got this instead."
Says Run The Jewels' Killer Mike: "It's such a dope video. It's what I really wish Trump and Hillary would just do and get it over with...And even in that fight I think Hillary would win - and that's not an endorsement."
The video was directed by Sam Pilling and produced by Pulse Films, stars Igor Tsyshkevych and Ian Bailey, and was shot in NYC, London and Ukraine.
'The Mountain Will Fall' is the pioneering musician and producer's first album in five years and finds him exploring new realms of composition and soundscapes. The album was released in June to rave reviews, a performance with Run The Jewels on The Tonight Show, and a #1 iTunes electronic chart debut in 16 countries, including DJ Shadow's first #1 on Billboard's Dance / Electronic chart in U.S. The Mountain Will Fall is available in physical and digital formats and is available here - https://DJShadow.lnk.to/TMWFPR
In advance of his album release, he hosted another classic Essential Mix for the BBC and also did a pop-up show with Beats1 called #Radioface, with more to follow later this year.
Raves for 'The Mountain Will Fall':
"Impressive in its inventiveness" – The Guardian
"Rolling and meditative" – Vice Noisey
"Brassy and bruising" – Rolling Stone
"An album that bridges eras to envision what the future may hold" - Boston Globe
"This is DJ Shadow's best work since his early-aughts heyday. Whatever difficult terrain he had to scale to wrangle this mountain was worth the trip, and suggests even greater ascents in the future" – AV Club
TOUR DATES:
September 27 – House of Blues – San Diego, CA
September 28 – Teragram Ballroom – Los Angeles, CA
Septemeber 29 – Teragram Ballroom – Los Angeles, CA
September 30 – 1015 Folsom – San Francisco, CA
October 1 – Star Theater – Portland, OR
October 2 – Commodore Ballroom – Vancouver, BC
October 3 – Showbox at the Market – Seattle, WA
October 6 – Varsity Theater – Minneapolis, MN
October 7 – Metro – Chicago, IL
October 8 – Phoenix Concert Theatre – Toronto, ON
October 9 – Club Soda – Montreal, QC
October 10 – Theatre of The Living Arts – Philadelphia,PA
October 11 – Paradise Rock Club – Boston, MA
October 13 – 9:30 Club – Washington, D.C.
October 14 – Music Hall of Williamsburg – Brooklyn, NY
October 15 – Music Hall of Williamsburg – Brooklyn, NY
October 26 – La Sirene – La Rochelle, France
October 27 – Pitchfork Festival – Paris, France
October 28 – Festival Des Libertes – Brussels, Belgium
October 29 – L'Autre Canal – Nancy, France
November 2 – Warehouse Project, Granada Studios – Manchester, UK
November 5 – Club to Club Festival – Turin, Italy