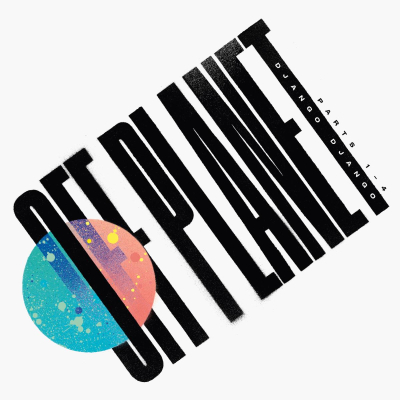 Django Django Announces A New Album In Four Parts
Off Planet Out June 16th via Because Music - pre-save / pre-order here
Off Planet Part 1 is available digitally today - listen here
Listen to lead single "Complete Me" featuring Self Esteem here + https://youtu.be/_2HV7564sgI
Today, Django Django announces the release of Off Planet, an album in four parts, set for a full release on 16th June 2023 via Because Music. The fifth full-length studio album from the UK quartet was conceptualized by Django Django co founder and powerhouse Dave Maclean, buzzing on ufology as "a way to go beyond" — to bring new voices, new rhythms, new experimentation into play, and effectively to deconstruct the band's identity, while still upholding the band's acute ability to "make music that sounds close to perfection" (The Guardian).
Released in four parts, each as a separate "planet", Off Planet is the biggest, boldest, and most varied statement the band have made, with a cavalcade of mainstream and underground stars – Self Esteem, Jack Peñate, Stealing Sheep, Toya Delazy and many more, all of them either friends of the band or personally sought out by Dave – bringing entirely new creative angles into play. From bluesy pop and Middle Eastern cabaret goth to Afro acid and piano rave, to call it kaleidoscopic is putting it mildly. Wholly unlike anything on their previous releases, Off Planet is an all new iteration of Django Django.
Off Planet Part 1, which features the first five tracks from the full length-album, is available to stream today here.
"Complete Me" ft. Self Esteem, the lead single from the album's Part 1, is an explosion of 90's inspired breakbeat. Packed with organs, pianos and synth strings, the track makes Rebecca Lucy Taylor's hooks completely irresistible, as if echoing from some familiar memory. A long associate of the band, Self Esteem released her first EP on Dave's Kick + Clap label, appearing on 2018's Marble Skies and supporting the Djangos on tour.
Of the song, Maclean says, "The instrumental for Complete Me was made sometime in 2020 or 21 when the world was in lockdown and I was making music in my garden shed studio. It was a dance track that I didn't really know what to do with. I sent it to Rebecca and she loved the vibe of it and really quickly came up with some vocal ideas that kind of stuck straight away and locked well with the track. The production was inspired by a lot of 90s breakbeat house and hip-house records that I've always been really into and loved Djing with over the years."
Listen to the single here + https://youtu.be/_2HV7564sgI
Off Planet follows Django Django's 2021 release, Glowing In The Dark, described by The Uncut as "an irresistible lovestruck confection" and remixed by Hot Chip, MGMT, and more. A relentlessly infectious record that provides "escape from everything that's weighing you down," Glowing In The Dark earned high praise from NPR, Consequence, KCRW, Brooklyn Vegan, WNYC, and more.
Off Planet - full album
16 June 2023 via Because Music
Pre-order/ pre-save here
Full album tracklist:
Wishbone
Complete Me ft. Self Esteem
Osaka
Hands High ft Refound*
Lunar Vibrations ft Isabelle Woodhouse
Don't Touch That Dial ft. Yuuko
Back to Back ft. Patience
Squid Inc
Come Down
Golden Cross
No Time ft. Jack Penate
A New Way Through
Galaxy Mood ft. Toya Delazy
The Oh Zone
Dead Machine ft. Stealing Sheep
Dumb Drum
Fluxus
Slipstream
Who You Know ft. Bernardo
Black Cadillac
Gazelle
Off Planet - Part 1 tracklist:
Wishbone
Complete Me ft. Self Esteem
Osaka
Hands High
Lunar Vibrations
MORE INFO ON DJANGO DJANGO