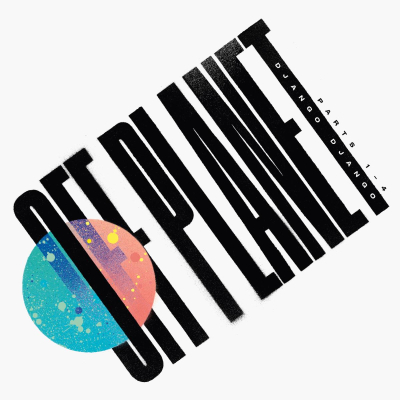 Django Django's "Most Accomplished And Ambitious Record To Date" Out NOW
Listen To Off Planet HERE
Featuring new single "Slipstream"
"A stellar companion piece to the earnest house renaissance playing
out in popular pop music."
—FLOOD Magazine
"Their most accomplished and ambitious record to date…genuinely rockets the
band into new terrain – repeatedly."
—Uncut, 8 out of 10 stars
"Their most inventive, and maybe their best, since their 2012 debut."
—Brooklyn Vegan
"An example of this successful band tearing up the formula
and trying something different."
—WNYC
"An opportunity to dive into Django Django's musical subconscious
and see them push beyond genre restrictions."
—The Vinyl Factory
Today, Django Django reveal Off Planet Part 4, the final six tracks completing the release of the UK four-piece's fifth full-length studio album Off Planet, which Uncut calls "their most accomplished and ambitious record to date" and Brooklyn Vegan hails as "their best since their 2012 debut." Split into four parts, each representing a different "planet", the record is out now in full today, 16 June 2023, via Because Music - listen / buy it here.
Off Planet was conceptualized by Django Django co-founder and producer Dave Maclean as "a way to go beyond", to bring new voices, new rhythms, new experimentation into play, and effectively to deconstruct the band's identity. Off Planet is the biggest, boldest, and most varied statement the band have made, with a cavalcade of mainstream and underground stars – Self Esteem, Jack Peñate, Stealing Sheep, Toya Delazy and many more, all of them either friends of the band or personally sought out by Dave – bringing entirely new creative angles into play.
From bluesy pop and Middle Eastern cabaret goth to Afro acid and piano rave, to call it kaleidoscopic is putting it mildly. Despite at times not sounding like anything on their previous releases, Off Planet is very much still recognisably Django Django. Says Dave Maclean on the kalaiedoscopic inspirations of the record: "just about everything we love, whether that's old psychedelia or Detroit techno, has that futuristic or outer space feel, and I think we can't help putting that into what we do."
Part 4's focus track, "Slipstream", is described by the band as "a trance inducing dance track that began life when Dave wanted something for his DJ sets that sat somewhere between Patrick Cowley, Daft Punk & Vitalic. Heavy electronic elements, intricate melodies, and an addictively danceable beat merge with spacey vocal harmonies to become a Django Django anthem".
Off Planet features multiple standout singles including the BBC Radio 6 Music A-Listed 90s dance-pop explosion, "Complete Me" ft. Self Esteem, the genre-bending "No Time" ft. Jack Peñate, and the futuristic club track "Don't Touch That Dial" ft. Yuuko. Part 4 unites the album with a new collaboration with Bernardo on "Who You Know", as the band set out to join with new voices and experiment with their sound on every release.
The release of Off Planet will be celebrated on June 17th 2023 with an album release party at Paper Dress Vintage in London following an exceptional show opening up Christine and the Queens' Meltdown Festival at The Royal Festival Hall last Friday and a performance at Kite Festival. Django Django will kick off a UK instore tour this evening at Rough Trade East in London to mark the release of Off Planet. The band will perform at this year's Bluedot and Standon Callingfestivals, and have also announced new Australian headline dates, their first there since 2016. Their full live dates are as follows:
16/06 - London, UK @ Rough Trade East - instore - SOLD OUT
17/06 - London, UK @ Paper Dress Vintage - SOLD OUT
19/06 - Bristol, UK @ Rough Trade Records - instore - SOLD OUT
20/06 - Liverpool, UK @ Jacaranda Records Phase One - instore
21/06 - Nottingham, UK @ Rough Trade Records - instore
22/06 - Banquet Records, UK @ Pryzm Kingston - instore
21/07 - Bluedot Festival, UK @ Jodrell Bank
22/07 - Standon, UK @ Standon Calling
29/07 - Low Festival, Spain
30/09 - Pambula Beach, AUS @ Wanderer Festival
01/10 - Sydney, AUS @ Factory Theatre
04/10 - Brisbane, AUS @ The Triffid
06/10 - Melbourne, AUS @ Corner Hotel
Stream / buy Off Planet here
Full album tracklist:
1. Wishbone
2. Complete Me ft. Self Esteem
3. Osaka
4. Hands High ft Refound*
5. Lunar Vibrations ft Isabelle Woodhouse
6. Don't Touch That Dial ft. Yuuko
7. Back to Back ft. Patience
8. Squid Inc
9. Come Down
10. Golden Cross
11. No Time ft. Jack Peñate
12. A New Way Through
13. Galaxy Mood ft. Toya Delazy
14. The Oh Zone
15. Dead Machine ft. Stealing Sheep
16. Dumb Drum
17. Fluxus
18. Slipstream
19. Who You Know ft. Bernardo
20. Black Cadillac
21. Gazelle
Connect with Django Django
http://www.djangodjango.co.uk/
https://www.instagram.com/thedjangos/