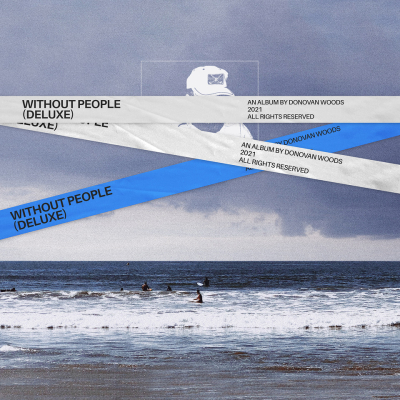 Donovan Woods' 'Without People (Deluxe)' Album Out Today (3.26)
Woods shares a full version of the highly-demanded interlude "When The Party's Over," here: youtu.be/7Y4J3AHDQPo
Donovan Woods' 'Without People' album was built on intimate experiences while made so piecemeal. Today (3.26), he shares 'Without People (Deluxe),' which includes two new original tracks and two reimagined versions of previously released songs from the album praised by World Cafe, NPR/KUTX, Rolling Stone, Billboard, American Songwriter and many others. The 'Without People (Deluxe)' is available here: orcd.co/withoutpeopledeluxe.
Along with the album, Woods launches Without-People.com, an interactive online experience where fans have access to new visualizers from the deluxe release, all of the 'With People Project' art videos, and they'll be able to learn about each diverse 'With People Project' artist including their top three recommendations from their locations across the globe.
The Deluxe album includes a song that fans have been craving since the 'Without People' album was released — a full version of the radio-ready interlude "When The Party's Over," which he wrote with Tom Douglas (John Michael Montgomery, Martina McBride, Miranda Lambert) and Travis Wood. It also boasts the never-before-heard song "Break Somebody's Heart," which is storytelling at its finest, honing in on specific small town life moments that teach greater lessons of love and loss.
"Grew Apart," a song that Woods recorded solo and with country artist Logan Mize which together accumulated more than 15 million streams, gets a haunting piano transformation that compliments its lonely nature. Woods gives students a chance to sing together virtually on "Whatever Keeps You Going (feat. J.P. Robarts P.S. Music Project)," when he learned they were not allowed to sing in school due to COVID protocols.
"This deluxe version of the record is really in-place of what live shows might've been like if the pandemic hadn't happened," says Woods. "Among my favorite parts of playing live are presenting songs in a different context and introducing new material."
'Without People (Deluxe)' tracks:
1. "Grew Apart" - Piano (Donovan Woods, Logan Wall, Travis Wood)
2. "Whatever Keeps You Going (feat. J.P. Robarts P.S. Music Project)" (Woods, Femke Weidema, Wall)
3. "When The Party's Over" (Woods, Wood, Tom Douglas)
4. "Break Somebody's Heart" (Woods, Wall)