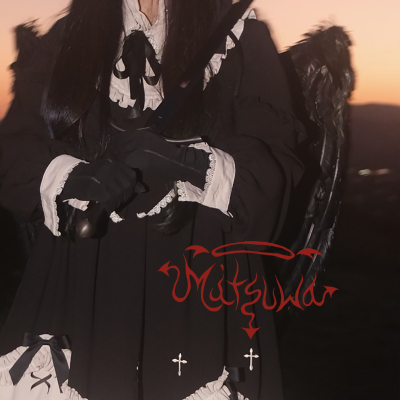 Draag Announces Electro-Shoegaze Debut Album Dark Fire Heresy Out April 28
Explores Religious Trauma In "Mitsuwa"
Cryogeyser Tour Begins April 8
"Enticing slate of experimental shoegaze" - Los Angeles Times
"Murky grunge-gaze compositions and gut-twisting songwriting" - Noisey
"Hallucinatory blur of shoegaze and grunge that immediately ingratiates itself even as it unmoors your senses" - Stereogum
"They sound out of a different era—maybe even a different planet" - Paste
"Dark Fire Heresy, a crushing shoegaze venture interwoven with eerily warped tape samples and a fantasy aesthetic recalling the weirdo charm of The Garden or the hyperpop canon." - FLOOD
Today, LA electro-shoegaze quintet Draag announces their debut album Dark Fire Heresy, out April 28. Dark and dreamy first single "Mitsuwa" is accompanied by a cinematic narrative video premiered on FLOOD, merging the band's lush synths & guitars with a cathartic portrayal and release of religious trauma. Draag's Jessica Huang visited the Mitsuwa Japanese market in LA with her grandparents right before Covid, writing the song during lockdown and solitude when she was finally able to reflect on the spiritual abuse of her past.
"The process of making the music video was a way for me to indulge in what used to be forbidden, but that I inherently loved as a child - the goth aesthetic, Buddhist altars and traditions that the video touches on," Draag's Jessica Huang explains."As I discussed the concept with friends, strangers, and collaborators, I was so unaware of how many still struggle with religious trauma and how similar our experiences are."
Watch / Share: "Mitsuwa"
Pre-Order: Dark Fire Heresy
It was through therapy and processing her upbringing in a religious cult that Huang along with members of Draag were able to create the sonic world, story and visual elements of Dark Fire Heresy. Some songs act as vessels of healing and forgiveness and others became a revenge fantasy. Full of lush guitar, Nintendo-era synths and warped tape samples in reverse, the album holds space for what you wish you could have said, done or knew, while acknowledging a bittersweet nostalgia.
What began as a solo project turned into much more when LA musician Adrian Acosta, trained as a mariachi singer by his established norteño musician father, recruited other members from disparate upbringings in the worlds of underground punk, no wave, experimental jazz, and classical music training, from Craigslist and the local DIY music scene - Jessica Huang, Ray Montes, Nick Kelley & Eric Fabbro.
From revived songs Acosta recorded on his karaoke tape deck when he was 10 years old, Draag released two critically acclaimed EPs, Clara Luz (co-produced by Jon Nuñez of Torche) and Nontoxic Process ahead of this debut LP. Draag began to gain a reputation for their sonically immersive live shows in Los Angeles largely by word of mouth, transforming any range of DIY to high production stage into a wall of sound described as a storm in slow motion. They have opened for Wednesday, Reggie Watts, They Are Gutting a Body of Water, Film School, Milly, Mint Field and Vinyl Williams.
Following a hometown show with Airiel and Deserta at Lodge Room on March 16, Draag will begin a US tour with Cryogeyser on April 8, before the band's album release show at The Echo on June 17 - full tour dates below & tickets here.
Tour Dates:
March 16: Los Angeles, CA @ The Lodge Room w/ Airiel and Deserta
April 8: Joshua Tree, CA @ TBD*
April 9: Phoenix, AZ @ Rebel Lounge*
April 12: Fort Collins, CO @ The Coast*
April 15: Chicago, IL @ Empty Bottle*
April 18: Toronto, ON @ The Drake*
April 19: Montreal, QC @ Bar Le Ritz*
April 22: Brooklyn, NY @ Elsewhere (Zone One)*
April 23: Philadelphia, PA @ Milkboy*
April 24: Washington, D.C. @ Pie Shop*
April 25: Durham, NC @ The Pinhook*
June 17: Los Angeles, CA @ The Echo (Album Release Show)
*with Cryogeyser
Website | Instagram | Twitter | Bandcamp | Spotify
For more information please contact Shore Fire Media:
Rebecca Shapiro rshapiro@shorefire.com
Shannon Cosgrove scosgrove@shorefire.com
MC Miskell mcmiskell@shorefire.com