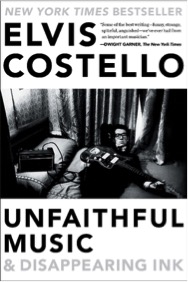 The New York Times bestseller now in trade paperback: UNFAITHFUL MUSIC & DISAPPEARING INK By Elvis Costello
"Some of the best writing – funny, strange, spiteful, anguished – we've ever had from an important musician."
–Dwight Garner, The New York Times
"The book is fantastic - maybe the best about music by a musician that I've read.... The stuff about the collaborations alone - McCartney, Burt Bacharach, Allen Toussaint, the Roots, the Brodsky Quartet - is riveting."
–Nick Hornby
"Often brilliant and wholly idiosyncratic."
–David Ulin, Los Angeles Times

"[Unfaithful Music & Disappearing Ink] is refreshingly free of salacious gossip and needless name-dropping; it's an intelligent self-assessment from a musician who went from angry young man to elder statesman of pop… It's an unexpected memoir from a musician whose creativity and brilliance changed pop rock forever."
—Michael Schaub, NPR
"In a world littered with uneven (and largely ghosted) celebrity memoirs, "Disappearing Ink" is a beautifully written revelation. Dare I blaspheme by declaring I liked it even more than the excellent memoirs produced by Bob Dylan and Keith Richards? Costello embraces the basic qualities of good storytelling: the use of detail, tension and humor....The book is also a gold mine for Costello obsessives who have spent decades dissecting and analyzing his every lyrical zinger. But it's not just for fans, more "Angela's Ashes" than Motley Crue's "The Dirt." "Unfaithful Music" is a lyrical tale that stretches across generations, geography and a century of popular song. The book serves as both a musical and personal anthropology."
–Geoff Edgers, The Washington Post


"Revelatory, evocatively crafted, [and] highly entertaining."
–David Fricke, Rolling Stone
"Enthralling…. This is family history as musical encyclopedia, and to listen to Costello recount his life is to be buttonholed by an enthusiastic fan. Fandom for Costello is inseparable from the compulsion to write songs and, it seems, to understand his own life…. Fortunately for the fan of Costello's music the topic of discussion is often his own songs, and he is, unsurprisingly, a witty and eloquent guide."
—Paul Grimstad, New Republic

"Long one of music's wittiest, smartest, and most perceptive lyricists, Costello has done his legacy proud with his new book, which, thankfully, goes far beyond his angry-young-man days, most movingly in its frequent reminiscences about the relationship between the singer and his musician father."
—New York Magazine
Elvis Costello is one of the most distinctive and innovative popular songwriters and performers of the last four decades. His unconventional, and unforgettable memoir, UNFAITHFUL MUSIC & DISAPPEARING INK (Blue Rider Press; Publication Date: October 11, 2016; $17.00) is now available in paperback, just as his 2016 world music tour is garnering considerable excitement and rapidly selling out. His book explores the private and emotional foundation of his music, and the influence of three generations of his family's history upon both the artist and the man.
Costello also provides a unique, incidental survey of modern pop history, as he shares anecdotes about his many illustrious collaborators and reflects on the vagaries of fame. "A lot of people have got spoilt and ruined by sudden success and pushing too hard," he writes. "I thought I was an exception but I wasn't as smart or in control as I pretended to be."
The Grammy Award-winning recording artist and Rock and Roll Hall of Fame inductee found his way into the English music scene in late '70s. Musically dynamic, lyrically intricate, and sometimes opaque, Costello's outlook was skeptical, romantic, and darkly humorous, often within the same number. Although Costello only scraped the American charts with My Aim Is True, This Year's Model, and Armed Forces, those albums are regularly cited among the most influential records in rock and roll history.
Born Declan Patrick MacManus in 1954 and raised in London and Liverpool, Costello was the son of a successful dance-band vocalist and the grandson of a trumpet player on the White Star line. For Costello, family history is inextricably intertwined with musical history, and UNFAITHFUL MUSIC & DISAPPEARING INK traces his story from playing a cardboard guitar in his parents' living room to taking the stage at the world's greatest concert halls, and even at the White House. Costello has shared those stages with Tony Bennett, Johnny Cash, the Brodsky Quartet, Anne Sofie von Otter, and Spinal Tap, among countless others.
Costello continues to add one of the most remarkable song catalogues and impressive performance resumes of any contemporary popular musical artist. He has toured with Bob Dylan, written nearly four hundred songs and two ballets. He has composed for orchestra, leaving one opera and several stage musical scores unfinished. He hosted the television show, Spectacle, for two seasons, featuring guests from Sir Elton John, President Bill Clinton, and Lou Reed to Smokey Robinson, Levon Helm, Jesse Winchester, and Bruce Springsteen. Costello has also been an occasional contributor to Vanity Fair and deputized as the guest host of both The Late Show with David Letterman and Marian McPartland's Piano Jazz, conducting a two-part interview with the pianist about her thirty-year tenure on the NPR show.
Costello's most recent concert appearances have been the highly acclaimed, largely solo presentation, "Detour," in which he connects songs from his catalogue with many of the themes found in his memoir. In June 2016, he was inducted into the Songwriters Hall of Fame, celebrated as a legend alongside other musical giants such as Tom Petty and Lionel Richie. He tours with the sister duo Larkin Poe and collaborates with the Preservation Hall Jazz Band, among others, and continues his "Detour" tour with The Imposters through Fall 2016. These are among the highlights of the past decade that has also seen the opening of a remarkable new and richly rewarding chapter in Costello's personal life, with his marriage to world-renowned jazz artist Diana Krall and the birth of their twin sons in 2006.
Like Patti Smith's Just Kids and Keith Richards' Life, UNFAITHFUL MUSIC & DISAPPEARING INK has become a bestselling classic, not just of the literature of celebrity or rock and roll, but of an extraordinary cultural era, and a document of one of the most fertile musical careers and original creative personalities of our time.
About the Author:
Elvis Costello is a Grammy Award–winning musician whose career spans almost four decades. A prolific singer-songwriter, Costello has released several critically acclaimed albums, and in 2003 was inducted into the Rock and Roll Hall of Fame. He lives with his family in Vancouver.
*************************
About the Book:
UNFAITHFUL MUSIC & DISAPPEARING INK
Also published in audio, ebook and enhanced ebook by Blue Rider Press
Trade paperback on-sale date: October 11, 2016
$17.00 US trade paperback (ISBN: 9780399185762)
Ebook (ISBN: 9780698140653)
Enhanced ebook (ISBN: 9780399576591)
Enhanced ebook includes more than 200 photographs and dozens of music recordings
Audio book CD (ISBN: 9781611764703)
Audio book download (ISBN: 9780698154650)
2016 Music Tour:
Solo "Detour" with Special Guests Larkin Poe:
10/1 – New York, New York: Town Hall
10/3 – Cedar Rapids, Iowa: Paramount Theater
10/4 – Omaha, Nebraska: Holland Performing Arts Center
10/6 – Des Moines, Iowa: Hoyt Sherman Place
10/7 – Overland Park, Kansas: Yardley Hall
10/8 – Wichita, Kansas: Orpheum Theater
10/10 – Oklahoma City, Oklahoma: Chevy Bricktown CTR
10/11 – Dallas, Texas: Majestic Theater
10/13 – Austin, Texas: Austin City Limits Live at the Moody Theater
10/14 – Houston, Texas: Revention Music Center
10/15 – New Orleans, Louisiana: Saenger Theater
10/17 – Nashville, Tennessee: Ryman Auditorium
10/18 – Atlanta, Georgia: Cobb Energy Centre
10/22 – Atlantic City, New Jersey: Borgata Casino
Elvis Costello & The Imposters:
10/23 – Bethlehem, Pennsylvania: Sands Bethlehem Event CTR
10/25 – Boston, Massachusetts: Orpheum Theater
10/26 – Albany, New York: The Palace Theater
10/28 – Akron, Ohio: Akron Civic Center
10/29 – Chicago, Illinois: Chicago Theater
10/30 – Ann Arbor, Michigan: Michigan Theatre
11/1 – Pittsburgh, Pennsylvania: Heinz Hall
11/2 – Buffalo, New York: Shea's PAC
11/3 – Washington, D.C.: Warner Theater
11/5 – Wallingford, Connecticut: Toyota Presents Oakdale
11/6 and 11/7 – New York, NY: The Beacon Theater
For more information on Elvis Costello, please visit http://www.elviscostello.com/
For more information on Blue Rider Press, please visit blueriderpress.com; @blueriderpress